Sunday, September 24, 2006
The Family of Refuge Farms

We are a rapidly growing non-profit in Spring Valley, Wisconsin.
Today, that simple statement almost sounds like an understatement. It seems to me that we always have cars in the yard and people around the place. That may seem a little odd to the neighborhood, since they know that I am a single woman with a full-time and a part-time job. However, this non-profit is
Refuge Farms
and the people around here are the volunteers, or "The
'Other'
Herd", as they are affectionately called. And you dare not underestimate the power of that statement!
I am blessed to be the Executive Director – big title. What that big title means is that this non-profit is rapidly growing in my back yard and in my barns and with my horses. But you know something? All that stuff just isn't "mine" anymore!
Big
step, for me to say that! You see, I've come to see and accept that my back yard and my barns and my horses now belong to the missions of
Refuge Farms
. That's why, more and more, I am saying "we" instead of "I". What a transformation this is! To share what I created for my own healing!!!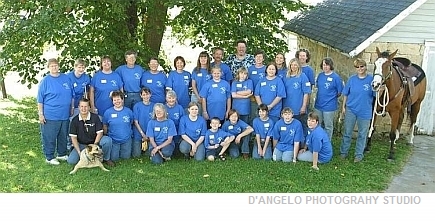 Kathy, our Operations Manager, says it for me when I listen to her saying, "We use these healing horses to help people heal. It's amazing to watch a kid with a disability relate to a horse with a similar disability. You have to see it! I can't explain it! But I've witnessed it again and again. We heal here. It's real simple. We heal here at
Refuge Farms
."
Kathy retired from UPS® after delivering packages for 30 years. Upon retiring, she looked forward to an easy life and knew she never really wanted to volunteer. That was then. Today, she volunteers as our Leader for a huge salary – 50 business cards per year. And she loves it! "Yah, we work hard, but the rewards are so great. I can't imagine doing anything else now!"
So why, do you ask, does Kathy work a part-time job for THE FARM? And travel here 4 or 5 times each week to work hard? Why does she live and breathe THE FARM? "I do it for the smiles!" she says, beaming herself. You see, Kathy has the
passion
.
Another volunteer is Cass. Cass began coming to
Refuge Farms
before the name was even created and long before the non-profit status was pursued. She liked to visit THE FARM to just be with the horses. That was over 7 years ago. As she puts it in an article she wrote for publication,
"I've seen the healing powers of these creatures, because I, just like every one else in the world, had problems in my life that I didn't want to admit, or in some cases didn't even know were there. I don't know when these problems went away throughout these last years, and I don't really care, but I do know why these issues went away and I'll give you one guess what it was that made the change. It certainly wasn't my doing."
Cass still volunteers at
Refuge Farms
as her busy schedule permits. She is what you would call one of the "cornerstones" of the place.
Other volunteers include Tara, a young Baldwin lady who began volunteering at the old age of 13. Just graduated from Baldwin-Woodville High School with Presidential Honors, Tara is pursuing her education at UW-River Falls in Pre-Vet. Now, wouldn't you have to admit that there's some connection there???
I could go on and on and on. There's Tracy and Lambing Barb and Famous Barb and Mechanical Mary and New Mary and Kate and Ashley and Lynn and Beth and MaKenna and Taylor. Don't forget about Cheryl and Hudson Barb and Linda and Isla Jane and Suzie the Gardener and Heather and Toni and Devan and Luretta. And oh, there's Tony and Karen and Jessica and OS Rose and Val and Emily and Ethan and Colleen and Brandon. And Sheila and Randy and Shannon and Eva and Kristen and our Vincent. We have hopes of Jean and Melissa and Jenny and others!
Every one of these people – and more! – gives freely and with great spirit and compassion. They have the passion, too. The love of doing good. The need to help heal someone or something. And it comes out in their smiles and cooperation and willingness to come back and work some more.
I'm the first one to tell you that without the volunteers, there is no
Refuge Farms
. The job is just too big for 1 person. But with "The
'Other'
Herd" behind me, I continue to open the doors to the public, free of charge, so that Humans may learn and relate to these salvaged horses.
And the salary for these hardworking, dependable volunteers? A meager "thank you" and a hug. And the satisfaction of knowing that their contribution allows the public to still come – free of charge – and pet Unit and April and marvel at Jimmer. And have bonfires and roast marshmallows. And get a little dirty. And just have fun!
You see, there truly is
magic
here. I have witnessed and continue to witness the
magic
of respect and forgiveness and trust and tolerance every single day. These horses and these volunteers repeatedly show what is best about the world. What a lucky person I am to be surrounded by two great herds – the herd of these thrown away horses and the herd of these generous volunteers! I am truly a rich woman.
So this is my way of saying "THANK YOU" to all of those in "The
'Other'
Herd".
Applause, please!
So many to help in so many ways. And all just because they want to help. To be a part of this mission of healing.
We have had another successful and meaningful summer season. A grand Open Barn! And even in spite of the weather! Blessings to each of you. I am eternally indebted. And welcome to those yet to join us! You are about to embark on the journey of joining another family! The Family of
Refuge Farms
.
Enjoy the journey of each and every day,
Sandy and The Herd
Tuesday, September 19, 2006
What a day!

It's Tuesday morning and time to get back in to the "normal" routine of chores, work, chores, sleep. And here I sit. Still overwhelmed by Sunday's event and totally at a loss of how to tell you about it. Odd, isn't it, that I'm at a loss for words???
But let's start with the weather. The one thing I kept telling everyone (and myself!) all week long, was that we had no control over the weather and so why worry about it? Well, it was raining Sunday morning. And it was windy. And it was raw. It was just plain icky outside. The forecast had been for rain on Saturday and Saturday had been a glorious fall day with tons of sunshine! And now, on Sunday, when the sun was supposed to be out, it was raining! No matter how many times I turned my head upward and pleaded,
"PLEASE??!!"
, it continued to rain.
A farrier came to do a last minute trim on Big Guy and Beauty. He was due at 8:30 am. At 9:15 am, I left a voice mail message -- as calm as I could be -- and just asked if, by chance, he had forgotten about us? But nope, here he came in the driveway and the trimming began.
As I stood in the barn during the trimming, I surveyed the yards as calmly as I possibly could. The volunteers were all here - they had been here since 7 am! But everyone was just kind of standing around. And not because everything was done, no indeed! It seemed to me that nothing was done! Everyone was just kind of waiting to set things up when (or if?) the rain stopped! And it was still raining at 11 am!
But then,
"it"
happened. Just like
"it"
always does. And I, the one of so little faith, am always in awe when
"it"
happens. At 11:15 am, just 45 minutes before we open to the public for our Great Annual Event, the sun broke through! And the final foot came down from being trimmed! And
Jim D'Angelo
arrived to take photographs! And the volunteers
FLEW
in to action to set everything up! And I ran horses back to the barns! And Applebee's® fired up the grills! And the cars began arriving!
Just as I had requested, at 11:15 am the clouds parted and it was said, "Let there be an Open Barn!"
We had a glorious time!
300 people joined us in the yard to hear a few horses stories. We brought in big, shiny Beauty - still a bit tentative and more than anything, a bit spooked with my voice over a PA system. But she did well! I am so proud of her!
And then Charlie brought in Big Guy. It was amazing. A big, kind-hearted man telling the story of a big, kind-hearted horse. The two seemed like one soul to me. I usually am very composed on this day because I know once the tears start I'll have trouble turning them off. But Charlie and Big Guy gave me an opportunity to wash the dust off my face. It was meant to be that these two meet each other. Thank you, Charlie.
Then the Foundation, as I called them, came in. Jimmer, April, and Bonita. The original corner stones that are still with us - against all vet predictions! - and still giving us reasons to have faith and hope and determination and persistence. What a picture those 3 are to me! Big, slow, cautious Jimmer! Strong, head-tossing April! And proud, elegant, and righteous Bonita! My heart was busting with love and appreciation for them!
Then the curves started getting tossed to Kathy. "Let's bring in Unit!" I said to her. "And the Babies!" Kathy's eyes showed me that she had suspected I would say something like this, but still, none of these horses had ever been in the presentation before!! But in they came!
Unit did a pretty good job of giving Cass a handful. My mistake, Cass. We brought Unit in before Babee-Joy and Jeri-Ann. But you did a good job hanging on to that little powerhouse!
And Babee-Joy and Jeri-Ann showed us all what they are made of! They are calm and curious and they like people and yes, they are the New Foundation. These are the future of
Refuge Farms
. Balloons came blowing in to the corral, Applebee's® food smells were everywhere, kids were running and playing and there was that PA system! But these 3 horses showed us all that they are ready and able. Hallelujah!
Gracie and PONY! came in to the corral, too. Not seeing where their chaperones were taking them, but trusting all the same. And behaving like the lady and gentleman that they are! Gracie was most curious about where she was and why, but she soon caught on. She knew there were people close by and she just did "her thing". PONY! came in with Mechanical Mary and was surprisingly poised and polite! It seemed to me that PONY! was more interested in what was cooking over at the food tent than anything!
Bob and Mike Link came with their huge, Belgian team and gave free wagon rides for the kids (of all ages!). And this they did on less than 24 hours notice! You see, Russell, our usual wagon driver, is in the hospital fighting leukemia right now. Our prayers are with you, Russell, and with you, Rhea. Heal, dear man.
A few telephone calls and I connected with Mike Link...
Would you consider? Could you please? I have children coming for free wagon rides!
The answer was quick and so very generous. "Sure, Sandy, we'll be there." Nice people. Much appreciation to Mike and Bob and, of course, Pete and Chip!
Jingles, the Clown was there with his bell trimmed feet! What a sight to look out in to the crowd and see that big smile looking back at you! You just couldn't help but smile back at that face!
Gayle Adams
and her artwork came and set up. Dennis Spader and his magnets came and set up. Linda Halvorson and her
Wissota Jewelry
came and set up. Eric Vanasse and his
Winkler Buildings
display came and set up. Terry Brabos and his Valley Feeds Nutrena information came and set up. Beth Crandall had her paintings on display (although we put Beth, one of our volunteers, to work that day!). And
Jeff Hines
came and topped the entire afternoon off with our live auction!
The auction was noisey and fun, thanks to Jeff and all the bidders! The baskets have long since gone to their new homes and I'm sure people have dug in to them and have emptied them and are pleased with their purchases.
Terry, from Valley Feeds, had an event promotion going....buy 10 bags of feed for THE FARM and Terry will donate 2 more bags. Great idea! Thank you, Terry! By the end of the afternoon, the generosity of our supporters and Terry has feed in storage for the month of January! Thank you to Terry and all of you from me and those horses of ours!
What an afternoon! It was about 5 or so, I think, when I turned around and that wonderful "Other Herd" had kicked in gear. Tables were flying in to trailers, trash was picked up, boards were back on fence lines, gates were rehung, papers were packed and put in the house! It was like you said,
"READY. SET. GO!!!"
This group of women worked hard and fast! All I had to do was stand still for a moment and soak it all in.
During the last moments of the day, I was presented with a special surprise that Gayle had for me. A simple fired pot with Jerry hair in it and braided around it. I cannot express the comfort that piece of clay brings to me. What a way to close the day! Thank you. That big Buppa was with me all day long. I could feel his breath on my neck. And because of this pot, I actually got to really touch the hair of his mane at the close of the day. Glorious!
So, another Annual Open Barn Event is over. Kind of. Over by the calendar. But still being relived again and again in my head. Thank you to the volunteers who worked so hard! To Kathy for being
everywhere!
To all of you who came the weeks and nights before! To Tara who single-handedly got those canopies up by the light of Kathy's wind-up flashlight (can't you just picture that one?). Thank you to all the sponsors who donated your goods and services for our auction! And to all of you who joined us on that sunny, warm, and beautiful Sunday afternoon!
We're here. Still. Against all of the odds. Even when the checkbook says we shouldn't be here. We are here. It's those 3 promises, you know...
Enjoy the journey of each and every day and see you next year at the 6th Annual!
Sandy and The Herd
Sunday, September 10, 2006
IT'S OPEN BARN TIME!!!

This hot summer season is coming to a close. The leaves are turning and the kids are back in school. I've got a sweatshirt on, for crying outloud! So it must mean that the we are about to move to winter hours...kind of sad, eh?
NO!
At
Refuge Farms
, this is not the time to mourn the passing of a season. Oh, no! It's time to celebrate! You see, here at THE FARM, we try to approach events and passings with gratitude and rejoicing! So you won't catch us standing in the barns and moaning,
"Where has this summer gone?"
Nope. Instead, THE FARM is a beehive of activity! Projects that we've talked about all summer are getting completed! The yard and the gardens are being tended to and regroomed after some wicked storms and hail showers! We are getting ready!
It's Open Barn time!
And just what is an Open Barn, you ask? Well, I explain it to people by simply saying that it's just like an open house except it's in the barns!
We literally remove the gates to give you up close and personal access to the horses. You will be able to stand right next to Big Jimmer (all 2,300 pounds of him!) and brush him and have your picture taken with him. And then you can move over to April, his girlfriend. Remember the story of Camp Quest and Charley and April? Well, here she is! Quite a creature. You just must meet her!
We'll have our little Gracie out for you to see, although she won't be able to "see" you, at least not with her eyes. But she will know you in seconds. And really know you. She's absolutely amazing.
The Babies will be in a group for you to marvel at - Unit, Babee Joy, and Jeri-Ann. It will be fun to watch your faces when you see how much they've grown this past summer!
And our Big Guy will make his debut. What a story he is! And you'll see that his name fits him pretty well! His presenter will be a man of kindred soul, Charlie. I'm looking forward to that one, myself!
Big, glorious Beauty will come out for all to see. And those of you that saw her these past Open Barns will be able to instantly see the results of having a safe home. She is a remarkable looking animal and so quickly learning to trust! Far, far from the spooky, defensive being she was upon arriving.
There will be many more for you to pet and see. Even old man Cole will be there - all 36 years of him. Because we dare not take his girlfriend, Beauty, far from his sight!
But the Open Barn is so much more than just the horses! We have vendors
"In the Yard"
.
Gayle Adams
, a gifted and heartfelt artist from Ridgeland, will be there with her artwork and saddle pads. Gayle, you know, is the artist and creator of
"Jerry, Retired"
and
"Jerry, the Roan Horse"
.
Wissota Jewelry
will be
"In the Yard".
Linda is the creator behind our 2005 Commemorative Piece - the necklace of
Lanna and Jeri-Ann
. That piece will be offerred for sale for the last time the day of this Open Barn.
And yes, the 2006 piece will be here!
Kristin Blexrude
is coming in from California to unveil the 2006 Commemorative Piece! I've got goose bumps just thinking about it! You really want to be here to see this!
The kids will have a great time, too! Jingles, the Clown will be amongst us doing his best to get the our biggest smile ever! And Russell and Rhea will once again give horse drawn wagon rides for the kids (of all ages, by the way!).
Getting a bit hungry, are you? Well, never fear! Applebee's® is here! Yes, our dear friend, the Menomonie Applebee's®, will be there to feed you! They'll have wraps and burgers and even their gooey brownies and raspberry cheesecake! Thank you to Jeff and his crew for supporting our missions and serving us great
Applebee's®
food at
Refuge Farms
!
At 2pm, Jeff Hines of
Hines Auction Service
arrives to once again lead our live auction. And folks, this auction is really something! We have 60 baskets of new, donated items and services to auction. From Burt's Bees® to handmade antique quilts to dog baskets to Barbie® baskets to cat baskets to gardening baskets to harvest baskets to spa baskets. Really a wide assortment of very nice items and every single penny from the auction goes to the hay bill here at THE FARM. If you would like to see the auction bill and maybe bid on the items,
press here
. We'll bid for you the day of the Open Barn, in case you can't be there!
So, what are you doing on Sunday, the 17th of September? How about coming out to
Refuge Farms
for the celebration of yet another great summer? Need directions? THE FARM is really easy to find. [
maps
]
So join us at the
5th Annual Open Barn Event
from 12 noon to 4pm on Sunday, September 17th. Come and experience the
Magic of Refuge Farms
for yourself! And oh, by the way, did I mention it's free????
Enjoy the journey of each and every day and
see you at the Open Barn!
Sandy and The Herd