Sunday, June 24, 2007
Basking in My Wealth

You've heard me tell you many times before that I am a very rich woman. That I am wealthy beyond my dreams. And I have told you my richness is a gift and a blessing in my life. Truly, I have been reminded of that richness because just yesterday, I spent the day basking in my wealth.
Our Operations Manager, Kathy M., hosted our Volunteer Picnic in her perfectly groomed yard yesterday. It was a sunny day with a light breeze and the birds were serenading us from the branches of the big oak trees which provided us with shade.
Now if you know anything about us, you know we like to eat! Well, there was no one hungry afterwards here, that's for sure! Kathy did a fantastic job of assembling a great spread of food. Especially if you knew the size of the budge I had given her to work with! But we had BBQ and brats on fresh buns, fruit salads, shrimp salads, fresh veggies, chips, pies galore! And then there was that tub of strawberries…. my favorite! I had to hurry to eat my fill before Tara found them!
We leisurely sat and enjoyed the company of each other. And my wealth began to surround me. At first, it seemed odd to be just sitting. My body seemed in a foreign place and I was a bit antsy, but then I remembered how to just relax and so I did. It was glorious! My body sank in to my lawn chair and I only disturbed it to go and refill my plate!
I was pleased to see Charlie and Jean join us before they had to leave to attend a wedding. But before leaving, Charlie filled me in on his new Houdini horse who can unlock his own gate bolts! Lynn was there and running everywhere! And I was so happy to see our Betty the Human! I miss having you around, Betty. Holly was her chauffer (good job, Holly!) and soon after helping someone with a car repair, Mark appeared. Mike and Linda are so sociable and pleasant to be around and Colleen came in from Eau Claire. Your salad was delicious, Colleen! And thank you again for your help with the baby bunny this week.
Melody and her daughter, Jessie, brought pictures of Camp Quest to share with everyone. Colleen and Faustina are full of stories of their dog who had just participated in an event that morning diving for weights in a pool of water! Cathi and Sabra were there from The Twin Cities and dear Sabra even brought Little Man more toys and a new box of treats!
"Woof!"
says Little Man in gratitude to you, Auntie Sabra!
Cindy provided the witty comebacks to us all and our Famous Barb looks wonderful with her new longer hairstyle and her ever-present radiant smile! Mary and Kate came down from Clear Lake and I am amazed each time I see Mary – she seems to grow younger instead of older! And Kate is more womanly and gloriously tall every day! Toni and Devan came in and I was very happy to see them both! It's been too long, Toni! Colena and Shannon and Chad joined us after spending the morning helping the Govin's out with their Strawberry Festival. Colena, you are a great Mom and your children reflect your talents! And then after the clinic closed, Tara and Heather joined us. Or Dr. Tara as we already call her…
There was a toss game and another ground ball game to play. That was great for those who had the energy. Me? My lawn chair must have had suction cups on it because I just could not move. And I was so thoroughly enjoying talking with these people! After eating, Kathy gave away the door prizes and both Tara and Heather treated us to a display of their dance talents! On a sheet of plywood, no less! A bit slippery and ever so small compared to a stage, but they both did very well. Once again, I am amazed at the talents of this crew!
I've spent a good amount of time thinking about all of them since that picnic yesterday. Thinking about the stories of their families, their trips, their dogs, their horses, their family reunions, their remodeling projects, their jobs …. And it has really sunk in to me that these people are busy people! Their lives are packed full of work and chores and duties and responsibilities and vacations… and yet they find time to come to THE FARM and work there, too!
And again, about mid-afternoon, I did manage to raise my body out of my lawn chair – with a struggle - and go to a point in Kathy's yard where I could just look. Survey the scene and record it in my mind. Take one of those mental pictures that you will never forget. And then the vastness and greatness of my wealth overcame me as my eyes overflowed with appreciation and gratitude.
These people are good people. They are kind and funny and interesting and they like to have fun! And they are responsible citizens and people who will leave legacies in their children and their accomplishments. And joyfully, they are people who see something that attracts them to
Refuge Farms
. Oh, the wealth in my life!
Before anyone departed, I insured there was a hug. Not unlike any other day, but this time it was a hug and a personal conversation. It was intentional and I enjoyed it. Took some of them by surprise, too, I believe because usually I am so hurried and so task oriented that to stand and just talk…hmmm….now, that was different!
The '
Other
' Herd. That's what we call them. These people of all walks of life, all ages, all abilities, and all shapes and sizes. They all have one thing in common. Me.
Now, I ask you…Can anyone possibly be any richer than that???
Enjoy the journey of each and every day,
Sandy and The Herd
Sunday, June 17, 2007
The Missions at Work

I'm late getting this blog out on to the website today. Was up extra early in order to make a short meeting this morning at 7:30 am. And I just got home from that very meeting. And it's almost 12 noon.
John and Sally (not their real names) have been calling and stopping by and attempting to contact THE FARM about two horses that they have. A Morgan gelding and an Arab gelding. Both are older horses with colorful and prolific histories. Both are showing some of the signs of age. And both are in need of a new home.
John and Sally are just like their horses. They both are getting wiser and both have colorful and prolific histories. Both are showing some of the signs of age. And both are in need of a new home.
Upon meeting Star and Windsor, my heart was immediately taken with their pride and their stature and their inner knowledge that they were worthwhile – but in a humble kind of a way. These two horses were pals with the Morgan letting the Arab think he was the boss. It was fun to watch. The Arab would push his way in and the Morgan would eye him and think about showing him his brute strength but then decide it was simply more his gentle demeanor to just let the Arab have his way. Let him be the boss. Or at least let him
think
he was the boss!
And upon meeting John and Sally, I saw that they were again just like their horses. Their pride and their stature were evident. They knew they were good people. And they were struggling to "own" the situation they now found themselves in. And I must add, that they both were achieving their goal most gracefully. I was impressed with their ability to accept the outcome of their efforts and to do their very best to move forward. To go on. To let someone else be the boss of their life for a while when their home was being taken from them and the bank was pressuring them for improvements on the property they would never call 'home' again.
While in the pasture, Sally and John had stories upon stories of how sturdy the Morgan is and what a champion the Arab is! Their eyes were beaming as they told us of those championships and passed on every little quirk in each horse. Hugs for the horses were constant. And the horses never left the two of them. The Morgan was John's horse, that was evident. And the Arab was Sally's. That was more than evident as he licked her hand the entire time!
The pressure and the weight of the situation was visible to me on the faces of these two people. Faces that longed to smile but could only grimace and tell of their situation. Faces that were aging with the strain of the loss. Faces that could have been angry.
But John and Sally were kind through to their cores. John went to a special effort to explain to me that the "people at the bank are nice people. They are just doing their jobs." How gracious! How kind! To not put the anger of the situation on the people delivering and carrying out the message! These two were bigger and better Humans than I, was my swift conclusion.
And even in their situation, they still supported the overseas family that they had supported for years. And John told of their achievements and was a proud man on this Father's Day as he spoke of the intelligence of this family so very far away. A family with a future and a way out because of John and Sally's big hearts.
We walked the property and John and Sally talked of their years of hard work and improvements. The house has a new foundation and a new roof – but only after hours of backbreaking labor to dig out the old foundation and skim layers and layers of old asphalt shingles off of the roof! They talked of the buildings full of the previous owner's "stuff" that was left behind. And how an auction ridded them of much of the leftovers but no money. After advertising and auctioneer fees were paid, "we pretty much broke even", John explained.
We traveled from building to building to building to building. Looking at log splitters (never used), welders (used once), sand blasters (never used), tack galore!, tractors, brand new doors still in their cardboard wrap (for the house remodel), generators, pumps, … My heart was breaking as they carefully touched each treasure and explained it's purpose in the grand scheme. The scheme that will remain a dream.
And while Sally toured the motor home, John and I sat quietly in the shade of the big trees and surveyed the land and the view. John's sign was long and deep. "I just like the lay of this land," he said. He had to get up and move to another spot in the land. To another view. He loved the lay of that land too much to look at it now.
Refuge Farms
will foster their horses, for sure. I will do whatever I am able to do to ease the load on the shoulders of these two people. My heart, this time, was partially left in the chest of the Morgan but also left in the chests of John and Sally. "We are just so overwhelmed", Sally told me. "And for the sake of John's health, we have to leave it all behind. All of it."

As we hugged so long at the end of the morning, Sally hugged me tightly and whispered in my ear, "I don't know what to do or what to say. No one has ever helped us like this before." I smiled at her and matched her tears. Then I told her of our Mission Statement. And how their horses had brought us together so that we could "bind up the crippled and strengthen the weak and bring back the lost." I clumsily tried to explain to Sally that her horses will allow us the honor of working our Missions by placing them and then by supporting the two Humans, too.
So once again, as I drive myself home I marvel at The Plan and how it works. Every time. Sally never gave up on contacting
Refuge Farms
. She called and she called. And finally she came to THE FARM with her daughter to plead the case of their two horses. "You are our last hope", she said. No Sally, I disagree. Your characters and wills are the instruments that will carry you forward.
Refuge Farms
? Yes, we will help a little bit by just doing what we were created to do. But Sally, my dear woman, we are not your last hope. Just a tiny ray of hope.
Enjoy the journey of each and every day,
Sand and The Herd
Sunday, June 10, 2007
What's a blogette???
Each week we are very fortunate to have Sandy give her thoughts and feelings regarding
Refuge Farms
via the blog. Recently we began passing the baton of blogging to our supporters and volunteers. And so, the second Sunday of every month, that honor now goes to our guest bloggers. They're volunteers, Friends of THE FARM, or they might even be people who only know THE FARM because of our Missions. Whatever the case may be, through their eyes, we experience the "
MAGIC
" of
Refuge Farms
.
Sometimes thoughts or reflections about
Refuge Farms
are sent to Sandy, and even though wonderful, would not be large enough for an individual blog. Since we decided it would be unfair to keep these to ourselves, we decided to post a few of these together...call them blogettes if you want. The honors this time go to Gayle, Ruth, Taylor, MaKenna and myself. I hope you enjoy them.
Vincent – Webmaster
---
May 2007


Earlier this Spring my daughter was given an assignment in school:
Why do women relate better to horses?
Her thoughtful response was due to genetics and women's nurturing of big animals going along with their caring for their husbands....
I had a recent
Ah Ha!
light bulb go off in my head that some may relate to, especially those who work with rescued horses, and/or abused women.
I think that woman get along well with horses because like the horse/herd animal that is a prey animal, depending on it's running ability to survive, women also survive best in groups and must be able to run when threatened, since they usually have less strength in combative situations. I think women relate well with this fear which horses and women express. I think they see/sense/feel it sooner than men and so tend to give space when it is needed rather than push. I think they see the importance of keeping things playful. Their attention is more likely to be on the journey and keeping it fun than on the outcome, though the outcome shows up before we are done playing! How fortunate!
Gayle
---
February 2007

Never have I been more inspired by an organization and the wonderful work you all are doing. Having earned my B.S. in Agriculture from UW-River Falls I well remember the brutal winters and do not envy you the chores at this time of year. So wish I was close enough to join in the volunteer activities but will certainly be sending a check instead.
I would appreciate any thoughts on animal communication. Many times in the posts I get the feeling of The Herd actually communicating with humans. Can this really be possible? If so, can any person be open to this communication or only certain blessed individuals? I have come across workshops claiming to offer to teach this ability but would like to gather background beforehand.
Thank you in advance to anyone who would care to share their expertise. Take care and keep yourselves and critters WARM!
Thank you Sandy for pointing me in the right direction to begin to learn about animal communicators. I found your organization on the internet while looking for an equine rescue in Wisconsin that would be closer to where I live. I was captivated by your image invoking writings of the horses and the man who inspired you to begin it all. Will certainly be making a trip to visit when I can coordinate my schedule of volunteering for therapeutic riding with one of your open barn Saturdays!
Ruth
---
April 2007

We
LOVE
having our birthdays at
Refuge Farms
!
For the past few years, we have had our birthdays at THE FARM. We had asked our friends to '
not
' get us a present but to give a donation to the horses instead. We get to visit the horses the whole time and brush one of the horses that Sandy has brought out onto the lawn for us and our friends.
After we count up the money that our friends have donated for our birthdays, Sandy let's us pick a time when we would like to pay for the hay the horses eat. Then, she reminds us of those days on her portable sign on her front lawn. It is a
BLAST
having our birthdays at
Refuge Farms
. We hope that we can have our birthdays at THE FARM every year!
Taylor & MaKenna
---
April 2007

HI! My name is Taylor. My birthday is in October. Most of the time, it is very cold.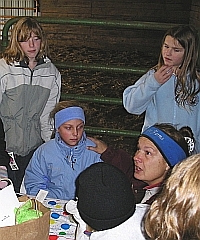 At my last birthday at THE FARM, it was freezing cold! So, we all went in to the barn and had hot dogs and hot chocolate. We also got to take turns feeding the horses. Man! Can horses eat a lot of food! After we ate and the horses ate, we opened the cards my friends had given me for my birthday. I had asked them to donate money to
Refuge Farms
instead of giving me a gift. I have enough stuff. The horses need more than I do. I, then, gave all the donations to Sandy. Like always, Sandy started to cry. I also gave her a pin that was shaped into horses running. Sandy said, "The horses are running out of me!" I believe that the horses are always part of her and will never run out of time with her; even when they cross over. I love spending my birthdays at THE FARM!!!
Taylor
---
April 2007

HI! My name is MaKenna. My birthday is in August. Two years ago, I invited some of my friends to my birthday party at
Refuge Farms
.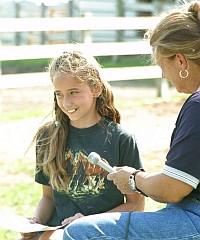 We had a blast with the sprinkler! A friend and I each took a hold of Sandy's hands and held her right in the path of the sprinkler. She was soaked! LOL!!!! However, right after that, Sandy picked up the hose and got us back. LOL!!!
Instead of gifts, I had asked my friends for donations to THE FARM. I raised about $100. Sandy cried. This past year, I invited my whole grade to THE FARM. We had a bonfire and got to brush a couple of horses. I ended up raising $350!!!!!! Sandy cried again. I love having birthdays at
Refuge Farms
.
MaKenna
---
June 2007


A question that is often asked by those who know what I do…is, "
How do you do a website for a horse refuge? You have never even been on a horse!
" Probably a fair question a few years back but, though I live 1500 miles away, I do feel very much a part of THE FARM without ever being there.
We live in a great expanding world of vast information that is available at the click of a mouse. On Friday (while waiting for my fellow co-hearts for the staff meeting) I was able to watch, in real time, the launch of the space shuttle right there on my very own computer screen. Amazing!
In an email with Sabra one day…I had a reflective moment. I am sure this "moment" would fall into the category of "the good old days" but it really wasn't all that long ago. I remember a time when my work computer had a monochrome screen and it wasn't connected to anything because "networks" had not come of age! Just think how far we have come.
Now I must admit, technology is not the answer to everything. There is a very critical component called "the human factor" that can't be measured in bits and bytes. It is the very heart and soul of how I can do the website from way down here in the Deep South.
You see, I read the stories, listen to the volunteers, look at the pictures, and from what I know of the Missions of
Refuge Farms
…it is as if I wake up every morning right there in Spring Valley. It is very real and very powerful. From the start, I have always had one goal in mind. After visiting the website, it doesn't matter where you are…you should feel the need to dust some dirt and horse hair off of you. You don't have to be there to experience it but you do need to open up your heart and let everything good about
Refuge Farms
flow into it. That is the key, I think, to the "healing" that takes place at
Refuge Farms
.
I would like to talk more about all of this but, right now, I need to put some hay out for the horses!
Vincent
Sunday, June 03, 2007
We Have Hope!

Saturday, June 2nd, was the start of the new season here at
Refuge Farms
. Officially, it is now summer! Hurray! And in celebration of summer, we do several things here at THE FARM. One of those things is to be open two (2) Saturdays of every month – the first and the third Saturdays. Saturday, June 2nd, was the first of our Summer Saturdays. And it has left a mark on me…
I had simple plans for the day. Truly, I was expecting to accomplish some things and start some new traditions on this day. You'd think I'd have learned by now, wouldn't you?
I was up and outside early to prepare for the first ever
Kid's Garden
here at THE FARM. The spot I had selected for this special area was the very first flowerbed that I had built when I moved here to Spring Valley. It is one of the only flowerbeds that is not a Memory Bed. I didn't think children would necessarily appreciate playing and planting in Memory Bed, so I picked a regular old flowerbed. Which, of course, now was full of weeds and needed new lumber for edging. This little bed had been sorely neglected these past few years. It was in sad shape.
But that would all change today! My boards were cut. The wheelbarrow was ready to receive all of the weeds and debris. My tools were out. The trimming had been done so the kids would have clear and easy access to the soon-to-be garden. I was ready!
Guests arrived all day and the children helped pull weeds and pull weeds and pull weeds! During a quiet time when the guests were in the barns with Kathy and the horses, some of us took the opportunity to pull up the old rotten boards and replace them with my newly cut sturdy boards. Voila! A new flowerbed was born! You could really see it now – except for the weeds!
But I had help! Eager hands tore in to the dirt and the weeding was done in no time! The work was done by Ella and Alia and Cole and Jessie and Melody and Mike and Heather and Natalie and Pam… You get the picture! Many hands – big and small – helped to transform this weed patch in to a new flowerbed. One young lady even brought her own shiny red and blue and green gardening tools with her!
Now, we all know I'm missing a part of the story, aren't I? The dirt. Oh, the fun of the dirt! This bed is full of good, rich, composted black garden dirt and some of the little white socks left here not so white anymore! And a few of the faces weren't so clean anymore. And Cole wasn't so dry anymore! And a few t-shirts had some pretty healthy smears of dirt on them, too!
We had dirt on our faces. Under our nails. On our pants – especially our knees! Some of us brave ones wandered right in the flowerbed and so our shoes and socks picked up some of the dirt. And weeding is hard work! We sweated and wiped the sweat from our brows with our dirty little hands, of course! And so now our smiles were dirty! Weeds require hard pulling and even some digging and so we had dirt in the air! There was black dirt
everywhere!
Personally, I enjoyed the dirt and the kids as we played and worked. Dads helped us out and found some of the big, long spaghetti-like roots! Oh, the size of some of them! And Mom's helped, too. True progress was made then, for sure! We worked hard all day and by 3 o'clock, our weed patch had turned in to a beautiful bed just waiting for little hands to plant the seeds.
On Saturday, the 16th, we will have seeds for carrots and pumpkins and what fun it will be! Each child will have a marker where we will write their name and they can then place their marker at the start of their very own row of seeds! And when they return, they can pull their carrots and feed them to the horses! Or in the fall, they can harvest their own pumpkin and decorate it here at Halloween at THE FARM!!!
Seeds. I've read that a gardener is truly a person of faith. To plant seeds and then await the miracle. Seeds are acts of faith. And hope.
One of the families that visited us yesterday was a family from Hudson, WI. Not far from here. Thirty minutes, maybe. This family has visited us several times in the past. In fact, I remember one of their first visits because they had taken a true "shine" to Miss April. They instantly loved her and would easily take her should I ever need a home for her. In fact, they left their name and address information, just in case…
Well, this family had selected
Refuge Farms
as the place to start their day. Seems simple enough, doesn't it? Sure. A young family bringing their young son to a horse farm to play in the dirt and play with the dog and pet some horses. And catch up with Miss April.
However, this day was a special day for this family. A day still twinged with sadness. This day was an anniversary for them. Of Hope. Hope had been born and had crossed on this day just a mere three years ago. Hope. A beautiful young baby girl whose purpose I'm not sure is yet understood. A child who was and is still loved. A child named Hope.
I am honestly humbled that this family would come to our little patch of healing to spend a bit of time on this memorable day. I am honored that we could offer them a place to come and play and remember. That their handsome young son could meet Little Man and Gracie and bless us all with the sound of his laughter! And that his Mom could find Miss April again and reach out to her. And find her.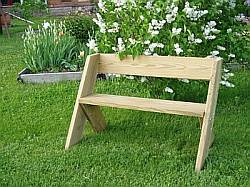 We'll have a new Memory Bench here at THE FARM, soon. It will be the simple
Memory Bench
that we place around the grounds whenever anyone wants to remember a special memory in their lives. There's the Andy bench, the Jimmer bench, the DukeDuke bench, the Halima bench, and the Jerry, the Roan Horse bench. And now there will be a new bench. The Hope bench.
We will make sure the bench is solid and the woods are perfect. "HOPE" will be engraved in the backrest and when it's all ready I will then call the family and request that they visit us once again. And this time, we will tour the grounds and talk about the Memory Beds, the trees, and look at the views. And then this family will position this new bench for their Hope. And in hope.
Life is cruel sometimes. Losses happen every single day. We all cry and wonder why. And time passes. We don't cry so much, on the outside anyhow, but we still wonder why. And we miss what we don't have. Life is cruel sometimes.
But we always have hope. We always have the wishes for the future. And the energy of possibilities. Life is good! Life is full of promise. And yes, we always have hope.
So I sit here and I smile. Isn't it just another piece of the puzzle coming together? Aren't we just seeing how it should all fit in to one big piece?
Don't you see???
We have the
FAITH
bucket hanging in the barn.
And then came
Grace
to live with us.
And now we have
Hope
in the yard.
My, how the pieces fit together!
Enjoy the journey of each and every day,
Sandy and The Herd – with Hope