Sunday, October 29, 2006
Just Another Week at THE FARM

It's Sunday as I sit here and write this Blog entry. And it has been just another typical week here at
Refuge Farms
. I would use the word "
normal
", but we all know how poorly that word would fit here at THE FARM!
Our very first day of this week saw us hosting the 12th Birthday Party for Miss Taylor. Taylor had her 11th birthday party with us last October and we were in short sleeves on a sunny day with green leaves and a warm sun! This year we were wearing our winter jackets and gloves and drinking hot chocolate!
And once again, Taylor asked her guests to not bring a present for her (yup, you read that correctly!), but to instead bring a donation for THE FARM. I am amazed at the generosity of this class of students at Spring Valley. How well their parents are teaching them!
The friends of Taylor brought their gifts for THE FARM and Taylor chose the week of Christmas to be the week of her hay gift. Blessings to you, Taylor, for your gift of hay and for just being you...what a treasure you are. And how lucky I feel to watch you grow and blossom!
And then when Taylor's presents were over, a present is placed in front of me! And it's not even my birthday! Taylor and her Mom bought me a sterling pin with horses running - it's beautiful. And when I'm wearing it, it's like the horses are running right out of my chest! Like Taylor's Mom said, "We saw it and knew if was for Sandy." I love it, Taylor. And I wear it every day!!
The week continued on the same path - cold. Ice on the tops of the stock tanks and half inch frost in the fields. Tuesday we actually had a dusting of snow! In fact, I left tracks in the new, light snow on my way out to the barns in the morning!
It's way, way too early for this kind of cold up here! It's only October, for crying out loud! But for all the whining I've done lately, the weather is still brisk - no one seems to be listening to me! It seems more like November outside even though my calendar on the refrigerator door only shows me DukeDuke and April.
Our round bale delivery for the winter has not happened yet. And I'm doing my best to remain calm. After all, it's not 40 below outside! But I am depleting the winter store of small square bales keeping the herd content. I must feed something green as the grazing is gone and I'm sure what tiny bits of grass they do find out there don't taste good any more. As soon as we get a rainy day, the harvesting will have to pause and the first load of hay can be delivered. Never thought I'd say this, but I'm praying for rain!
Then on Tuesday evening, Big Guy came in to the barn for supper on only three legs. His right front was causing him pain. In fact, when I walked toward him, he lifted it to show me - just like a 2,400 pound dog putting out his paw to shake hands. Those big, brown eyes of his were sad and his eyebrows were wrinkled together. Just like someone else I used to care for. The expression on his face was crystal clear - "
It hurts, mama. Please fix it
."
I cleaned his foot and saw no puncture wounds. No sign or smell of thrush. No swelling to show me a sprain. And no cuts or evidence of a hit or kick on his leg anywhere. I searched with my eyes. I rubbed with my bare hands. I smelled with my nose right in his hair. No wound or bruise that I could see or feel or smell.
Cathi came out on Wednesday night and Big Guy received an Energy Healing Treatment. Don't really even know if I'm saying that correctly, but it was fascinating. Big Guy just stood there while this woman worked on him. She barely touched his leg, but she was sweating and working so hard...I was most impressed.
At one point, Big Guy got a bit restless and so we opened the barn door and he wandered outside to check with the rest of his pals. Once satisfied, he came back in to the barn and stood calmly next to Cathi. The big barn door remained open. Cathi completed the treatment. And Big Guy just stood there. Content. And close to Cathi.
I wandered to the other side of the barn to finish up the Helen Keller side after feeding and noticed the two of them still just standing there. You can tell when "
it
" is happening. And I knew it was that magic going on. I smiled and went about my business.
Times like this have not lost their amazement to me. Not a bit. I still stand in awe of these creatures. And their ability to touch us. And I'm bursting with joy when someone else sees or feels the same from them. What gifts these horses are and what gifts they bring! Wednesday night was a simple example of the enrichment in my life because of a few ragged horses and their ability to pull on you....gently but firmly....they pull you in and then wrap their big, forgiving hearts around you.
Throughout this entire week I have been aware that a bit of me is out on the East Coast. You see, Gayle Adams, the artist who created "
Jerry, Working" and "Jerry, Retired
" donated a print of "
Jerry, Retired
" to the auction of the
Washington International Horse Show
in Washington, D.C. As Gayle put it, our "
Jerry is going to Washington, D.C. in all his elegance
". The auction will benefit national and local charities, so Jerry is once again doing good works. Show them your stuff, J! I am proud of you!
The week ended with HALLOWEEN at THE FARM on Saturday and what a hoot that was! The costumes were outrageous! I had tears of laughter at our Fairy Godmother, our Angel, our Cat Woman, and of course our Cow! We had hot chocolate and apple cider and homemade cookies. The kids painted pumpkins to take home with them and there were apples to bob and marshmallows to roast. In general, it was just good fun with tons of laughter! New friends came and some familiar faces, too, were hidden under all that make-up! At least I think I knew some of those faces!!??
After the event, The '
Other
' Herd did their typical thing - they cleaned up the yard and the barn like nothing had ever happened! Then it was hugs good-bye and I was back out to the barns to feed. In the quiet. In the peace of a clean barn filled with grateful animals. And a mind full of appreciation for this life that has become mine.
Oh, now don't think my life isn't with out stress and tears and worry and pain! I've got plenty on my platter! Believe me! But at the end of each day, I feed the herd and it sets me back on the straight again. It resettles me. Realigns me. And refreshes me.
I want to live forever!
And I think the very best legacy that I can leave is to build this mission up strongly and firmly and then trust the next generations to take over. And then, yes, I will live forever! I'll live in the Memory Beds as they bloom in the spring. As the trees turn their colors in the fall. And as I run with my Jerry in the clouds!
It's been a typical week here at
Refuge Farms
- some stress, weather challenges, work done and more work to be done, and some worries. But on the hand there were times of laughter and fun, peace and contentment, healings and appreciation that was visible, and, of course, that
magic
that is always sitting just under the surface waiting to show you it's power!
So, here's to a typical week! May you all be so blessed!!!
Enjoy the journey of each and every day,
Sandy and The Herd
Sunday, October 22, 2006
The Fall Newsletter

Believe it or not, it's almost upon us. That "Holiday Season". My goodness, I'm sitting with an open jaw! Just
how
does time pass so quickly all of a sudden???
And with the onset of frost and stock tank heaters and long underwear and heavy gloves comes the task of creating and mailing the fall
Refuge Farms
newsletter. A formal newsletter from THE FARM is published only 2 times per year - once in the Spring (when we are all opening our windows to let that fresh air in the house!) and once in the Fall (when we are all closing and latching those windows against the winter winds!). With this year's early fall and cold snaps up here in the Northern Tundra, it has reminded me that the newsletter time is upon us. Already!
Our newsletter is 8 pages full of pictures and reminders of events and news of "Who's Who?" and updates about things like the website and new programs. It is really a fun creation to work on - I do enjoy it! This fall I think I'll resurrect the "Facts & Figures" article about daily life on
Refuge Farms
. I've had people ask me just how much does a round bale weigh, anyhow? How many pounds of feed does it take to do one feeding? How often do we trim hooves? Deworm the herd? Give shots? And, of course, I'll need to throw in the number of wheelbarrows created - on a daily basis - of that organic fertilizer!
If you would like to read our Spring Newsletter, just press
here
. Now that Vincent, our Webmaster Extraordinaire, is a part of The
'Other'
Herd, we have the option of also placing the newsletters on our website. That way you can read or print them as you need...Thanks, V.
And I think you would be amazed at how many newsletters we hand out to visitors at THE FARM, or people at our Applebee's® Breakfasts, or when we work a new event, or when I do a presentation. And for each person who registers from our website to be on our
mailing
list
, I handwrite out a newsletter and mail it to them to welcome them! These newsletters really are an important part of our visibility to the world.
So what does all this have to do with anything? And just why does it warrant a blog, anyhow?
Because this fall,
Refuge Farms
is seeking a sponsor or sponsors for the fall newsletter. Here's why:


To print 1,000 copies of four (4) 11" x 17" color pages, double sided, collated, and folded will be an expense of $700


To mail 750 newsletters to The Friends of THE FARM will be an expense of $625

Refuge Farms
truly wants to publish a newsletter this fall - it's a great way to stay in touch with those who have no internet access or still prefer the written word rather than electronic word. But with the rising cost of feed, I must direct those monies needed to produce and mail the newsletter to the feed expenses of the herd. Therefore, this blog entry to ask for sponsorships of the newsletter.
Now, what's in it for you???
If you or your organization or group should decide to sponsor a portion of one expense, or one full expense, or both of the expenses,
Refuge Farms
will give free ad space in the newsletter PLUS we will feature you on our
homepage
, just like
St
.
Croix
Electric
is featured as the sponsor for our
Halloween
at
THE
FARM
event. Plus, I will mail to you or your organization or group a 501(c)(3) donation receipt for tax purposes. Or, if you so choose, you or your organization or group could be an anonymous sponsor, for which I will publish my appreciation in the newsletter and on the website.
There. I've done it. Now it's up to you to ponder and decide. Should you or your organization or group be so inclined to sponsor all or part of the fall
Refuge Farms
newsletter, please email me
here
or contact me at (715)772-3379. If it's more convenient for you, you could also contribute to the
Refuge Farms
fall newsletter through
PayPal
®. Be sure to indicate if your
PayPal
® support is to be anonymous. I look forward to developing this new relationship style of life here at THE FARM...where the
MAGIC
just keeps on happening! Thank you.
Enjoy the journey of each and every day,
Sandy and The Herd
Friday, October 13, 2006
Sweet Lady Grey

Born:
unknown
Arrived:
October 20, 1984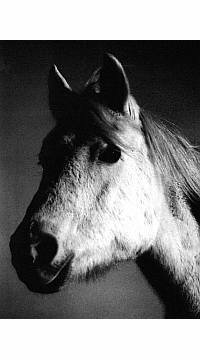 You could easily overlook Sweet Lady Grey. She's a quiet one amongst all of the other horses who so readily hang their heads over the gates and push at each other for the pets of our guests. Sweet Lady Grey will usually be standing just outside the barn doors watching and observing, but gladly – at her own choice - keeping her distance from all of us Human Beings. Yes, Sweet Lady Grey is an easy one to miss.
But if only this horse could talk! I would ask her why she is still – after 20 years! - so tentative around us? What ever caused her to be so suspicious? So easily spooked away? And so very, very
terrified
of being tied!!
Sweet Lady Grey came to me years ago – back in 1984. A friend of mine was at an auction in Southern Minnesota and she called me from the auction ring:
"There's a registered Arab mare here – with papers. It's a divorce case and they can't decide who gets the horse. So she was sold and a kill buyer bought her. But now he won't kill her since she's pregnant. He paid $100 for her and he wants to make a profit. Want her?"
Well, I could go on and on about my plans for raising award winning Arabians. Heck, in my mind I was going to be the next Patrick Swayze! And this little mare did not fit in to my plans! I could go on and on, like I said, with the discussion that ensued in my head. Yes, I could go on and on.
Two days and $101 later, my sister and I are pulling a borrowed horse trailer with her station wagon and we are on our way to Southern Minnesota to retrieve the newest addition to my barn. I bought her sight unseen. Sweet Lady Grey was her name. And she was anything but sweet!
She was skinny with the start of a big belly. Feet desperately in need of a trim. Head jerking all over the place! And just waiting for a chance to run me over and get away from me - literally!!! To her, Humans were just something to get away from! That was certain! She was dangerous to be around, that was confirmed in my first encounter with her.
After Lady inaugurated me with a bloodied lip, flattened toes, and generally being pushed and banged around, we were trailed and on our way. Once home, she made horrendous noises at Ono, her new companion. Poor Ono just stood there and looked at her with this puzzled expression on her face. What
was
that noise?
How
did you do that? Neither of us knew that a horse – let alone a petite, little Arab mare – could make a sound anything like
that!
Al, the farrier, came to visit the very next day. He tried and tried to clip the front feet (which were the worst of all), but his nippers would not go through the hoof. And Al is a strong man! But those nippers would not cut that hoof no matter how many times or at what angle he tried! So, Al began slowly trimming the hoof away with his hoof knife.
Lady stood perfectly still (amazing!) as stroke after stroke continued and Al removed thin slices of her deformed hoof. This long, curled thing on the end of her leg that we called a hoof was slowly taking shape. And then… lo and behold, we found shoes in there. Yes, shoes. Her hooves had grown right over her shoes on her front feet! Al just shook his head. While I cried.
After her feet were trimmed, I focused on her body and feeding her and trying to get her through this pregnancy. She was grossly underweight and so flighty that she wouldn't stand still long enough to eat! The feed
flew
all over the place every time she took a mouthful and then started flinging that head of hers! She was a pure Arab, that was for sure!
Lady spent the summer with me and by the end of the season, she would come in the barn – at a walk! – and go directly in to her stall. She literally
attacked
her feed but she would at least stand and eat now. She routinely broke feed buckets from her hammering at her feed. But after six months, I had a horse I could at least walk within 10 feet of without having her run over me or kick at me or make that horrific noise of hers!
And she and Ono were becoming fast friends. Ono the mellow, kind of slow one and Sweet Lady Grey, as fast as the wind! What a pair! They were so good for each other and would spend over 20 years together as pasture mates!
Toward the start of the next spring season, Lady lost the ribs sticking out of her sides and soon came to know me as the "the one with the food". And that was all. She still wanted no part of me or any other Human Being. Just feed her and then leave. No touching allowed!
While trying to groom her, I found deep and profound scars on her rear, lower legs. That could explain her need to run from being tied. Had she been tied and bred? Tied and beaten? Had she been caught in fence or wire while tied? I was certain something terrible had happened to her while she had been tied. How else do you explain the broken rings in my new horse trailer? The numerous broken lead ropes? And the sheer panic in her eyes that tells you she will fight being tied until something breaks – the rope, the hook, or her neck!
The baby she was carrying? Early her first spring with me, Lady delivered a huge - absolutely huge - palomino stud colt. And he was dead. Full term. Ready for delivery. In fact, too ready. That colt was so large it tore her badly. But that was the least my worries.
Sweet Lady Grey did not "clean out" and the risk of infection was very high since she had literally pushed some of her organs outside of herself. Huge injections of anti-labor drugs were given and we stitched her butt cheeks together to "hold her insides in". It was very bad, the vet told me.
I spent the night with her in the box stall, still in my work clothes. I rested on a lawn chair next to her and watched her as the contractions made her stomach muscles roll. And I watched as tears rolled out of her squeezed shut eyes and down her face. She refused water, feed, and her favorite treats. She just stood there and ached. And my heart ached with her.
But by 3am she was getting some of her spunk back and tipped my lawn chair over – with me in it! Then she pushed at me. And finally, I got the message. She wanted out of that box stall! So I opened the door and she gingerly stepped out to find her Ono. And then quietly, she stood next to Ono and began to nibble at a bit of green grass. Ono smelled her body, checked out her huge butt stitches, and then accepted her. I was touched by the need for companionship and the total acceptance of that companion. What teachers these horses are!
When Earl, the vet, stopped by my barn at 5am the next morning, he found me sleeping in my lawn chair in her empty box stall. "What time did she go?" he asked. "About 3am or so", was my reply. And then I pointed out in to the pasture. "My Lord!" Earl exclaimed. "That horse shouldn't have made it through the night!"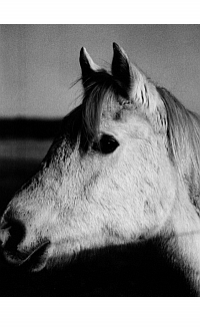 It is now the close of 2006 as I write the story of this little mare who came in to my life. And yes, Sweet Lady Grey still graces the pastures! Throughout the years, she has shared in the excitement of Ruby's arrival, the true love his protection, and then the deep grief of her chosen one's passing. Soon after, we again shared the deep grief of the passing of her pasture mate, Ono. And not being one to befriend easily, Sweet Lady Grey has become a loner in the pastures.
But she still runs like the wind! And yes, you can still see those huge dimples in her butt from her stitches of so many years ago. And yes, she still resists my attempts to hug and love her.
But she teaches me of persistence and quiet strength. She teaches me to live life on my own terms. And to be a bit cautious before giving my all. However, from Lady's example, I have learned that when I do give, I must give everything I have to give. She is a good teacher to me. She watches me. She is continually alert to her surroundings – quite a good survival skill, don't you think?
And I still have those shoes that we found buried under her deformed front hooves. I hold them sometimes when I get a new horse on The Farm and I cannot fathom the lack of care or their condition when they arrive. I hold those shoes and those shoes give me hope. And a touch of persistence. And a bit of the same determination and stamina that kept Lady alive in those conditions.
So began my life with Sweet Lady Grey. Not wanting me but needing me, she survived against all of the odds. Determined to save herself. Only wanting to be left alone. And willing to run and show off her beauty to those that will watch her… from a distance. She is a free spirit, indeed! And yes, every once in a while, Sweet Lady Grey is still willing to give me that noise of hers!
Enjoy the journey of each and every day,
Sandy and The Herd
Sunday, October 01, 2006
I like Unit the best!

We had a special visitor at THE FARM yesterday. Yah, I know we were "closed to the public", but I'm learning that this healing process isn't really something that you can schedule. I try to schedule public hours and private hours but I'm finding that when the need arises you open the gates (or barns, in our case!), regardless of what the calendar or the clock says.
So, I had been talking via email to a young lady about her special friend. This special friend of hers was having a birthday. And the life of this special friend is a bit scary right now. There's a family being divided and all the changes that brings with it. Plus there's the constant activity of young children in this family. Well, anyway, I just opened the barns.
Saturday here at THE FARM was going to be a busy day. Volunteers were coming over with their halters, carrot sticks, and lead ropes to practice Game 1 - The Friendly Game - of the Parelli Natural Horsemanship™ Method. So I fed at 12 noon so that all the horses would be easily accessible and with full tummies. That last part was to try to get a relaxed disposition from everybody. You know, how after you eat dinner all you want to do is sleep? Same idea only with the horses....
And a St. Croix Valley Master Gardener was visiting THE FARM for the first time to see if she could help us with our Memory Beds. Could she ever! We have Ima waiting to be adorned and now Lady-the-Dog all ready for decoration. And of course there is Jerry, the Roan Horse just waiting for the "
Grand Plan
". I must keep you reading, though, so I'll fill you in - with pictures - on what that plan is a bit later!
And then an Internet auction bidder was stopping out to pick up her treasure that she had won from our Open Barn Auction. And oh yeah, there was this lady with her special friend coming out. I was going to be a busy little girl, eh?
Well, the volunteers came and were just as they always are - willing to flow with whatever was happening and very self-sufficient. Some of the horses were taken to the corral and brushed and loved and The Friendly Game was going on all over! I actually think that ol' Cole may have fallen asleep with Famous Barb! But I saw the process of connecting and quality quiet time happening and so I left the corral. They sure didn't need me. But I must say, I was pleased and encouraged at the progress that I was seeing. These horses and these volunteers were building trust and I was smiling at the sight of it!
The Master Gardener heard a few stories and not only did she still want to help us with our Memory Beds, but she also mentioned that she may want to volunteer! I enjoyed our visit. She seemed like a very nice person - I'm hoping we get to know each other as we "plant along".
Then the van from Minnesota pulled in and it was time! The friend and her special friend came over and the visit started. You see, it was the 8th birthday of this special friend last Thursday. A young lady who loved horses. She told me she had a whole pile of them at home! And she told me this as she was coming to me from behind her friends legs. Shy with this big voiced woman asking her where she got those purple lips? Could it be from that sucker she had in her hands? I'm a bit loud and I know I can be intimidating to some children. So, I just let our relationship develop and trusted that she was feeling safe behind the legs of her friend.
We met Josephina and Beauty and Babee Joy and Jeri-Ann. Babee Joy, so far, was the favorite of this little girl's sister. Then we went down to the other barn and we met April and Jimmer and Lanna and PONY! and Gracie. And like once before, I felt I was running out of horses and this little 8 year old girl really wasn't connecting. Only this time, Frances Andrew wasn't here to save me! I spent some time on Bonita's story and Miss Bette and Cole and Blaise, but this 8 year old girl was still kind of just hanging around.
Then in came Unit - flying in to the barn! Causing sawdust to go up in the air and the ears to go back on most of the other horses! Graceful and quiet Unit was
NOT
! She bolted around the barn causing a general upset and then noticed the Humans! Food! Guests! Food! You could see it in her eyes!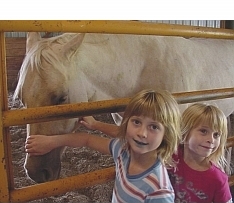 Over to the gates Unit came and immediately checked us all out for food. No food! How could this be??? But then Unit found our 8 year old guest. And Unit stood still. Now that, in itself, is
magic
! That Unit would stand still for anything other than food! But still she stood while this little girl "found" her and pet her nose and smiled.
"I like Unit the best", she said. "Unit?" I asked. You see, no one had ever chosen Unit before. "Why not Unit?" the friend asked.
I explained that Unit was young and a bit lacking in social skills and rammy and quick to move and hard to entertain and really sometimes a bit dangerous - not that she intends to hurt you, but sometimes she just does in her ramming around. And she typically doesn't stand still long enough for anyone to really get to know her. She's a touch wild, I explained, although I like to interpret that wildness as a zest for life!
The friend looked at me and asked, "Who are you describing? Unit or my friend here?"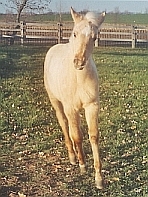 Then I understood. This special little girl, so free and "zesty" was the mirror of Unit. And Unit the mirror of her. That's the connection. Unit has her purpose here at
Refuge Farms
and it is this little girl. "I like Unit the best", she said again. And yes, little one, Unit likes you the best, too.
Magic
. It happens. And I can't predict it or if I do get so brave I'm never right. I see
"it"
happen here every day. A little horse relating to a little girl. Standing still for a little girl like she was a bucket of feed. And the little girl picking blades of grass to feed the little horse. Quiet. The both of them! A little girl and a little horse just meant for each other.
It will be pure joy to watch these two grow together! What a present to me that turned out to be! Once again, reaffirming for me why we do what we do. Quietly rescuing. Healing. Sharing. And healing some more.
"I like Unit the best," she said. And I am pleased and proud and grateful for the opportunity to share Unit with you, little girl.
Happy Birthday!
Enjoy the journey of each and every day,
Sandy and The Herd