Sunday, October 28, 2007
You Did Good!

November is the National Philanthropic Month. Someone should tell The '
Other
' Herd at
Refuge Farms
. They started celebrating a few days early!!!
Our
Halloween with THE FARM at Culver's®
event was yesterday, Saturday, the 27th. And what a day! I'm grinning and my chest is sticking out with pride from the compliments I've received and from my observations of just how smoothly things went!
The day began for most of The '
Other
' Herd at 7am – yup! 7am! That means it was barely light outside and still pretty darn brisk! And this crew was already
at
Culver's® and out there setting up canopies and building horse corrals and hauling mats and spreading shavings. I had the luxury of bringing our horses and Little Man by a leisurely 9:30am and when I pulled in the driveway of Culver's® everything was ready to go!
Sunshine filled the air and it was an absolutely glorious day! For late October in Wisconsin we could have not been blessed with a better day of weather! Thank heavens that 20% chance of showers went somewhere else! The sun never once hid behind the clouds and it was a made-to-order Saturday!
The horses were remarkable, as always. We tried something new this time – horse corrals. Five hours is a long time to stand at the end of a lead rope, so with respect to the horses and understanding the need for people to touch and love them, we built twelve by twelve foot horse corrals from borrowed panels
(Thank you, Amy!)
and they worked wonderfully!
Miss April was her usual gorgeous self standing in the brilliant sunshine. It does my heart a world of good to see her stand evenly and use her front feet, as a horse should. The extra farrier services that
The 4th Annual Walk for Refuge
has purchased for Miss April is working, that's obvious! What a gift to Miss April and all of us that love her! To see her walk out of the trailer and lift her head to look around instead of looking to the ground for safe footing. What a treat that was!
And then little
Spirit
came along. After only five weeks with us, she came on her first adventure and was a model participant. Never once did she do anything other than be a horse and a beautiful little one, at that! She stood for pets, she ate, and she slept in the warm sunshine! A perfect example to all who spent time with her. An example of loving a living creature even if that creature is not perfect. An example of one man's trash is another man's treasure. An example of calmness in the face of strife. I just love that little squirt!
The volunteers were dressed in costumes that still make me chuckle! Straw Man was a real hoot! We had an Aussie cowgirl and our cow, of course! The Queen of England joined us, too! She (he?) told me that she "
had come a long way to be with us today
" and I believe it! What a sight that woman (man?) was!!!
Bubba was there, too. He (she?) was padded and everyone once in a while had to escape to the restroom (which one?) to adjust a drooping part, but returned all adjusted and ready for more!
We had a Bruce Springstein fan amongst us and several fancy cowgirls. Even a purple-haired Adams family member! These people are creative, I tell you! And there were times when I just walked the parking lot to see if I could recognize everyone and guess who was under there???
The guests showed up, too! We opened at 10am and sure enough, here came guests to paint pumpkins, pet horses, bob for apples, and pet our Little Man. It stayed steady all day out in the parking lot. Inside the Culver's® was a different story, though! From my years in food service, I'm going to use a technical term now:
We got slammed!
Starting at about 11am until 1:30 or so, the business was steady and noisy! And hungry! At one point, Gary T. came to me and said, "
The dining room is full and there's a kid at every table. That's great!
" Sums it up and says it very well. The day was for the kids, and they came! Kids of all ages!
Inside counts were somewhere around 300 to 350 guests. And after eating, many wandered back outside for one more pet of Miss April, another chance at an apple floating in the water buckets, or another pet of Little Man. Or a root beer float, donated by Culver's®, for dessert.
Tearing down went as smoothly as setting up. In a record 90 minutes, the horses were loaded and as promised, you couldn't tell we had been there! Everything was packed and in trailers and we even swept and hosed down the driveway. Good thing we took pictures! Because this crew made us evaporate. They amaze me after every event how it all just disappears.
And this smoothness in setup, hosting, and teardown is due to the leadership of Kathy M. Kathy is good at being the Operations Manager. She never loses her smile or her patience. She jokes and sings. And everyone follows her lead. Kathy is a good leader and as I told Gary T. at lunch, "
I just can't imagine doing this without her.
" Gary agreed. "
What a blessing she is!
" Thank you, Captain, for another job well done!!!
Yesterday, in the parking lot of Culver's®, was the culmination of an entire week of celebrating. Celebrating the 8th Anniversary of Culver's® in Menomonie. But doing it "Gary's Way". And that means giving to someone else. In 2007, Gary chose
Refuge Farms
and what a blessing that was!!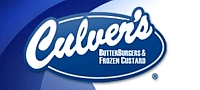 So many things were done to promote us and this week – full, color ads were designed and run in multiple newspapers for multiple weeks, chicken dinners were offered for anyone purchasing a bag of feed for THE FARM, free sundaes given for any item dropped in the Wish Box, free custard for anyone donating $2 to THE FARM, and then there was the free root beer floats during the event yesterday. Plus he and his crew tolerated us farm girls working their shifts throughout the week thereby giving us the opportunity to explain who we are and what we do to those who asked about us. Gary even went to the extent of putting "
REFUGE FARMS DAYS
" on his road signs – right over the huge banners he had made up declaring his 8th Anniversary
benefiting REFUGE FARMS!
The man supported us as his way of celebrating his very own anniversary.
"Thank You" seems woefully inadequate, but it is what I can offer. My gratitude and my commitment to use his support to continue our Missions of Healing. To rescue the horses like Spirit and use them to teach Human Beings about compassion and acceptance and the sanctity of life. And to reach the kids. And yes, the kids of all ages.
Thank you, Gary T., for wrapping your big arms around us this past week. What a blessing you and your crew are to us! And thank you, Volunteers, for doing your typical spectacular job yesterday!
You did good!
Enjoy the journey of each and every day,
"Dorothy at 50" at The Herd
Sunday, October 21, 2007
Halloween with THE FARM at Culver's® in Menomonie

Every once in a while, a door opens for
Refuge Farms
and entire new possibilities are presented to us. I stand in awe of the generosity and kindness of the giver and work hard to respond in kind and show my personal gratitude for the opportunity.
Gary T. and his crew at Culver's® of Menomonie have opened such a door for
Refuge Farms
these past few weeks. And the week of October 22nd through the 27th will be the culmination of
hours
of work on Gary's part and for a few of us here at THE FARM. Gary has designed and run ads in the local papers.
Refuge Farms
has printed and posted posters to help spread the word. We have posters up in the Culver's® store introducing the concept of
Refuge Farms
to any who will read them. The upcoming week is packed with events – all sponsored by Gary T. and his Culver's® of Menomonie.
This entire week of giving on Gary's part is in celebration of his
8th Anniversary
for this particular Culver's® location. Gary has a history of being a successful restaurant owner and what has impressed me about watching Gary, is that he is not only an owner but an operator. At lunchtime, you'll find Gary dishing chili or on the grill. On the front counter or running orders to the floor. He tells me he doesn't ask his crew to do anything he can't or wouldn't do. I like the man for that simple statement alone.
So this entire anniversary week, Gary is offering his customers specials and deals with many of them benefiting
Refuge Farms
. Creative thinking and a big heart are behind each one of these opportunities. Gary is a big man in stature and I tell people when describing his giving and generosity as "
he just put those big arms of his around us!
"
P.S. Take a close look at the
8th Anniversary
ad. It's the picture that makes me chuckle! Who else is standing next to Gary in a box stall but Ole' Man Cole! And with his face in a bucket of Culver's® Custard! Now that's one for the record books!
Buy a Bag & Get a Bag
For several weeks now, there has been a promotion running fully sponsored by Gary T. and his Culver's®. That promotion has been that those who purchase a 50 lb. bag of feed for THE FARM will receive a free coupon for a 2-piece Chicken Dinner at the Meonomonie Culver's®. The feed may be purchased at the Menomonie Culver's® or at Valley Feeds, but either way, for each bag purchased a coupon for a free dinner is given.
In support of this promotion, Gary has designed and run several weeks of colorful and creative ads in the local newspapers. You can see the ad for yourself by clicking
here
.
Refuge Farms
has taken that ad and printed it as a poster and put them up for the public to see as well. And so far, over one-half a month's supply of Safe Choice™ has been donated!!! Wonderful! The feed comes to THE FARM and the giver gets a free dinner – all sponsored by Gary T.
But what I like the best about this particular promotion is the picture in the ad! Look at that man! Behind the bars of one of our box stalls in a straw hat and screaming for his life! Creative and fun-loving he is!
Monday Chicken Dinner Special
On Monday, October 22nd, from 5pm – 8pm, Culver's® is running a Chicken Dinner special as a fundraiser for THE FARM. Chicken 2 and 3 piece dinners are on special with the servers being none other than
Refuge Farms
volunteers! We will smile and do our best to be speedy with your hot dinners. And your tips will all go to THE FARM.
The dinners are on special for dine-in or take-out and Gary tells me that last year, in those same three hours, he served over 250 dinners! Holy herd! That's a lot of dinners!! I need to be sure to wear my running shoes!
Wednesday is 10% Day!
All day on Wednesday, Gary is sharing his revenue by donating 10% of every sale to THE FARM. Yup, you read that right. All day on Wednesday! For the entire day! That means for every ButterBurger® and every shake and every dish of custard, donations will be made to THE FARM. It's this kind of generosity that I struggle with when I go to express my gratitude. "
Thank You
" seems so small to such a big-hearted man.
And
Refuge Farms
is adding to the event on Wednesday evening! From 5pm – 8pm, once again,
Refuge Farms
volunteers will be your servers – with huge smiles! And if you come to dinner in your
Refuge Farms
t-shirt,
Refuge Farms
will buy your dish of custard for desert!
Come on volunteers and all of you with our t-shirts! Show your support of this man and his big heart! Let's turn the dining room of Culver's® in to a sea of blue t-shirts!!!
Refuge Farms Supply Drive
In the front of the Culver's® store is a big box. Attached to that box is a Donation Wish List of small items used by THE FARM on almost a daily basis. Everything from vet wrap to salve to dewormer to buckets and brushes. And Gary, bless his heart!, has seen his way to support the drive by giving you a coupon for a FREE SUNDAE for each item off the list that you drop in the box!
If you are interested in previewing the list,
here it is
. The prices on the list reflect those of Fleet Farm® in Menomonie, so your local tack store may vary a bit. But you get the idea! And remember, you get a free sundae, too!
Give 2 Bucks & Get 2 Bucks
Now this is original and oh-so-big-hearted! If you walk in to the Menomonie Culver's® during the week and donate $2 to
Refuge Farms
, Gary will give you a coupon – free – for a $2 dish of custard. The full $2 donation goes to THE FARM and you get the equal value in custard! A win-win deal for THE FARM and for you! Thanks to Gary's heart!
You Make THE MAGIC!
All week long, you will have the opportunity to donate $1 to THE FARM and sign a picture card. These pictures cards have Gracie and a little girl together. A young man and Big Jim. A little boy feeding Miss Bonita a carrot. Each of these picture cards has a line for you to sign. Once you've signed your Magic Card, the card is then taped up in Culver's® for the week. For the whole world to see! Making Magic for $1. I love it!
Halloween with THE FARM at Culver's®
The entire week of giving and supporting culminates with a celebration right in the front yard of the Culver's® store! On Saturday, the 27th, from 10am – 3pm,
Refuge Farms
will temporarily move to Menomonie for our Annual Halloween Event. Only this year, we are in the Culver's® front yard!
Like we do at every Halloween Event, there will be pumpkins for the kids to paint and take home with them! There will be apples for bobbing for the brave of heart and thick of scalp! And of course, there will be root beer floats, compliments of Gary and Culver's®, with a free will donation!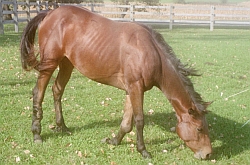 And on this special day, we will also introduce to the world our newest member of The Herd. We are bringing The Filly – renamed as "
Spirit
"! Come and meet her! She is a little girl with some big leg issues but already showing us a heart of gold and a true desire to give back! In less than thirty days, we are bringing her out to the public and she will be a star! What a gift this little girl is to us all! Come and meet her!
We will have canopies up and pumpkins ready. Apples floating and Miss April and Spirit awaiting your hands. Root beer floats will be served and of course, we'll all be in costume and encourage you to come in costume, too!
That sight alone is worth the trip!!!
And then late Saturday afternoon, we'll pack up and sweep and make it look like we weren't even there. We'll drive the trucks and trailers back to THE FARM and I will sit here at my desk and ponder how to thank this man. This man who owns a Culver's® in Menomonie, Wisconsin. This man who has selected
Refuge Farms
as his benefit organization for his annual anniversary celebration. This man who has put his big arms around us and said, "
Here. I'll help you
." This man who used to own horses and sees the
Magic
of them and the work and dedication behind what we do and who we are. This man who gives of his heart and his earnings to help us with our Missions of Healing.


Bless you, Gary T. and your crew at Culver's®!
Refuge Farms
and its Herd of Volunteers will rise to the upcoming week full of events! You'll see our Herd of Volunteers to support Saturday's traffic of kids, kids, and more kids! And you'll see from our attendance and our participation just how we value your commitment to us and just how grateful we are for your generosity in supporting us!
Thank you, Gary, for putting your big arms around us! And I'll see all of you at Culver's®!!!
Enjoy the journey of each and every day,
Sandy and The Herd
Sunday, October 14, 2007
Events, Events, Events


Every year we start off with a full calendar of events. I remember this year looking at a full page of events, my stomach in knots, wondering if we could pull all of this off when I noticed that this was one of two pages. The knot got bigger! My first thought was all the work involved in putting on an event. Will we have enough volunteers? Silly question when you have the volunteers that we have. Since most events are outside, will the weather hold out for us? Will we have everything ready or will we forget something very important? And, most of all, will people come?
I once had a volunteer ask me,"so what goes into doing an event?" I took in a deep breath and then started…first comes the publicity, and then we have to reach the public. We do this in several different ways. First off, we contact the media to get our event on the community calendars. In addition to this, we have our volunteers put up posters in the different towns surrounding
Refuge Farms
. We also have Vincent, our webmaster, put it on our website. All of this is done to let people know when, what, and where the event is being held. Then we start working on the heart of the event. There are some things that we do at all of our events: get
Refuge Farms
promotional items ready for display and all of our informational material ready to hand out. From there we expand out to the special needs or effects for a specific event, such as, pumpkins at Halloween, Santa at Christmas, food for each event and decorations from straw to Christmas trees. There are some events, like the Open Barn and the Spring Thrift Sale that have more work and require a lot more time to get ready. Preparations are done, many times, months in advance to make sure everything goes as smooth as possible on the day of the event.
The facility and the horses, although a big part of any event, add very little extra work in our event preparations. Keeping the barns clean, the water tanks cleaned and filled, mowing the lawn plus the general maintenance around THE FARM, are all part of the daily chores that keeps
Refuge Farms
ready to handle any one of Our Missions. When we have an event away from THE FARM, we may take some of the horses with us. This involves making sure we have the proper equipment for safe transport, food and water for the horses, and any other needs that we might have to deal with while we are on the road. Our goal is to always have a safe environment for our horses, our volunteers, and our guests.
A common question I'm asked is, "How do you get it all done?" The volunteers – our wonderful and dedicated volunteers, that's how we get it done. All I do is send an e-mail to all the volunteers with the word HELP. In response they come to THE FARM with their "I am here to work clothes" and best of all a "big smile" on their face. They are eager to do all that needs to be done even if someone gets "
ICKY
". Then on the day of the event they come back with their
Refuge Farms
t-shirt and that same smile. What great volunteers we have, they are like a close knit family working for one goal - to make every event special for our guests and while doing this we laugh, sing, I dance, and enjoy each other as we help carry out the Missions of helping Horses and Humans alike.
Then came more questions, I started to think I was Sandy having an interview on TV. With all the work and worry why do we have so many events? Are they all to raise money? We do have some that are considered fundraisers, others are considered mission events, but even after all the work and the worries they all turn out to be fun and rewarding. When the event day is done and the volunteers start talking about a special moment they witnessed that touched the hearts of our guests, that's our reward and the real answer to the question why do we do it.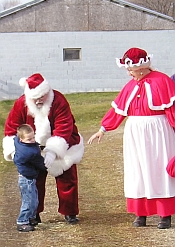 Here, let me tell you about one of our events. Of course it was one that I was the event manager for so I think I worried the most. Last November we had Mr. and Mrs. Claus at THE FARM and of course like every year there is that worrisome question. WILL SANTA MAKE IT? Will one of the reindeer get sick and not be able to fly? Will there be a blizzard at the North Pole and Rudolph's nose can't glow bright enough to get Santa safely through? The day comes and you're standing there with the volunteers waiting when a guest and her small boy arrive already for the big day. Still no Santa and your stomach is in one big knot. Then it happens, here comes both Mr. and Mrs. Claus hand in hand down the drive way and out of the corner of your eye you see what it is all about. A little boy runs to Santa and when he arrives Santa picks him up to give him a hug. The excitement of one little boy touches your heart and brings tears to your eyes. That's when you know all the work is worth it.
Every event has its own special story but instead of me telling you what they all are just check out the calendar for upcoming events on the website and come out and be part of the fun and maybe, you will experience that moment when you feel the warmth in your heart and the chill through your entire body which we call the
Magic
of
Refuge Farms
.
Kathy
Sunday, October 07, 2007
A Simple Week

I love it! This past week has been a simple week. A week without trauma or emergency or extreme stress or anything to create a feeling of gloom or sadness. The only tears this week have been tears from laughter and joy! I love it! This past week has been a simple week.
The weather has been a little spooky. Our fall has not been typical in any sense. The summer drought is certainly behind us! The skies have opened up on us and we have had
monsoons!
Rainstorms that drop 2" to 3"' inches in just the time it takes the storm's worst to pass over us! The yard has standing water. The pastures are slippery from the excessive rain! The dry run has overflowed and small trees have drifted across the pasture! It's wet everywhere! And the forecast is for more rain!
I temper all of this remembering what my Dad would tell me about the fall rains; "
It's good for the trees to have a moist root system going in to winter
." Hey Dad, the trees are happy! Very happy!
And then the temperature has given us another twist. Yesterday at 2pm, I glanced at the thermometer in the barn and it read 87 degrees. In October! And with the humidity way up there because of the excessive rain! The Herd has already started to hair up for winter and most of them have sweatbands on their chests – wet rings where you can see they are sweating, too, with the uncharacteristically warm temperatures. In fact, I actually turned the barn fans on this week. In October!!!
* * * * * *
Early in the week, our monthly article appeared in the Dunn County News. Deb A., the editor of the Variety Section where our article appears, attended the Open Barn with her Mom. And Deb took some marvelous pictures. And, I think, she enjoyed the Open Barn as well.
Looking at the front page of the Sunday Edition, you saw a picture of Unit with some guests as a teaser for the article that was held within. Then when you turned to the Variety Section, there we were!
In full color! The entire page!
When Deb and I first talked about this article almost two years ago, we discussed an article that was 500 to 800 words or so. One or two pictures. Well, don't count the pictures and don't count the words! Our article and pictures consumed the cover page in full color and then continued on to another page – for another half a page! – in black and white! I had written my "diary" of the day, and Deb, bless her heart, had seen a way to print it as she received it. All of the words. And notice, in particular, one picture if you would. It's a picture of Kathy M. and Miss Bette. We have two famous ones amongst us now. Great picture of the two of them. And the love that exists there is so evident that it is almost a third dimension to the picture.
* * * * * *
The little filly continues to grow and change almost daily. Her ribs are not so prominent. She is learning to use that front leg even without a Human in front of her reminding her to "
Walk!
" And her personality continues to come through. My conclusion? This little girl has spunk and spirit, that's for sure!
One evening this week, I was later than I usually am in getting her out of the corral and in to her stall for the evening. She has quickly learned that awaiting her at the sunset is a bucket with feed, a half-barrel with hay, a bucket of water, and a bed of sawdust to rest on. She would purr, I think, if she could…
Well, on this particular evening, I was sure of myself and so I opened the double gates to the corral and stood in the twelve-foot opening with her halter in my hand awaiting her arrival up to me.
Arrive she did!
She put her head up, ran – yes,
ran!
– up to me and right past me! She
flew
in to the barn and right in to her stall! Right by me without a second thought! No need stopping for her! She'll just slow me down!!!
Mud was flying in the air! Little Man ran in to the cedar trees to get out of her way! And all four of her legs and feet were working very well, indeed, as she overcame obstacles, slippery earth, and me to get to her feed!
As she reached her stall, I muttered something like "
Might as well close the gates behind her
," and obediently, I followed her in to the barn – still with her halter in my hand. Not once did she look at me. Why should she? I had only been one of those obstacles that she had needed to overcome in order to get to her feed!
Her spunk and spirit continue to show me a little girl determined to live as best as she can for as long as she can. She seems very content here and enjoys the companionship of the other horses – especially Miss April. When I arrive in the barn in the mornings, more often than not, I find Miss April with her head over the gate nosing with the filly. Interesting that these two – both with front feet and leg disabilities – would find each other so soon.
* * * * * *
Throughout the week, many of you have called or emailed me with your expressions of support and confidence that this recent change in my life will work out for the better. Some of you have purchased grocery cards to make sure I eat. Some of you have put me on your personal and church prayer lists. Some of you have written letters of recommendation. Some of you have reached out to contacts that I have needed and opened doors for telephone conversations. Some of you have stopped by just to hug me and offer whatever is needed when the need arises.
But mostly, you are there. You listen. You worry with me. And you express the belief that all will be well. That the sudden and unexplained loss of employment is part of The Master Plan. Thank you to all of you. There is much yet to uncover and much yet to settle, but I am armed with confidence and energy largely because of all of you and your arms right behind me. I am safe and feel it because of all of you. Thank you.
* * * * * *
Lastly, this week has been a week of building excitement and anticipation. Tony is coming!
Tony Stromberg
is at
Refuge Farms
next week! Our horses will offer their hearts and heads and energies to a man with a talented eye and camera lenses. And our horses will show their capacity to heal and to play and to be free! To be confident that playing and running and sniffing and snorting and being a horse is now something that they can do freely!
I was nervous this morning about Tony's arrival. With this constant rain, my plans to have the pastures "swept" of the old hay piles have not been completed. It's just too wet and muddy. And so the pictures will be around those piles! And I was so worried that the weeds were all not trimmed from the fence lines and some of the posts are crooked and as I walked to the barn, I saw so many things I wanted fixed!
But then I walked in the barn. And looked at massive Babee Joy standing there. With shiny Beauty next to her. And little Unit hidden between Beauty and sleepy Jeri-Ann. And strong Miss Bette standing safely off to the side. And alert Josephina in the doorway acting as the bouncer.
Then on the other side I saw Cole soaking up the sun with Miss April right beside him. Addie-Girl was quietly dozing in the corner. The filly was sound asleep on her side. PONY! and Gracie were buried in a round bale just outside the door.
And I stopped worrying. This is what the man will see. If his heart is open at all, he won't care about the weeds or the fence posts or the hay piles. He will see the eyes. And the histories and the wisdoms. And the spirits and the capacities to love and forgive in these horses. He will see the caution and the ease, all at the same time. And he, too, will see beyond the things around them and see
them
.
On mornings like this, I am content just to stand and watch them. To try to soak them up. And to take those mental snapshots that you never forget. It is on this morning that I am grateful for a simple week. A week filled with compassion and support and healing. On this morning, I am grateful to be in this place at this time. I am grateful to be me.
Pray for peace in this world and for another simple week to come.
Enjoy the journey of each and every day,
Sandy and The Herd