Saturday, March 29, 2008
For Those Horses

My blog is being written a tad bit early this week. Tomorrow, Sunday, will be a full one so I thought I would write to you this evening. Hope you don't mind!
Today was the Saturday of our Public Hours for March of 2008. And what a day! We had our first guests in the driveway at 9:30am and the guests were steady until 2pm or so. Thirty-six (36) people came down the driveway to check us out today.
"And just how had they heard of us?"
I asked.
Oh, they have driven by and have seen the road signs. And they have heard of us from a friend and so they thought it was a good day to drop in. Or our website had been emailed to them from someone who knew they liked horses. Or they have heard about us from a volunteer who is part of our Farm Family and wanted to check out the place the volunteer talks of so much. Or they have been reading the articles in the Dunn County News every month......
Regardless, they came to us on this Saturday. And waiting here to meet them was a likewise valuable group of Human Beings we call The
'Other'
Herd – the volunteers. Twelve (12) of the Family were here to tell the stories, insure the safety of all during horse pettings and brushings, to listen, and to make sure every guest had a good cup of hot chocolate before departing.
And I have that feeling that my life has begun a new friendship today. A woman who also has the heart of a rescuer and is working to continue without the love of her life. A very nice woman with a huge and generous heart. She loves to garden and she relies on her animals to support her and give her pleasure and strength. I liked her from the first moment we began our conversation. You'll hear directly from her shortly, so stay tuned for more from this new friend of mine.
With all of this going on at once, at one point in the day, I stopped my flurry of activity and just listened and watched and absorbed it all. What I heard was adult laughter and many voices talking and kids giggling and yes, even Little Man barking. What I saw were strangers hugging and laughing and yes, a few tears when Handsome came in to the barn. What I felt was an enormous chest-swelling feeling of awe.
These people have come together and are sincerely and genuinely relating and sharing all because of this small herd of rejected horses. All because there happens to live here on this small little tract of land a few horses with bad legs or bad eyes or bad bones or old bones. Horses not able to work or be ridden anymore. Horses that were at the end of their line. They came here and the Human Beings followed. My awe was palatable as I surveyed what has transpired from his simple words:
"Take this horse, Sandy, and make a difference in somebody's life with it."
Thank you, Andy, for seeing the need. For seeing the healing that would come because of your generous gift of Frances Andrew. For challenging me to change my life and reverse the lonely road I had traveled for so long. Thank you, my loyal and beloved friend. I spoke of you several times today. Did you hear me? You are not far from me, you know. But I do miss you so, my dear Andy.
* * * * *
My Sunday will be filled with early morning chores, Sunday service, and then a trip in to downtown Minneapolis to be interviewed by CBS Radio. I am honored that my opinion is requested. My opinion that will be as tactful as I can be but will also be honest and often brutal, I suspect. Impactful, I hope. Able to reach out and cause some people – maybe just one person – to stop and think about their responsibility as a horse owner. The topic? Well, it is a topic that came up in the barns just this afternoon. It is time to begin the talks about the flood of unwanted horses in the USA.
How did we get here? What do we do in the long term? But in the meantime, what do we do for the horses that are dieing
right now
from starvation or lack of shelter or lack of water?
Right now!
So tomorrow without being too aggressive, I will do my very, very best to be the voice of those dieing horses.
Those horses
who are weak and hungry and dehydrated and being chased until they drop.
Those horses
that I hear in my mind every single day and every single night.
Those horses
that need us the most. I will do my very best to talk for
those horses
and plead for them. With the same pride as I see from the weakest that I have rescued. And with the same determination that I see in the eyes of even the most emaciated and destroyed. I will do my best to speak loudly and clearly for
those horses
.
Send your positive energies to me tomorrow, please. Help me to make a strong case that reaches horse owners who continue to breed. And the owners who aren't feeding. And the owners who aren't even looking anymore. Help me to make a strong, clear case that is hard to rebut. A case for
those horses
that are dieing right now. We must act swiftly and with great compassion and purpose. We must act. We must.
Think about it. In the time it took to read this blog, another one has died.
Enjoy the journey of each and every day,
Sandy and The Herd speaking for
Those Horses
Sunday, March 23, 2008
Ima's Very Own Easter

Resurrection is a big word. Twelve letters are needed to create the word. Four syllables come together to make that single word. The Webster's Dictionary has seven definitions for the word. One of those definitions talks about resurrection being
"a rising from the dead that leads to a spiritual understanding"
. A big word. A deep word. A significant word.
Today is Easter Sunday. For those of us raised in the Christian religion, we have our memories of celebrating Easter Sunday as a child with egg coloring contests, egg hunts, visits from the "Easter Bunny", and of course, Easter Sunday service with the entire family.
Just this morning I gazed at a photo of the Gilbert Family all dressed for Easter service in the early 60's. All of us girls had our Easter hats on. My Dad was in his good brown suit. And I had my freshly Vaseline'd white patent leather shoes on with my embroidered anklets. Dressed up for Easter. It was a tradition.
As we grow older, some of us sway and wander a bit from those traditions we shared as a child. But for me, this Easter Sunday is a resurrection. This Easter Sunday holds many gifts and promises and significant lessons for me. This particular Sunday is a resurrection.
This is March 23rd, 2008.
The first full Sunday of Spring. Hallelujah! It is no secret that winter is a tough season up here in the Northland. And it is also no secret that winter brings challenges with it that are ever increasingly more difficult to meet and overcome. The winds are a bit stronger each year. The thermometer stays lower a bit longer each year. The snow isn't quite so inviting as it was last year. And the days seem a bit harder and longer than they did last year. Winter is tough. And it seems to be a bit tougher every year that passes.
This first full Sunday of Spring is a true resurrection to me. It means that the perennials will soon be poking their green sprouts up through the earth. It means that the songbirds that I hear outside are back for the summer. It means that the geese I see are coming home to have their offspring and relax for a few months. The first Sunday of Spring is a resurrection of the earth and therefore of my spirit. Both will once again come back from their hibernations and become alive again. Hallelujah! It is spring in Wisconsin!
This is March 23rd, 2008.
It is also Easter Sunday. And with that holiday comes the story of the original resurrection. Of good sustaining over evil. Of life and an invitation to do good. Of possibilities and sustaining. That Easter Sunday story that I know so well is to me, more than anything, the story of hope. I rely on that hope each day as I start the daily chores. The hope that good will prevail and we Humans will learn to care for each other and respect and trust each other. Simply put, we Humans will learn to be more like The Herd - teachers of the meaning of that original resurrection.
But March 23rd, 2008 is more than Easter Sunday and the first Sunday of Spring. It is also the anniversary of the crossing of one who taught me the true meaning of the word resurrection. A little mare that showed me every single day what resurrection really meant. And in doing so, left me a life lesson that I hold dear as I do the memory of Ima.
Ima came to THE FARM a starved, dehydrated, maggot infested creature without a mane and barely a tail. Her body had no reserves left. I had never seen a horse so totally depleted and without any hope. Her eyes were blinded from the starvation and yet, somehow, she had delivered a baby out of that emaciated body. A baby who would certainly die since Mom had no milk to offer.
As The Plan executed itself, I found myself in the driveway of the man who "owned" Ima. And as The Plan moved forward a bit, soon Ima and her starved, sweating baby were in my trailer heading for my barns. The voice inside of me told me that they would both die. The baby for sure. The mare, probably in a very short time. I heard myself preparing my heart that they would certainly both die. But better to die quietly and peacefully in a bed of straw in a cool barn than in a circle of dirt out in the hot sun and loaded with flies.
But Ima had other plans. She would perform unlike any
of my expectations and she would teach me the true meaning of devotion and determination and selflessness. And resurrection. Ima would take the food offered her and eat it calmly. Slowly. And in total deliberation. Ima would not inhale the food, as she so desperately wanted to do! No, Ima would chew and swallow and drink plenty of water. All the while commanding her body to pass on the nutrition to her baby in the form of milk. All the while commanding her body to not retain any of the nutrition for herself even though she so desperately needed the strength just to stand! No, Ima insisted that her body use all of the nutrition for the baby.
And so because of Ima's selflessness, there was a resurrection at
Refuge Farms
that night in 1998. A little baby horse was left to die on the deep straw. But the mare who had delivered her raised her again. The mare who was starved to the point of having no muscle on her flanks simply converted the hay and water to milk. Bypassing her own needs, she gave back. And the baby drank. And the baby lived.
I tell people that April was born on the last day of April 1998. And then she was born again somewhere in the night of May 1, 1998. All because her mother had the determination and conviction to do what it took to bring her baby back from certain death. To create a resurrection.
Resurrection. It's a big word. It means spring is coming! It means Easter Sunday! And it means that Ima taught the
lesson better than any storyteller ever could. Ima taught by doing - a living example. And so, today, I honor Ima. I honor Ima by loving her daughter, April, and telling April the story of her Mom. How her Mom created our own little Easter right here in the barn. And that by creating that Easter, Ima brought us a new life and new possibilities. And Ima with her own Easter brought us hope.
I wish you peace today. Peace and contentment. May you know in your inner self that you have a place and a purpose and a future and a life after this one. May you know the determination and perseverance of Ima. The generosity and loyalty of Ima. And the strength and gift of life of our April. May you, perhaps, experience your own resurrection very soon.
Enjoy the journey of each and every day,
Sandy and The Herd
Sunday, March 09, 2008
For the Love of Our Herd...


In this time of economic and social unrest, more than ever I find myself drawn to all of what nature has to offer - spring lambing in Montana, hiking a sandy beach path on the coast of California, viewing numerous National Parks, pulling weeds and tending flower beds, or enjoying the off-leash dog park with Mom and my dog, Fly. And always returning and rediscovering the
Magic
found only at the horse rescue known as
Refuge Farms
.

Nature
is the essence of THE FARM. The Herd of eighteen horses are known as "diers" - horses that have come to THE FARM because they are too weak for slaughter or are blind and/or physically and emotionally damaged to the point that they have no other options. When they arrive, every horse is given THE THREE PROMISES:


You will never experience verbal or physical abuse again - you will be treated with respect and unconditional caring.


You will never know HUNGER or THIRST again.


You will never have to join a new herd - you will live at THE FARM with The Herd and when you cross you will remain at THE FARM.


During their time of
healing
, The Herd evolves from
Survivors
to
Thrivers
and pass on the essence of healing to all who come to meet them. You are only a stranger to The Herd the first time. Every time you come you discover more similarities between your dreams and desires and the seemingly simple needs of The Herd to be hunger free and treated with regard by all whom meet them.
A relationship between Horse and Human is individual and special. A horse does not care how physically or emotionally fit you are. Instead they help us look in to our very beings. Gazing in to their eyes is certainly a window to the soul. This interaction is the intangible essence we at THE FARM call
Magic
.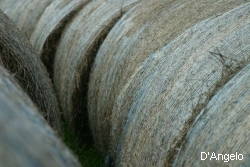 For our horses to continue to freely give of their
Magic
, my belief is that we must insure that we continue to have resources to allow The Herd to have large round bales of grassy hay to eat and clean water to drink. You may consider this to be a given, but, in fact, it is the simple truth that without hay,
Refuge Farms
could not have The Herd, who are so willing to minister to all of us.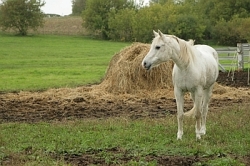 With the continued high price of hay, our cost for the winter of 2008-2009 for our herd of eighteen horses will be close to $15,000.
Refuge Farms
horses come from the northwest regions of Wisconsin and unfortunately, do not enjoy the same legal protection as do dogs, cats, and other domestic animals. So there is no city or county or state funding for the care of horses that are victims of starvation and other abuses.
Refuge Farms
and other horse rescues depend solely on the generosity of others.
As a result, I am pleased to announce the
2nd Annual Hay Fund Challenge
! This is my second year of sponsoring the Hay Fund Challenge in an attempt to insure that our promise of food, given to each member of The Herd, will be met and paid for. As with the last year's challenge, I will match the first $2,500 in donations toward our upcoming winter hay bill.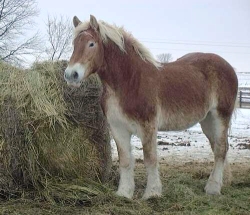 Your contribution need not be a monster size. Maybe it is a monthly pledge of $50! Perhaps you could consider gathering friends and family and pledge your support to the Hay Challenge. For your convenience, you may make your donation using PayPal® or the form provided.
Please, come visit THE FARM and experience the
Magic
of
Refuge Farms
for yourself!
The Herd of
Refuge Farms
thanks all of you who donated to the 1st Annual Hay Fund Challenge and they eagerly await your continued support of hay for the coming winter. All 18 herd members are grateful for your support of their primary food source!

So I invite you to The Challenge! The Herd thanks you! I thank you! Please come, visit
Refuge Farms
, and experience the
Magic
and Healing found in the horses and Humans alike!
As always, "
for the love of horses
",
Barbara G., a.k.a Lambing Barb
Sunday, March 02, 2008
A Creature of Kinship

It was the very same night as the night that Miss Bette and I came through the Storm from Hell together. It was the night that left Miss Bette stiff and sore and with spots on her left hip and shoulder where the hide would fall off due to the frostbite. It was the same night that I lost two toenails due to the cold. It was the same night that the moisture in my eyes would start to freeze as I walked from the barn up to the house for a flashlight or more quilts or to drape a wet horse blanket on a drying rack in the living room. It was the night that took time off of Miss Bette's life. It was the night of 45 to 60 below zero wind chills. All night.
Somewhere in northern Minnesota, way up north of Bemidji where it gets
really
cold, a little German Shepherd mix dog was under the porch where he lived. He was out of the wind and would survive. But he probably needed to potty and so he wandered out from under the porch sometime in the evening and then it happened. His chain was caught. He struggled to free his chain but could not. Ultimately, this little dog ended up spending this night of 45 to 60 below wind chills out in the wind. Not under his porch.
He did his best to stay as warm as he could, I'm sure. But the end result was frozen pads on his feet and frozen ear tips. These things could heal. The big real end result was his frozen eyes. This little dog came through the same Storm from Hell as Miss Bette with damage to his body, too. But his damage was something that time would not heal. He was now blind.
The local rescue organization attempted to retrieve the dog but the family was attached and so this newly blinded dog was to stay on his chain under the porch. A few days later, the family moved the dog in to the basement of their house. I'm guessing due to the barking and howling and whining. Being newly blinded would be scary. And if you remember, it was cold after that night. Putting all these things together, I'm guessing the little guy was just noisily hollering for some help.
The help came and in to the basement he went. Unfortunately, his blindness caused him to bump in to things and probably tip things over. He jumped up on things and probably broke things. And in this basement, he barked, I'm sure! And he whined and he howled. Scared and uncertain, he was no quiet dog in their basement, on that I would bet the farm!
The community in this part of the world is poor. The work opportunities are non-existent. School is a gift - if it happens. And keeping the kids fed and the house warm is a chore and a task. A blind dog isn't in the cards. Too much care and not enough time. Too much money to treat him and no money to be had. The owner did what they do in that part of the world when the dog needs to move on. The owner created a situation to take the dog out of this world. To relieve the family of this out of control, noisy, and now blind dog.
Anti-freeze was put out for the dog to drink.
And this little dog tasted the sweet water and so he drank. And then he became sick. The family, still needing to do something with the dog, contacted the rescue that had originally asked to take him after the eyes were damaged. Yes, the rescue would still take him. And take him they did – blind, sick, and all.
Once checked in with a local vet, many tests were run. The dog's kidneys were failing. Was that because of the trauma of the storm and the blindness? From the antifreeze? From both? His appetite was basically gone. His tummy was upset and his bowels were poor. His blood work showed he also tested positive for lyme disease. And his blood work showed he also tested positive for heartworm. He couldn't be vaccinated because, at this point, his kidneys were just too frail. But this rescue did not give up on him. No, he was a life to be saved.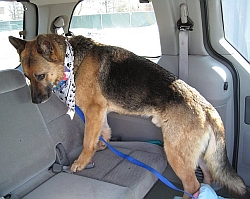 Even with all of these medical failures working against him, this little dog remained chipper and loving and giving his caregivers their share of licks and jumps and howls to tell them he was there! A week in the clinic and he was ready for a new home. But who would take a dog that was blind and diagnosed with lyme and heartworm and poor kidneys? A dog with a relatively short expected lifespan?
The email fairly jumped off the screen at me. Sabra had forwarded it to the group of us that she sends all of these emails to and this one actually had a physical impact on me. I felt my stomach turn and there existed an immediate kinship between this creature and me. I had been out in that storm, too! I had felt the knives of that wind! I had felt my lungs hurt from the severe cold! I had been scared – really scared like in the movies - that this weather was going to create death! I could relate to this little dog!
My reply to the email was swift and clear: "
I'll take him. I will care for him.
"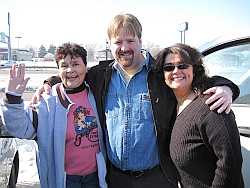 And so many hands and many hearts went in to motion. People emailed and called each other and the trip from Bemidji, MN to Spring Valley, WI was orchestrated. It was timed to the minute. Handoff places were designated and this little dog moved from loving hands to loving hands. From one warm vehicle to the next warm vehicle. What caring people these are! How grateful I am for their willingness to travel with a strange dog in their backseat on that Saturday! After many legs of the day long journey, a big blue van pulled in at Spring Valley.
I could see the silhouette of his head in the van and I resisted the urge to open the door. I let him stay right where he was for the time being. My guests wanted to meet the horses and so we wandered out to the barns. Finally, it came time for me to meet this creature and give him The Three Promises. He received them with sleepy eyes and a lick of my face. He was home. His journey had not been an easy one in his four short years, but it had landed him here with me. I now had a dog of my own and he was safe and would be loved. We both won on this one.
We came in to the house and since that day, it has been quite an adventure! Little Man, THE FARM's dog, has taken to him quite well. Although, Little Man isn't so sure he likes giving up his kennel for this new guy. And when I pet one I
must
pet the other! But there is no fighting and no snarling. Just two boy dogs dragging this one Human who keeps screaming "
Whoa! Don't pull so hard! Oh, no! Don't go that way! Yikes! You guys! Watch my legs! Oh, no! We all need to go the same way! Oh, I'm too old for this!!!
"
This little dog has discovered that there are cats in the house! And cats are something you chase and hunt and woe be unto the cat that you catch! And the furniture that happens to be in the way! So the house cats are learning to wander around the house when the dogs are out in the kennel. Or at night when both dogs are sound asleep and the "hunter" is in the dining room kennel so he can't get to them!
This little dog is doing the very best he can with what his body has been dealt. We have meds twice a day – entire regiments of pills for his kidneys, the lymes, and for what we think are ulcers in his stomach and upper intestines. And we've developed a routine where he lays on his back and tucks up his front paws and awaits his medicines. He gets tons of love between pills, but he still hates his pills! He can smell the cats, you know! And chase them he must!
Last Tuesday, this little dog spent the day with Dr. Brian. His bowels were very loose and I was having trouble keeping food down him. And his tummy was upset enough that he really wouldn't eat anything that I offered. Dr. Brian read all of the reports and did his best to explain to me that a dog that has been through this much turmoil and trauma "
doesn't have a good prognosis. We treat them as long as we can until we just can't treat them anymore. I'm sorry, Sandy.
"
And with those words, reality hit me. This little dog would come in to my life and I would love him and care for him and alter the routine of my daily life for him. Little Man would accept him and we would teach him to play! And to feel safe and loved and secure! And then, relatively soon – way too soon - we would be asked to help him cross over.
I look at this little dog sleeping now in the kennel, and I see life and energy and someone who barks when there's a tap on the door! I see someone who eagerly eats his boiled hamburger and rice with a little yogurt mixed in. (He doesn't like the yogurt part, but he'll eat it as long as I don't get carried away and add too much to his meal!) I see a dog who has learned to meander through that maze of a garage to find the way outside! And I see a dog who has learned to sit quietly in the kennel while I do chores in the mornings and evenings – not howling any more, but waiting for my return.
And then when he hears me coming, he explodes with joy! Barking and howling and jumping and the tag wagging so hard it hurts your legs! All this with Little Man joining in to create a chorus! I really do need to stop at the neighbors and explain the noisy outbursts to them, don't I?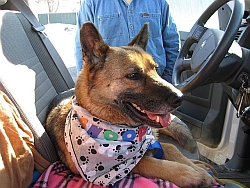 And so what I see is the lesson to be learned, I think. My dental appointments and new blue jeans can wait. I don't need a haircut and I'm not renewing any magazines. We need to take care of this little creature right now. I'm doing these things because he is teaching me every day. To take each day for where you are. This little dog doesn't fret about the future. He lives for today. For when the kennel is opened and he has, again, another chance to try to hunt down one of those cats! He lives for his dinner and his breakfast. And he lives for the love that comes several times each day. And he lives for the new safety he feels. He listens to the wind and takes a deep sigh. He knows he is staying inside. No more winds to battle.
I'm struggling with the comment that Dr. B made last week. This dog looks so good on the outside - so perky and so alert and alive! It's hard for me to believe that the prognosis is not good. That I can't fix him somehow. Yup, I'm struggling but I'm also trying to be like this little dog and live in the moment and enjoy every day and give him the best I can give him. He doesn't look ahead. He only sees right now. That is the valuable lesson for me to learn from him. To not look to what is coming but to see him now and treasure him now. And what a good teacher he is!
So I have a dog of my very own. For now. A dog I have called Keller.