Sunday, March 25, 2007
Please Understand

In writing this, I'm hoping you will understand my silence. I need to be quiet for a while. Out of respect and in a form of dignity. A great one crossed today.
As she lifted up, the winds blew so fiercely! Strong and determined out of the southern sky came the wind to carry her over The Bridge. A great one crossed today.
And she leaves behind broken hearts and a void that can never, ever be filled. She leaves behind Humans who so loved and respected her that it was simply the only thing to do. To help her. A great one crossed today.
Such determination. Such resilience. Such grandeur. Such honor and dignity. Her life was one of supreme challenges and she took on each one with her face squarely in the breeze. Looking straight at the road ahead. A great one crossed today.
Bless you, Miss Bonita. I am truly humbled that you selected my barns to shelter you for these last few years. You taught me and showed me how to live with honor. I honor you.
A great one crossed today. Miss Bonita. May you find glorious freedom in the skies and the joy of being with your true love, Big Jim! And as I told you, I'll see you in the eyes of another that finds its way here…with your guidance, of course.
Miss Bonita is in need...

If you know me at all, you know nothing but air in my lungs comes before The Herd. In that light, today's blog will be very brief. Miss Bonita is in need.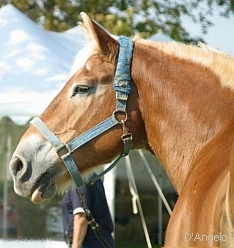 For two years now, she has been abscess free in those ill-formed and deformed front feet of hers. This spring, her luck changed.
Resetting her front shoes will sometimes cause an abscess to come forward. For a while I thought that was the case with this occurrence. But now, this one, I think, has been the reason for the tenderness on her left front since way last summer. In all of my years and with all of the abscesses I have seen, never, ever have I seen one this huge and this invasive.
The good news? It blew open yesterday. The challenge now is to try to keep Bonita comfortable enough so that she can eat and rebuild her strength. She is weakened from the pain of the abscess and the struggle to support her huge body. And now, she is struggling with the need to keep weight off of her abscessed foot and her sore old hips. Not an easy job, even for Miss Bonita.
But I have faith in Bonita and faith in the overall goodness of intentions. She will come through this a bit thinner and a bit older, but she will prevail. And truly, I tell you, her strenghth and her stamina and her determination to live will become a legend.
Pray for her recovery, please. Pray for comfort for her struggling body. Pray for wisdom for all of us who are trying so deperately to support her. Pray for her body to use the food she takes in to heal and strengthen her.
And Big Jim? You listening to me??? You stay with her! Give her comfort and your peace. Give her strength, Jimmer!
I'll talk with all of you again, soon, when Miss Bonita is back to normal!
Enjoy the journey of each and every day,
Sandy and The Herd
Sunday, March 18, 2007
Sunday Morning

Many times I've heard the comment or been asked directly,
"What do you do with all your time in the evenings and on weekends?"
Fair question. Deserves a fair answer. Here's one:
It's Sunday morning, March 18th, 2007 at
Refuge Farms
. Many entries on my To-Do List! I need to prepare for a presentation scheduled for tomorrow, prepare a grant request to hand deliver tomorrow, and set up barns and horses and beverages for the "Balancing Your Horse" clinic series, the first of which is being held at THE FARM today at 1pm.
Up early and ready to go. The house cats were medicated, fed, and taken care of for the day. Little Man and I went for a walk to give him some exercise (me, too!) and to give us some time together before the day begins. Then it was out to the Old Barn to care for the herd that lives there. Feeding them all is a snap – they are so in to their routine that I simply need to have the feed distributed and they go right where they need to go. A set of easy keepers, this herd is!
The Old Horse comes in and he begins his breakfast. I remove his overnight coat and set it aside. Brush him gently – his left side is tender from laying on it and he seems to be overall sensitive to brushing. Part of it, I think, is that he is still getting used to a daily brushing. The other part of it is that his body is still adjusting to this feed, this hay, this routine, and being blanketed. But he is brushed just the same. He stops eating at the same places, every time. I think he might purr for me one of these times…
In to the house to hang the overnight blanket in the living room to dry for tonight and to retrieve his daytime blanket which was hung to dry overnight last night. Back out to the barn to blanket him for the day and to give him that pestering hug and kiss!
Then out to the big barn. I am expecting to spend a bit more time out here than usual since Bonita is harboring an abscess. It's 6am. I expect and plan on being back in the house around 7:30am to start on the list that awaits me.
Bonita has moved since late last night and gone out to rest in the hay. She has been there the night and shows me signs that she needs to move and has tried, but grows tired and so buries herself deeper in to the hay. I bring her a bucket of water, which she inhales. My first sign that she needs to get up. I pitch some hay to her, which she inhales. Yup, she needs to get up.
So I talk to her. Explain to her. And then begin the process of pestering her to get up. This means that I go to her hindquarters and, open handed, slap her flanks until she rights herself. Pestering to Bonita is putting it mildly. It irritates her so that she works very hard and eventually rights herself. But in the process, she throws me in to the hay.
You see Bonita's abscess is in her left front foot. The most deformed of all of her feet. Usually after resetting her front shoes – which we did two weeks ago – she is tender for 7 to 10 days. But this time, I'm suspecting, a chip of bone from that weakened, misshapen foot bone has loosened and is finding its way out to her hairline. A long and painful process for Bonita. It will get worse, she knows, before it gets better. Judging from her appearance, it's at about the 80% stage, I estimate.
As she flings herself upright, she scrambles with her three good legs to stand and
stay
up. Her legs are weak from lying for so long. And the hay is over packed snow and ice. So upon righting, she starts to fall and so several quick steps are taken – backwards! – to get situated and stable. And guess who was behind her? Me. Emphasis on
was
.
I think Bonita was fully aware and so her swinging of her hindquarters was to fling me out of the way. It was either that, I saw, or she was going to run over me and my body doesn't stand a chance against big Bonita. So with a swing of her hips I was up in the round bale. PONY! had quite a surprise, as did Gracie! But I was safely out of the way as Bonita found her feet – only 3 of them, remember! – and finally stood. Safely. Out of breath and sweating. But standing.
Once I crawled out of the hay, I surveyed her body and the decision was quickly made to move her in to the barn. Sounds simple, doesn't it? This is the part where I start to answer your question of what I do all day….
First, I need to have eyes on Bonita at all times because the pain of standing will at any time cause her to lay back down. And if she goes down out in the hay again, I will need to leave her to rest for a while before she exerts that kind of energy again. But she needs food and water and so I do put feed out for her in her feeder – as she watches – and she knows that if she can get in to the barn, she can drink and eat. Good motivation. Good enough to overcome the pain of getting in to the barn?
While Bonita stands quietly, I halter her and brush her gently. She has a sore on her right hip from lying in the wet hay. I blue powder the sore and examine the rest of her. No other breakdowns but convincing to me that she must be in the barn on dry sawdust to prevent further problems. Plus, snow and rain is coming. Heard it on the radio as I picked the Helen Keller side this morning.
I go in and assess the barn. Need to get her more sawdust and water, but otherwise she's set. Eight wheelbarrows of sawdust later and she has a good bed awaiting her. A blue barrel for water and we are set.
In the pasture, Bonita has moved 2 to 3 feet. But she's munching on the hay so she seems relaxed. Pain is obvious by the sweat on her belly and her positioning of the foot. But she's bright eyed and ready to continue.
It takes us 45 minutes to get the 30 feet in to her stall. Part of the path is hard ground and she searches with her abscessed foot for a place to walk…. finds none and so literally moves forward on 3 legs. What an animal! Her determination and persistence is the stuff of legends, I tell you!
In to the barn she makes it and she finds the stock tank and lowers it a good four inches. While there, I brush her once again and re-powder the sore. In to her stall she slowly moves and munches on a bit of feed. After just a few mouthfuls, it's time to lie again to get the pressure off of that throbbing foot. So she finds a spot that she likes and lays again. In dry sawdust a foot thick. I am pleased and she is grateful. I rub her face and clean her eyes and kiss her forehead. Much like The Old Horse, she tolerates the affection. More than anything, Bonita wants to determine her own fate and be left alone. Knowing this, I take off her lead rope and close her gates.
I check on the other horses and see that things are just about set for the clinic – thanks to Kathy and Cathi and Betty the Human working out here yesterday. So I head back up to the Old Barn to release everyone from morning feedings. It's been a while and Ole' Cole is looking holes through me as I come in to the barn!
Where
have
you
been???
I release everyone and head back in to the house to start the list.
Time? 10:00AM.
So much for To-Do List work this morning. Just enough time to write this blog and prepare for the Clinic. The rest will just have to wait until this evening after feeding.
So there you have one answer to the question. Time passes quickly here at THE FARM. At least it does for me. Oh sure, I had options this morning. I could have left Bonita in the hay and let her fend for herself. But to me that's not according to the mission statement … the
"I will watch over"
part. Bonita is better off because I took the time to care for her and get her set up. I am better off. Did the right thing.
And so I gotta go! Cups and napkins and spoons and hot chocolate mix and coffee pot and power strip and extension cord…. all this stuff in my arms on trips to the barn to get set up! Have a great week everyone! And pray that Bonita's abscess opens up this week to give her relief!!
Enjoy the journey of each and every day,
Sandy and The Herd
Sunday, March 11, 2007
Just when I needed them...


Just when I needed them, they appeared! - Sandy Gilbert,
Refuge Farms
, and a special horse named Joseph.
In the fall of 2003, I was in turmoil: my marriage of 20+ years was coming apart, my children were growing and beginning to leave the nest, and I was terribly depressed. I knew I needed to make big changes, but how? I didn't even have a job. I was looking for some sign that, in middle age, my life still held promise and possibility. But I couldn't imagine how.
Instinctively, I dug deep within myself to remember the time in my life when I'd felt most peaceful, most optimistic, most strong - and that was when I was ages 10-12, with my very own horse, Chiquita.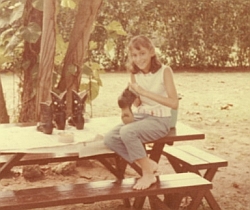 I lived in paradise then. My dad was a career Air Force officer, stationed in Puerto Rico for those three years. In our backyard we had a coconut palm, a banana tree, and vines of purple bougainvillea flowers. Our "fence" was a hibiscus hedge. My 10th birthday party - in late November, mind you - was an outdoor swimming party!
But my 10th birthday was most special for a much more important reason. My father had noticed that I was in love with horses. Who
couldn't
have noticed? I read every book about horses I that I could get my hands on: the Marguerite Henry books, like King of the Wind and Misty of Chincoteague, and the Black Stallion books, and Black Beauty. I drew horses on every available flat surface. I spent what money I had on plastic models of horses. And I thought that was the closest I'd ever get to a real live horse.
I was amazed beyond belief when my parents announced that for my birthday I was getting a real horse! Dreams did come true, after all! This was the great good fortune of living on an air base in Puerto Rico. Keeping a horse was easy, inexpensive and popular. The base riding club maintained six pastures around which to rotate the horses. Barns and stalls were nearly unheard of, and grain was only purchased as a once-a-week supplement.
Chiquita was a fine-boned sorrel mare with a frizzy mane and a crooked white blaze. (She looked a bit like our Blaise at
Refuge Farms
.) She was too thin - her ribs showed, and her spine and hip bones jutted out. She was afraid of men - strictly a ladies' horse, we were told. She was 14 years old and considered an "older" horse. Who knows what her previous life had been like? I was eager to love and pamper her.
Like many of the horses in Puerto Rico, Chiquita was a Paso Fino. These were descendents of horses brought by the Spanish - a smaller, more delicate-looking horse known for its special "paso fino" gait - it's a "gear" just above a trot, where the legs move quickly, and it is so smooth that, ideally, a rider can hold a glass filled to the brim without spilling a drop.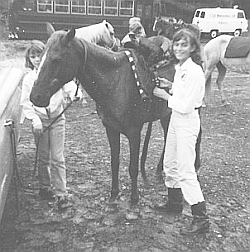 I learned that not only did Chiquita have a beautiful paso fino gait - she loved to run, and those light bones made her
fast
. Behind her quiet demeanor lay a strong competitive streak. So as my confidence and riding ability grew, Chiquita and I started entering the kids' events in horse shows. We began racking up ribbons and trophies. Chiquita was an especially expert barrel racer. Now, this is where I first experienced
The Magic
. Chiquita and I were One - we were of like minds, and we wanted to win!
But horse shows were only part of it. As we bonded, and Chiquita relaxed, she gained weight. Her hip bones disappeared, a layer of fat covered her spine, and I could ride bareback, which I often did, sometimes in shorts and sneakers. We spent lots of time exploring the grounds around the riding club and going on trail rides with friends.
And amazingly, my dad -- a city boy, through and through -- bought a horse of his own, just so that he could ride with me. He found a sweet and ancient buckskin gelding named Cinnamon. On the rare occasion they actually hit the trail, they'd proceed at a very laid-back pace, Cinnamon's head swaying back and forth as my dad whistled tunes. My father's joke was, "Cinnamon and I are a perfect pair. I don't like to ride, and he doesn't like to be ridden."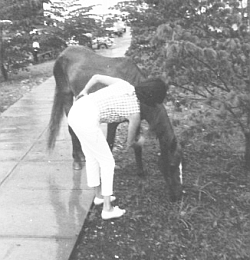 Chiquita and I had a wonderful couple of years. I was proud that we won those ribbons and proud that I knew how to take care of an animal that weighed 10 times what I did. Those memories and feelings settled into my core and would never leave me.
As I approached age 12, our three years in Puerto Rico were coming to an end, and I knew we would have to sell Chiquita to another family. I think I subconsciously prepared myself for the inevitable good-bye by detaching. I'd started junior high and threw myself into pre-teenhood. My weekend social scene moved from "going out to the horses" to evenings at the roller-skating rink with friends and wondering which boy would ask me to skate in the "flashlight dance."
Then we moved Stateside - to Colorado - which I found brutally freezing. Horses and Puerto Rico faded far into the past as I progressed through the decades: adolescence, then adulthood and all its responsibilities, parenthood, and a move to the cold, cold Upper Midwest.
But I never completely forgot horses. When I'd see them in a pasture, or in some quaint part of a city pulling buggies of tourists, my heart leaped out to them. Horses were old friends, and my love for them - especially for Chiquita - ran deep, like an underground stream. But I always thought they'd be strictly a memory, like an old framed picture.
Then there I was in 2003, wondering what to make of my life that - other than having borne and raised my three wonderful children - had seemed to go off course.
Then came the movie "
Seabiscuit
," which profoundly affected me. I started seriously wondering if there were
any way
I could touch a horse again. There was no way I was equipped to own one - that was for sure.
I didn't care if I rode again. I really just wanted to brush a horse, to touch it and breathe in that old familiar horse smell. As I drifted to sleep at night, I'd mentally put myself through the paces of grooming a horse to see if I remembered how. I'd feel the curry comb in my hand, run it in circles to kick up the matted dust, then brush the hair flat. I'd comb the tangles out of Chiquita's mane, starting gently from the bottom so as not to pull. From beneath her mane, I'd pull off fat ticks (yes, Sandy and Kathy, I really used to do that!!) I'd get the hoof pick, lean against Chiquita's leg - her signal to raise the hoof - and I'd carefully pick out the caked mud.
I grabbed the Yellow Pages™, looking under "Stables," contemplating whether I dared call one of these places to ask, "Hey, can I come brush your horses?"
But before I got a chance to do that, a story appeared in the Eau Claire Leader-Telegram, about an upcoming "Open Barn" at a place called
Refuge Farms
, a place of peace and healing for both horses and humans. So in September 2003, full of curiosity and anticipation, I headed out to THE FARM for the first time.
I arrived just as the program was beginning, and was quickly mesmerized by the stories Sandy told about the featured horses. She told about big blind gentle DukeDuke, rescued when Sandy outbid the kill buyer by $1. But what truly stuck with me was the story of
Frances
Andrew
and
Diane
. When Sandy talked about
"The Magic,"
I knew exactly what she meant because that was what I had experienced with Chiquita.
Sandy understood!
All I'd dared hope for was a place where I could brush horses, and here I'd stumbled upon just what I'd
really
needed but didn't know existed!
I came to THE FARM for the first time as a potential volunteer on a blustery April day in 2004. I hadn't learned how windy it is on that hill, and I was underdressed for the cold. As I left my car and walked toward the Cleary barn, Sandy came dashing over to greet me: "Are you warm enough?" were her first words.
"No," I answered, truthfully. "I'll get you something," she said, heading back to the house and returning with a green hooded sweatshirt.
I walked through the pasture, where other visitors were tromping through, meeting horses. Then we went into the barn to brush horses. She taught us how to brush the horses, and taught us the signs that show that a horse is relaxed: a back hoof poised on "tiptoe," drooping eyelids, and smacking lips. Everyone else, it seemed, had a horse except for me. Where was
"The Magic"
Sandy had talked about? Was I going to be the exception to the rule?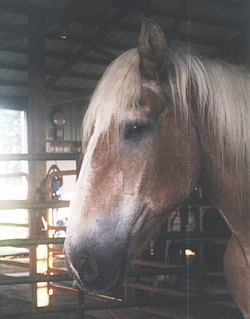 Then Sandy said with a smile, "Do you think you'd be comfortable with this guy?" pointing to the blond Belgian horse she'd just brought in. "Sure!" I said, happy to be matched up. "Barbara, meet Joseph. Joseph, meet Barbara," she said, laughing.
Joseph! Of course! Something clicked. My father's name was Joseph - my father who'd bought me my first horse. He had died in 2001, and I missed him terribly, now that I needed his strength. My father, who, with his warmth and humor, had been like sunshine - and also like a fortress, for how he protected me. My middle name is Jo, for him.
I brushed and brushed Joseph, and the caked dirt flew, as did his winter coat, which lay around his hooves like a carpet. He turned his head a few times to look back at me, curious. But then I saw the back hoof go up, the lips smack, and the eyes droop. I tried to give him a kiss, but at that, his head jerked up, his eyes startled. Joseph, I learned, was not that kind of a horse. I would need to approach him patiently and respectfully, at his pace.
Sandy told me that when Joseph arrived, two years previously, he was a very angry horse. "He was rejected," she said,
"and he knows it."
She said that after all this time, there was still one of the 3 Promises that he did not believe. He was hard to get to know, and not one to trust.
It's a good thing I didn't know that when I'd started brushing him - I'd have been nervous! I left THE FARM that day feeling great, with the green sweatshirt covered with horsehair. "I feel like a horse!" I said to Sandy as we embraced goodbye. "You smell like one, too!" she added, laughing.
I came to THE FARM several times that summer to visit the horses and brush Joseph. I thought I would have a leisurely long while to get to know him. But he got very sick just a few months later - that July.
He had days of not being able to keep his food in, days of diarrhea, days of losing weight, and growing weakness. I helped Sandy bathe his tail and back legs with warm sudsy water.
Joseph grew weaker and his organs began failing, and Sandy knew it was time to help him cross. The few days before the vet was scheduled to arrive, she invited me to visit anytime, apprising me of what to expect, when. On a heartbreakingly beautiful July morning, I arrived at THE FARM to say goodbye- but too late, I had thought.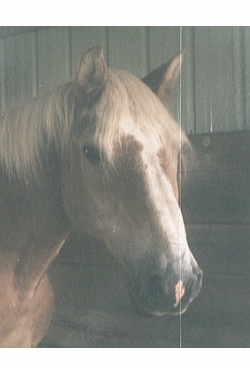 I cautiously made my way to the barn and thankfully found Sandy embracing Joseph, who stood calmly, wearing a light blanket she'd lovingly put on his back. The vet was unexplainably late. But we had that reprieve, that precious hour, to appreciate Joseph, and he was still magnificent. He had a beautiful head with a white blaze. He stood over the stock tank, drank, and held his head high, his ears alert to the sounds around him.
Finally I said goodbye. Sandy says he watched me all the way back to my car.
I came back to THE FARM two weeks later, feeling lost. There was no Joseph, but I would help with general chores. As I walked toward the barn, Sandy skipped down the path to meet me, a big smile on her face. "We found the very best use of your money!" she said, referring to a donation I'd made in Joseph's memory. I couldn't imagine what that could be!
She led me to the corral. "Meet Josephina!" she said, pointing to a beautiful blond Belgian mare - the image of her namesake. And (gasp!) a dark little FOAL at her flank! A baby!!
Sandy had gone to auction a few days after Joseph's crossing, and at the very end of the auction, out trotted this Joseph look-alike - a PMU mare taken off the line, as it turned out - followed by the dark little bonus, glued to her flank. She'd paid $300 for the pair of them, not knowing how she'd pay for it. The auctioneer took her word. As it turned out, my Joseph money arrived just when she needed a down-payment.
"What will we do?" Sandy exclaimed. "I have no idea how to take care of a foal. We've never had one before!"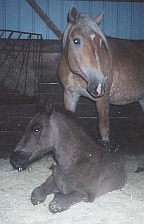 That spindly little foal, who fit right under my arm, grew into beautiful Babee Joy - THE FARM's first baby. And so began the New Generation at
Refuge Farms
, as she was soon followed by Unit and Jeri-Ann.
So there
are
new beginnings, new lives, and dreams come true - and they are inextricably tied in with that most loyal and true of creatures, the horse!
Barbara
Sunday, March 04, 2007
Going! Going! Gone!

As people out there discover us, their hearts are moved to assist and donate to us so that we may continue and expand the outreach of our missions. To every single one of you – regardless of the donation – we graciously and heartily thank you and assure you that your intentions are noted, appreciated, and your donation will be used as thriftily and to the greatest potential as possible.
Sometimes, these gifts of assistance are not in the form of hay, or meds, or tack. Sometimes, these gifts cause us to put our creative hats on and require us to explore worlds not related to horses! And sometimes, these gifts of assistance require your help in turning them in to hay funds.
What am I talking about? Here are three current examples:
Bette Midler One-of-a-Kind Caricature
Sabra B. of Bloomington, MN recently discovered
Refuge Farms
and
Refuge Farms
is thrilled to have her join us as a member of The '
Other
' Herd. Sabra is a life-saver every day in her 'regular' life. She has a job, sure, but she lives and breathes the purpose of rescue and is a strong influence on people around her.
Recently, Sabra took one of her possessions – a Bette Midler piece – and is auctioning off this piece with the intention of donating the proceeds from the auction. What is this piece? The best way to introduce you to this Bette Midler autographed piece is to give you the description off of the auction site: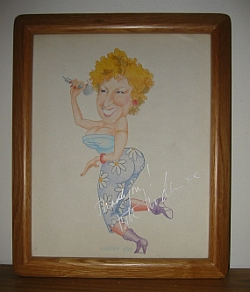 Up for auction is a great piece of Bette Midler memorabilia...a one of a kind item that can be yours if you are the highest bidder. During her mid-eighties "A View From a Broad" book signing tour, Bette Midler autographed this 8" x 10" caricature at her stop in Minneapolis (actual autograph: Thank You! Bette Midler XX). This colored pencil caricature was created in July of 1983 (7/83 is noted on the drawing) and is signed by the artist. It is in excellent shape and comes housed in a wooden frame. A very nice collectable for any Bette Midler fan! [Remember: this auction is for an autographed caricature of Bette Midler - the book IS NOT part of the auction.
If you, or anyone you know, are a Bette Midler fan and find this wonderfully creative caricature as fun as we did, jump on the auction and place a bid! What a conversation starter! What a great piece to have hanging in your music room! What a great gift to that Bette fan who would look at it and scream, "
That's her! Really! That's just like her!
"
Here's a
link
to the auction site for more pictures and the full listing of this one-of-a-kind Bette Midler piece. And thank you, Sabra!
Bette Midler caricature can be seen [
HERE
].
Sports Cards…and more Sports Cards!
It started out with an email. A simple email that lead to a generous donation with
huge
possibilities…
Mary and Pete found
Refuge Farms
through our website and wanted to somehow assist us in caring for these rescued horses we call The Herd. What attracted them? Mary said that the fact that we kept the horses we rescued and did not subject them to still more change and even threats of more mistreatment is what made the difference for her. Me too, Mary.
So, emails progressed and soon I found myself on the road with CityGirl traveling to meet Mary and accept their donation. What was this donation???
100,000 Sports Cards!!!
Pete had assembled sets and boxes of sports cards to donate to
Refuge Farms
with the intention that we convert these cards in to hay for next winter! Hallelujah!
What kind of sports cards? We have baseball cards. We have NHL hockey cards. We have Canadian hockey cards. We have English hockey cards. We have boxes with "Stanley Cup" written on them. We have AFL and NFL football cards. We have Canadian football cards. We have boxes with "Ryan" and "Aaron" written on them. We have sets. We have singles. We have cards from the 70's and 80's and the 90's. We have autographed cards.
We have cards!!!
All of the cards are new and in mint condition. All cards are in boxes so they have been protected from dirt and sun and handling. What a treasure!!!
How can you help? Do you or do you know anyone who is interested in buying sports cards? We will sell the cards in quantities of 100. And the top bidder will take as many bundles of 100 cards that they want for the bid price per bundle. Then we will contact the next highest bidder for as many bundles of 100 cards that they want. And so on. Until all of the cards are gone.
The cards will be carefully counted and bundled by
Refuge Farms
in to 100 card bundles. No presorting. Only the sets will be counted and kept in their original box and sold as a set of 150 cards, for instance, at 1.5 times the price of 100 cards. See how that will work? We will keep football together. Baseball together. Hockey together. And card manufacturer together, as well. On your bid form, you can specify which sport or league you would prefer. But no, someone won't be able to come and look through 100,000 cards and pull out the 100 cards that they want. That would be unfair to the other bidders.
We will accept bids on the sports cards until the Open Barn Event. Then the bids will close and we will start movin' 'em out! Just in time to convert the cards to hay!
Want to bid on the cards? Simply email THE FARM on this bid form and you'll be in the running! And later, if you want to up your bid? Just re-email us using this form found in this blog or in the Gift Shop of our website. Happy bidding!! And thank you to Mary and Pete! The Herd will find these sport cards delicious next winter!
To place a bid on the sports cards [
CLICK HERE
].
Printers! Calling all printers!
Here's what was donated for us to convert to vet bill payments. And it will be a great deal for the first one to respond to this one!!!
We have
Lexmark OptraColor 1200 color toner cartridges
. We have 3 Yellow cartridges part number 12A1453, 2 Magenta cartridges part number 12A1451, and 3 Cyan cartridges part number 12A1452. Each cartridge carries a "normal" retail of $220 to $235!!!
Please email your contacts that have big color copiers/printers and ask if these would work for them!
Refuge Farms
will sell each $200+ cartridge at $55 each or $400 for all 8 cartridges. A
great
deal for whoever can utilize them and a
great
deal for THE FARM! All funds from this deal will go toward the vet bill with Dr. Brian.
To purchase these cartridges, contact/email THE FARM [
HERE
] and the first email – based upon date and time stamp of the email – will be the winner!
So there you have it! Auctions and sales going on at
Refuge Farms
that have nothing to do with horses! Well, almost. Except that every single person donating these items has done so with the intention that we convert these gifts to hay and supplies needed to support our missions. Because our missions of healing horses and Humans alike have reached out to them and they, in their generosity, have decided to reach back to us. It's that
"magic"
thing working at it's best!
Thank you to Sabra and Pete and Mary and Bob at United Stationers! And thank you to you out there for your bids and spreading the word!
Enjoy the journey of each and every day,
Sandy and The Herd