Wednesday, May 24, 2006
Remember with Respect

It's Memorial Day weekend! The first big holiday weekend of the summer season! Pack up the kids and the dog and head to the lake! Take the BBQ and put the dock in the water! Take the first boat ride of the season! And maybe, if you are really, really brave, take that first swim of the summer. This is the weekend that we officially kick-off the Summer of 2006!
Fun and laughter and sunshine and play and bonfires and plans for the coming summer here in Wisconsin. This is what this Memorial Day weekend is all about, right?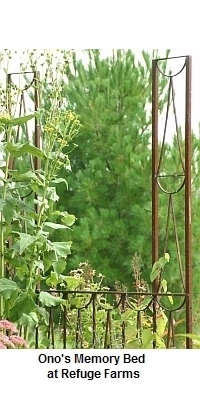 No, Memorial Day is not intended to be the summer kick-off celebration. No, Memorial Day is intended to be a day of Memorial. A day for us to pause and think back and remember. To decorate the graves of those who have come before. To ponder the impact of people in our lives who have shaped us by just living.
In my life, it's very simple. The people who have impacted and formed and taught me are quite a short list – my Dad, my Mom, my Sister, Suzanne, and Andy.
My Dad was what I would call a somber man. He was slow to smile. He didn't hug you right out of the shoot. No, you had to earn his trust. But he taught me a few life lessons that I live by today. My Dad taught me that my handshake was as good as– maybe even better than - a contract. My Dad taught me that the basis of my being was good ethics and solid work. My Dad taught me to do things that I would be proud of – not ashamed of or needing to hide. My Dad loved me and showed me, in his short life, that I was important to him.
My Mom had a quick smile and a hearty laugh. She was warm and friendly and always ready to listen. She loved, absolutely loved, a good, clean joke. And man! Could she cook! My Mom had the talent of making one single pound of hamburger feed a family of four for an entire week. She could make bread and noodles. And she kept me clean (as best as she could!) and she hugged me a lot. My Mom told me, and everyone around her, that I was her Little Indian and she openly loved me. She crossed on Christmas Eve while enjoying just being with me.
My Sister was my best friend. At least we grew in to best friends. I was her devious little shadow in her childhood. Donna was 5 years older than me and I wanted nothing more than to be with her – always. Difficult as that was for a teenage girl, my Sister tolerated me hanging around and she even took me with her to the drive-in movies. What a girl! As we aged, we became adult women with common history and that grew in to a closeness that I probably will never find again in my life.
Suzanne was not blood relation at all. But Suzanne was my second Mom, my second Sister, my mentor, and my friend. My Mom trusted this woman to babysit me when I was only 3 days old so my Mom could take my Dad to Rochester for a "nervous breakdown". When my family crossed, Suzanne just stepped in and did her best to be that family. Her eyes literally twinkled when she smiled. Her last words to me were,
"Just be happy"
. I'm doing my best, Suzanne.
And then, of course, there's Andy. The man who challenged me to
"take this horse, Sandy, and make a difference in somebody's life."
Dear Andy, who, with that simple gesture changed my life forever. Who opened my eyes and my heart to the idea of sharing these healing creatures. Who challenged me to show other Human Beings what I had found in these horses – the peace, the unconditional love, the warmth, the steadiness, and the trust that seemed to be missing in my life. Oh Andy, look at what you have done!
And if you know me at all - even just a bit - you will know then that if I am talking about those who have impacted my life I must mention Jerry. Jerry, the Roan Horse. This magnificent horse came to me and was indeed a part of The Plan. It needed to be a horse to teach me how to work with horses. And so this monster pulling Champion picked me and taught me how to drive horses, how to harness horses, how to safely be amongst a herd of horses, and how to love horses. Jerry. What a horse! What an impact!
On this Memorial Day weekend you will find me mowing lawn, cleaning barns, filling stock tanks, working in the memory gardens, and cleaning the pond. You will find me going to a very special graduation ceremony. And you will find me pondering the love and impact of my Dad, my Mom, my Sister, Suzanne, and Andy. And you will find me decorating Jerry, the Roan Horse. They are all together now, helping me and guiding me every day. Helping me to build this place we call
Refuge Farms
. Reminding me to share. Reminding me to smile and to trust and to be a good worker. And to be happy.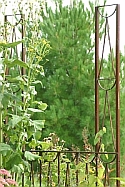 So spend a quiet moment this Memorial Day weekend amongst all the summer flutter. Spend a moment and be thankful for the beings that have formed you - a friend, your family, a dog, a child. Be a part of what this weekend is all about and remember. Remember with Respect.
Enjoy the journey of each and every day,
Sandy and The Herd
[photos by D'Angelo]
Sunday, May 14, 2006
We walk for the feet of the herd!

The 2nd Annual Walk for Refuge. What a day! I must tell you all about it!
First of all, the weather managed to do it's best for
Refuge Farms
once again. The previous week had been rainy and windy. And then that Sunday morning dawned with an abundance of warm sunshine, mid-70's, and a light southern breeze! Now, if you are the "omen" type, you're already smiling, aren't you?
Kathy and Lynn and Tara came to THE FARM early to help load the portable potty and off we went to Handy Andy Park. Setting up was quick and easy once we figured out the tricks to the electricity! Nothing, it seemed, was going to go wrong today!
Mike and Linda were the first to arrive. Then came OS Rose with her canine companion. Soon to be followed by Tracy and Luretta and Lambing Barb and the Webb's and the Halvorson's and Tina and oh, yeah, a huge black lab was leading Taylor and MaKenna! That was quite a picture!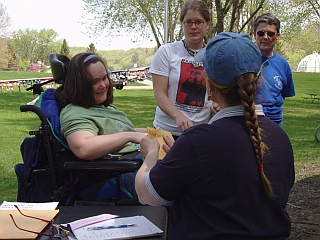 I was amazed! This 2nd Annual Walk had grown in leaps and bounds! Over 40
Friends of THE FARM
gathered on this beautiful early May day to walk for the herd. I shook my head in amazement. These people were giving up the opportunity to do yard work - to clean up after winter - to sit on their porches and decks and soak up the sun - to just read the Sunday paper! These people got themselves and their children and even their dogs ready and off to the park they came! For the sake of the herd! How blessed is
Refuge Farms
!
Registration was completed by 2pm and it was time to walk! But before I could let them go on their journey, I must announce the total that had been pledged by all of those people who had listened to a story of this place called
Refuge Farms
. And how we were walking for the feet of the herd. And had been moved to pledge to their friend for this cause. I must announce!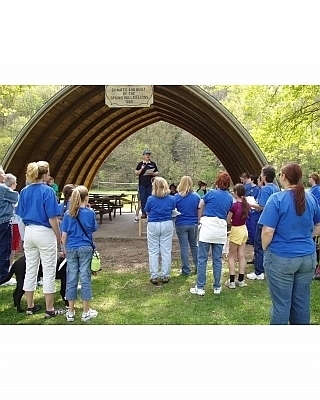 So I totalled the numbers.
Was it possible? I rechecked my math and yes, it was true!$3,594!!!!!!
And so what did I say to these gracious advocates of our mission? I said what my heart felt - "Thank you. Thank you from all 16 horses on the hill. And Bonita is getting her feet x-rayed!"
You see, our dear Bonita has severly deformed front feet and could benefit from x-rays and specialized farrier services. But it has always been something that the budget could not afford. And Bonita, bless her heart, has never complained. She has instead patiently waited and
now
her reward is near!
The response was spontaneous applause and there were hugs all around! Hurray! For Bonita! And the entire herd! Hurray!!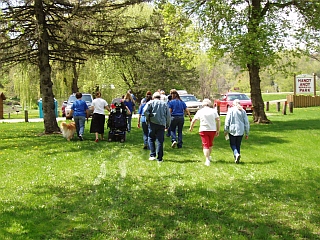 So, with happy hearts and smiling faces, this "herd" of walkers and runners and bikers and riders went off! There were dogs and kids in wagons and bicylces and walkers! What a sight it was! My heart was busting with appreciation, gratitude, excitement, and anticipation! What a wonder this day was turning out to be!!
Very shortly, the pack returned and we all dined on smoked turkey drumsticks, chips, and gooey brownies! Conversation was lively and new friendships were made. Hugs were given, of course!, and we closed the day with amazement at our progress. So far in such a short time. Must be meant to be. It just must be meant to be.
And all of you should know that at 11 am the next morning, Dr. Jen was at THE FARM and our Bonita's feet were, in fact, x-rayed! Now, the farrier can do the best he can for her and we can do just what our mission statement says we will do -
"and I will bind up the crippled and I will strengthen the weak."
So, here are a few
pictures
of this most happy day - and
Thank You
to all who walked and ran and told the story to anyone who would listen.
You
are the diligent souls who make this mission possible!
Enjoy the journey of each and every day,
Sandy and a healing Bonita and the rest of The Herd
Thursday, May 04, 2006
Left! Right! Left! Right! Left! Right!

I'm practicing! Diligently. And every evening. Left. Then right. Then left. Then right. I need to
focus
and practice more!
Really, it's just about the day of our
2nd Annual Walk for Refuge
and I'm excited! Can you tell?
We have walkers and maybe even a few runners planning to join us this year! We have a few of us "wise" members of society and some of our youngsters coming to walk the route! A few people are bringing their canine companions. There will be families and friends. What a glorious way to spend a Sunday afternoon in the early spring of Wisconsin!
And to nourish everyone, we have hot turkey drumsticks and gooey brownies awaiting them the minute their toes cross the finish line! A Friend of THE FARM donated the drumsticks and I truly can't think of a better way to use them, can you?
There will undoubtedly be laughter and singing and even a few stories, I'm sure. We will meet new friends and rekindle old friendships after the passing of this past winter. This Annual Walk is truly turning in to the "Celebration of Spring"! It's almost like a kick-off to another season of anticipation and healing! We seem to use this event to rejuvenate ourselves - to fire up! The summer season is upon us and we're off to a fast start already!
But this event also has a most serious side to it. The pledges raised by the walkers will be used to maintain the feet of the herd, treat them for worms, and to give annual vaccinations to everyone. Seems simple, doesn't it? Of course, I must use this opportunity to fill you in on the details....
The feet of the
Refuge Farms
herd are not typical, by a long shot! Our farrier charges by the horse depending upon the work involved. The most simple and "normal" trim is $50 per horse. On the other end of the spectrum is our dear Bonita, who's deformed feet require expert trimming and large, thick draft shoes on her front feet to keep her up off the ground. A typical trim for Bonita is $85.
You can do the math. There are currently 16 horses on THE FARM. April is in a reconstructive effort, and so her trimmings are now scheduled every 3 weeks until July or August this summer. We are attempting to help her recover from a nasty winter episode of founder and/or laminitis. April is moving much, much better now. This is, in part, due to the softer ground of spring but largely due to the extra care of a talented farrier.
The herd of
Refuge Farms
needs to have their feet trimmed every 90 days. We can afford every 120 days. And so we do what we can and strive for the best result. The goal is, of course, every 90 days all around. But right now, we do the worst feet as needed and the full herd every 120 days.
The second endeavor of our
2nd Annual Walk for Refuge
is supplying annual vaccinations for the herd. The entire herd will require the initial 4-Way shots this month plus another shot for West Nile prevention. Then again in late summer, we will vaccinate the entire herd again for West Nile. Big Guy and little Gracie will require boosters since they are both new residents of THE FARM. In all, the vaccinations for all 16 will run close to $1,000. And that is not utilizing a veterinarian for administration. You're talking to the administrator.
Then, finally, while the horse is getting treated we will do the spring treatment for worms. I rotate the wormer medicines to be the most effective but each horse gets wormed at least every 90 days. Cole, our advanced senior, is wormed monthly. And this, I believe, is one of the reasons he's still chasing his girlfriend at the ripe old age of 36! Wormer runs anywhere from $9 to $13 per tube with the full herd needing just shy of 30 tubes for a full round. (Remember, some of our larger horses use a full 2 tubes every time!) Once again, you can do the math.
So, yes, we are definitely walking for the pure enjoyment of the friendships! The sun on our faces! The good food! And the laughter! And don't forget the hugs! But know that my heart will be
bursting
because these people see the need and get pledges from anyone who will listen. These people keep the diligence! And with their diligence, they each support the need to care for the herd and their feet and their shots and their meds for dewormings.
Bless each and every one of them! And to each of them, I say
"thank you"
from me and all 16 of the creatures who so depend on them!
Enjoy the journey of each and every day,
Sandy and The Herd