Sunday, August 26, 2007
Going Once! Going Twice!

Every year at this time you'll see things start happening around
Refuge Farms
. Not that things aren't happening during the rest of the year, but in late August and early September, things
really
begin to start happening!
What kinds of things? Well, the things that we've been talking about all summer and now we can't just talk about anymore! Kathy M., our Operations Manager, kicks it in to extra high gear and watch out! She rounds up volunteer workers from local church youth groups to support her and it starts to fly!
Barns are vacuumed. Yes, I said vacuumed. Pastures are re-mowed. New, fresh, white sawdust is moved in to the barn floors. Fence lines are re-mowed by our CityGirl - soon to be renamed FarmGirl. Feeders are moved over to the slab. Tractors and trailers are parked on the West Lawn. And this is before the volunteers appear on Friday, September 14th!
Then on that weekend, canopies go up and stock tanks are positioned to chill donated pop and water. Bleachers are made out of small hay bales in the corral and PA systems are assembled, tested, disassembled, and then reassembled. Tables and tables of donated goods and services are assembled for our guests to nose through. My legs get tired just writing this blog!
But we do all of this for our Annual Open Barn Event. This year it is our 6th Open Barn. And it seems just like yesterday that I was feverishly calling Andy in Texas…and talking with him immediately before the first ever Open Barn Event. Would people come? What would I say? What if they didn't get "it"? What if a horse didn't behave? What if a Human didn't behave?
Andy words were true and calm and still ring in my ears. "
You'll be fine, Sandy. Just speak from your heart
."
And so I remember those words each year as I stroll down the driveway to start the horse presentations in the corral. Speak from your heart, he said. My heart is full and so I do just that. And the horses know just what to do. And the Humans listen. And from their faces, I can see that some are "getting it".
We frantically prepare. We get tables organized to sell our t-shirts, our note cards, our affectionately re-bundled printer paper, and our Commemorative pieces. And we celebrate!
We celebrate another year of strangers in the barns. Well, at least they start out that way. They leave as friends. With a hug.
We celebrate another year of kids standing on tiptoes to reach the nose of Big Guy.
We celebrate another year of Gracie working her magic as she soaks in the little hands that must, just must, touch her little body. And then there are those little noses that must, just must, be buried in her hair to smell her. No, to inhale her.
We celebrate another year of gathering in the unwanted ones. The 'diers'. To do our best to heal them. And then to just stand back and watch as they begin to heal us. That magic that so baffles and mesmerizes and amazes me. That magic that I've come to
know
is here. I no longer have to test it to see if it appears. It's just here, people. Like the air.
Yes, the Open Barn is a ton of work. On top of our already full schedules but at 12noon on that day, it seems all worth it! We say a prayer for safety and off we go – to celebrate!
The day is full of laughter and tears and hugs and ooohhhhh's as those of us who have worked so hard in this past year join with everyone else and enjoy. Truly enjoy. It is a day for us to show off! And that we do very well!
We will present horses and tell their stories. We will have horses in stalls and open areas of the barn. And we will have some horses that you can walk right up next to and brush and smell until your heart is content.
And we will have food! Great food, thanks to Applebee's® of Menomonie! Jeff, the manager of Applebee's® in Menomonie, donates his staff and food and equipment in support of our Missions. Bless you, Jeff! To all of our joy, Applebee's® will be here again with their menu of goodies. And people will eat and sit and chat and do exactly what Andy and I had intended. To enjoy the day and the journey of that day.
And then at 2pm our friend, Jeff Hines, will arrive and the excitement goes up another notch!
The Live Auction begins!
This part of the day is great! I smile just recalling the auctions of the previous years! Jeff is a great auctioneer and he gives it his all – literally. His time and name are donated to us for this event and we are forever grateful!
And what are we auctioning? Forty-eight (48) baskets of new goods and services that have been donated by local and not-so-local merchants in their support of our Missions of Healing. To just highlight a few items, we have:
• Dog Baskets
• Cat Baskets
• Horse Baskets
• Food Baskets
• Quilts and Quilt Racks
• Tool Baskets
• Pampering Baskets
• Spiderman Baskets
• Fly Fishing Tour Baskets
• Antique Cast Iron Toy Baskets
• Stuffed toys galore!
• Jewelry Baskets (with a diamond bracelet)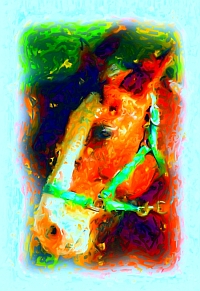 I'm sure you get the picture! And speaking of pictures, our Mike Murach – a great Friend of THE FARM – has created his version of our Miss April. An original that so totally reflects the spirit of that horse minister that it takes my breath away! It shows the calmness of her face and the whirl of energy around her! What a piece of art!
Mike has agreed to make one and only one print of this piece. Yes, there's only one print. And Mike will sign the single print and mark it as "
#1 of 1
". That, my friends, is
Basket #48
. And if you miss it, you will regret it, I guarantee you! For more of Mike's work, you can link to his website at
www.MurGallery.com
. Thank you, Mike!
If you would like to review our auction baskets, an abbreviated auction book is available
here
. For those of you who like sizes and ounces and all of the details, a full detailed auction book is available
here
. And for those of you who would like to bid?! Simply press the "
PLACE BIDS
" button on the auction listings and our webmaster, Vincent, has developed the system to allow you to place your bids now!!! How cool, eh? Thank you, Vincent!
So, we are busy. Very busy. As usual. But maybe even a bit more, now. Getting ready for the
6th Annual Open Barn Event and Auction
. Try to make it! It's a grand celebration open to you - free of charge. Just as our ministers are available to you all year long.
I've gotta go! Kathy M. is here and she's already working outside!!! See you on the 16th! And Happy Bidding!!!
Enjoy the journey of each and every day,
Sandy and The Herd
Sunday, August 19, 2007
Another "First" Today

Today is August 19th, 2007. Put today down in the records someplace. Vincent, please put this date in a database or almanac someplace, could you? Today is another "first" here at
Refuge Farms
. And I will admit, I'm excited and pleased and relieved but a bit apprehensive, all at the same time.
A little over three weeks ago, right smack in the middle of the oppressive heat and when I didn't think my legs or my arms could handle just one more day of this stuff, my telephone and email realigned my priorities. In a span of 90 minutes I became a working machine and I was emailing and calling and talking to everyone in my little brown horse book. You see, seven - yes, seven! - horses had been brought to the attention of
Refuge Farms
all in just 90 minutes.
Not a big deal, typically. Really, we get horse messages and emails all the time. An email is how our Addie-Girl came to live as part of The Herd. But, most of these calls and emails are for people scouting, as I call it. Checking out their alternatives. And sometimes, the people aren't even sure if it's time to find a new home for the horse. Just looking. And I do my best to discuss their alternatives and encourage them to rethink their commitment to the animal. Is it really necessary to ride for an
entire
day? Is it really necessary to trailer to South Dakota for a weekend with
that
horse? Maybe you could let him retire in your pastures and you could trailer your younger horse? How deep is the love that you say you have for this horse? And on and on and on…. I do my best to be polite, but I'll admit that there are times when I am infuriated by the time I hang up the telephone! It is then that I do my very best to remember that not everyone takes the ownership of an animal as seriously as I do. And if they did,
Refuge Farms
would not be needed, now would it?
If only!!!
Anyhow, of these seven horses there were two that were in that "scouting" category. I felt no pressure and no emergent need to look for homes for them. And so far, their owners have not called me back…we'll see.
But five of the seven had needs.
Real
needs for
right now
. My fingers flew as I sent out emails to people who had horses, boarded horses, knew of people who had horses, or would post emails on bulletin boards in lunch rooms and locker rooms about these horses. These five were the full spectrum, too. Lame, not so lame, young, older, healthy, needing to be retired, and just fine…what a group! Some had life changes imposed upon them because of issues not even related to or caused by them! Land being sold, owners moving, death's in the family. Life was throwing its usual curves and a horse stood quietly somewhere being on the end of the long, long tail that was wagging and where the horse landed was anybody's guess.
But all five of these critical needs horses had Humans advocating for them. Some had Humans crying over them. And all five of them I took on with a vengeance. For some reason, I needed to help these five. I could not rest until I had. What was it that drove me so? As I sit here today, I believe I knew what was coming back then. I believe I knew that Richard was crossing soon and saving the lives of these five would help me as I realized I could not nor I should not save the life of Richard. Way, way down in that heart of my soul, I was trying to stop the bleeding by saving others. It's a salve of sorts. The bleeding still comes, though….
Vincent, our Webmaster down in Louisiana, even got in the game! He posted notices and made telephone calls to complete strangers talking about horses. That is how intensely I felt the need to help these five. I even threw one out to the Administrative Team and said, "Please help?". Vincent rose to the task and saved a life. Bravo! Bravo!
But today! Today is a "first"! Today, Spade arrives from Southern Minnesota and this creature will actually set foot on our grounds! He will receive the first two promises from me and I will alter the third promise a bit for him. The third promise will be given to him as a guarantee that I will watch over him and insure he has a good home, although it may not be here at THE FARM. That will be interesting…. Wonder how that will manage to come out of my mouth!?
Then a bit later, Czar will arrive from central Illinois. And Czar will be, too, given the first two promises and the remodeled third promise will again come stumbling out of my mouth… somehow. The two boys will sit with me here for a little while until their new Mom comes to pick them up. And I will brush them and watch them and talk with them and wait with them. And I will do my best not to fall in love with them. And we will wait for Penny. Thank heavens for Penny!
A few quick emails and Penny's heart and barns and pastures opened right up. Penny already has a
Refuge Farms
horse. It's been about four years now, if my memory is somewhat clear. Gibb has been with her and his health is restored and he is looking wonderfully happy and chubby! Penny does a good job with her responsibilities of family and job and horses. I would not hesitate to give her any of my own. She is diligent and kind and willing to work with something that isn't perfect. That has issues. That needs a home. Thank heavens for Penny!
And that's the "first". When Penny arrives, Spade and Czar will be loaded in to her horse trailer and off they will go! Their feet will leave the grounds of
Refuge Farms
and they will go to their new home. And my corral will be empty again. That's never happened before here at THE FARM. A horse has never come and then gone again. Look at Gracie. Look at Addie-Girl. Both of them came "
for just a few days until homes could be found
"… The "first" will be in letting them move on with The Promises tucked safely in their hearts. It's a good thing happening here today. It's just new. And I am like my horses. I don't do too well with change...
But this change is good! And it is happy! And it is life saving!!! So today I will accept eight hooves on to the grounds. Eight legs will go in to the corral. Two big bodies will munch on some grass. And four eyes will look over the place and wonder where they are now. There will be much horse talk over the fences and I'm sure Babee Joy will exert her size and show us all that this is her pasture, her land, and who are they??? One human will cry when she leaves her friend. But I will hug her and assure her he will be safe and loved and cared for and available for her to see whenever her heart tells her it's time. Three horse trailers will arrive and only one will leave with a load. A huge load. A precious load. A big heart pulling two newly adopted horses to their new safe, comfortable, healthy home. And then there will be one woman standing in the driveway. And I know that woman will be crying. Oh, the tears will come even though it is a happy day.
My tears will be for my gratitude to Penny. For the appreciation of the breaking heart of my fellow horse lover who now must drive the hours home to Illinois. For the nervousness of Spade and Czar as they check each other out and wonder about these new smells around them and where are we going
now???
For the thousands of horses out there that are not nearly as lucky as these five. And for Richard. There will be a few tears for The Old Horse because I now have nothing to fill my mind other than him. And I will visit him and console myself. And I will tell myself what I already know. He truly enjoyed his time here. He loved Ole Man Cole and even little Gracie. He was at home in the midst of others just like him. And yes, he was starting to see that touching was all right. Nice, even maybe… I know all of this. It was just so brief a time to share with him.
Then I'll head back in to the barns and busy myself with cleaning and picking. But I will be sure to check voicemail and email before too long. These last two weeks I have found homes for the five of the seven that were in dire need. Who knows what or who is waiting in my in-box...
Enjoy the journey of each and every day,
Sandy and The Herd
===============
Here's an update for you:
It's 2pm
and Spade is here. A marvelous, black, tall, young Thoroughbred with healing feet and spirit! He is brave but trembling. The first one to the fence to greet him was Miss Betty! And then of course, up came Jeri-Ann with no tact whatsoever. Just popped her head over the fence and started to bite at his neck in her style of a greeting. Babee Joy was a bit more cautious, but nose touching was completed and then we all went back to eating grass.
And to my surprise, there were tears upon separating from Spade. I hadn't realized that this was not just a surrender because of needing to reduce the expenses around the homeplace. This was a surrender because his owner is deeply grieving the loss of her horse. Colic took him and she's in pain. It's written all over her face. And it's like looking in the mirror. I tell her briefly of Jerry, the Roan Horse and we cry together. Each of us mourning the loss of "our" horse.
Spade is wonderful! Warm and wanting to be touched and eager to run and play! What a spectacle he is here at THE FARM! And so I come in to the house to work on paperwork to not get too attached in our few hours together…
* * * *
It's 4pm
and Penny with her loaded trailer full of new loves is gone. Kristin and her niece are dried off and starting the long drive back to Illinois. It's pouring rain. But what an afternoon!
Refuge Farms
had two healthy, show quality geldings in our yard and they were magnificent!!! Theses horses were on strange grounds being handled by strange people and smelling strange horses and drinking strange tasting water but they behaved like true gentlemen!
Spade spent about 90 minutes in the corral getting to know April and Addie-Girl and tossing his head for the benefit of Babee Joy and Beauty. Czar was asked to exit one trailer that he had been in for 7 hours and munch some lawn grass for 20 minutes and then asked to go in to a strange trailer. His look was "you're kidding, right?" But with a touch of the Parelli Friendly Game and Hide-Your-Hiney and the Porcupine game, he loaded 3 steps at a time. And upon loading, Spade was waiting for him and the two were instant pals!
My heart is swelling to have seen and been a aprt of the gifts given from Human Being to Human Being today. And the pure trust by the horses that were being given. How generous of the owners, how trusting of the horses, and how absolutely loving of Penny.
And yup, the tears ran from more than my eyes today. Tears of joy but tears of understanding the pain of watching your horse load in someone else's trailer and go down the road without you.
I talked of our Mission Statement today and told them how "
I will watch over
" is taken very seriously with me. I looked these women right in the eyes and promised that their horses would not be bartered or sold or mistreated or underfed. And I promised them that they would not cross until the horse's eyes told me it was time. And then I looked these magnificent creations right in the eyes and stood right before them and promised them the very same things.
Such huge promises but promises I have never more felt needed than today.
And oh yeah, for those of you that have emailed me – the remaining three horses of the five that needed homes? They were in their new homes before the day that Richard crossed.
Five lives saved. Five new starts. Numbers 113, 114, 115, 116, and 117. I'm pleased and I'm tired. Going to go feed and call it a day. G'nite!
Enjoy the journey of each and every day,
Sandy and The Herd
Sunday, August 12, 2007
Do You Stop For Turtles?


I know I've met a kindred spirit if I ask someone if they stop for turtles and they know exactly what I'm talking about.
June in Wisconsin is turtle season. For a two to three week period, you'll find them slowly ambling across country roads. Over the past decade I have become a turtle stopper. I'll pull over, gently pick them up and move them (in the direction they are going) to the other side of the road. I figure it helps even their odds a bit against vehicles moving 55-65 miles an hour. If they're hurt I make a call to the local wildlife rehabilitation center. While wildlife must be treated with respect, turtles are one of the few wild animals a person is easily able to help along (they very rarely scratch and hiss at you).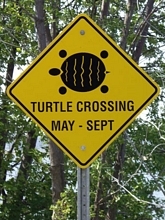 One time when I approached one, it shoved out its legs to get moving and piddled right there on the road. That memory is just too sweet … turtle panic! Last year my mother good-naturedly complained that now I have her stopping for turtles too. Is compassion a contagious thing?
Kindred Spirit. While there are many words or phrases that connect those of us who give of ourselves … Humane-Minded, Dedicated, Generous, Optimistic, Selfless … the one that so often comes to my mind, yet I hardly ever hear spoken aloud is "Kindred Spirit". There are several text book definitions: "
a persons relatives
", or "
related by birth
", but the one I'm referring to is "
having the same belief, attitude or feeling
".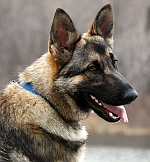 One day many years ago I was dropping off supplies at the Chippewa County Shelter. While talking with the manager, I met one of the board members and we all chatted for a few minutes. Two weeks later, I was going to work at 6:30 am on Highway 53 and came up to an intersection where a German Shepherd was pacing back and forth across the four lanes of traffic. I pulled onto the service road, grabbed my brown bag lunch (bologna) and got out. I have a rule that I will stop for all pets. It's rooted in the belief that if my dog or cat were lost I'd want someone to stop and help them.
As I started talking to this dog, out of the corner of my eye I see another car has stopped and a man is getting out. I recognize him; he is the board member I met a few weeks earlier. Coincidence? No, a Kindred Spirit!
In animal welfare organizations, you will come across all kinds of Kindred Spirits. Many times they'll open your eyes to a different way to look at things. Several years ago I worked the shelter thrift sale with a fellow volunteer and she caught a fly in her hand - don't ask me how, I have no idea! There was newspaper handy so I said, "
Why didn't you just whack it?
" Her reply was "
Well, it's not hurting anything
". It was a fly, for Pete's sake! But I still think of those words to this day. And yes, now I am one of those people that will put an old butter container over a bee bumbling along my living room window, slide paper between, then go and release it into the outside world.
Am I consistent in this humane outlook? I have to confess; no I am not. I have schmucked spiders going across my floor (yuck, big ol' groady ones, yuck again!). Other inconsistencies? I absolutely refuse to buy anything with real fur on it, but I wear leather shoes. I refuse to try veal (baby calves!) and lobster (boiling them!), but I love a good bacon cheeseburger. So we pick and choose our humane standards as we plod along through life.
While we may not always be consistent or agree with each other on our humane opinions, I think having the awareness of the issue is literally half the battle. We do things and hope that maybe we have left the world a little better than it was, and hope this offsets everything that leaves it a little worse.
Am I always this positive in my outlook? … no again.
The pessimistic side of me thinks the general public is pretty much a bunch of idiots, the world is a mess and how pathetic is it that we need laws based on common sense? We think it's stupid and cruel that bear fights were popular in the Middle Ages, but today we still have people organizing dog fights … give me a break, people!
Then the positive side of me thinks the "Pay It Forward" mentality really works and we can all make a difference if we try.
But the realistic side of me knows we will never win the battle to live in a utopian world where everyone is kind, all creatures are treated humanely and there's no pollution, war or problems. But if the alternative is to do nothing … well … that doesn't work very well either, does it?
Kindred Spirits. Gotta love them; they give us hope.
Several years ago, I saw a small turtle along a road, just two feet from the edge … almost there! As I pulled over, I saw another car from the opposite direction stop too. Our eyes met through the open car windows, I raised my eyebrows and said one word. "
Turtle?
" He gave a slow grin and started nodding. I made a waving motion with my hand that said … "
Don't worry, I've got this one
."
Colleen
Sunday, August 05, 2007
Bull in a China Shop – Forgiveness in the Barn

It's been a tough week.
Way too many times this week I have told people now in my life about how, in my professional career – my previous life – my performance reviews would contain the words
"bull in a china shop"
to describe my style of productivity. And those reviews were right on target. I was a bull – getting the job done.
That style earned me a career and a reputation as the one to look to for crisis resolution and big project development. And not the typical projects that some of the managers were awarded. No, this bull was given the 60 man-month project with a $5 million dollar budget – and a whole 18 months to get it done! And, oh yeah, we don't have $5 million, either.
That bull has mellowed some in her years of wisdom, but I am keenly aware that in times of stress and crisis, she comes right to the front again. On the receiving end, I know it feels like I'm barking. And that's because I am. I point a lot. I use few words. My face changes. And the decisions come almost instantaneously. "It" all becomes so obvious to me and I am sometimes frustrated that others cannot see it so clearly as me! And the adrenaline! It is flowing like the Mississippi River! And woe to the one who stops the whole process to ask a simple question!
I work really hard to keep the bull in a big, strong, padlocked pen. I work very hard at that. But she appears when I least expect her and when I am least able to corral her again. When I am tired. And stressed. And overloaded. Then, at the least opportune time, the bull appears and I hurt someone with my style and my words. Hurt that I never intended to give. But hurt that I give nonetheless. Hurt that comes from the bull in a china shop dealing with what is a crisis at the time.
And the heat. That infernal heat and humidity continued this week and has taken it's toll on me and The Herd.
The Herd has spent most of the week standing in the barn in the breezes generated by our new big barn fans purchased with our 4th Annual Antique & Garage Sale earnings. What a gift those fans have turned out to be! That metal barn actually turns in to a roaster by noon on those blistery hot days. You know, the kind of roaster we all use at Thanksgiving time? Well, that's our pole barn when the sun is hot, the air is heavy, and the wind is somewhere other than on this hill.
Those fans at least keep air moving and that will keep The Herd safe. But it means more blue barrels of water in the barn to be emptied, cleaned, and refilled every day. It means more wheelbarrows of manure every day. Bless their hearts, they still don't hear me when I ask them just to run outside long enough to poop, please! They look at me and tell me that
"it's hot out there and there are flies out there and why go outside, Mama? When you'll clean it up in here anyhow?"
Now you can't fight that logic, can you?
Chores this week usually started at 4am when it was still dark and damp and before the flies awakened. Morning feeds were quiet except for the noise of the fan motors. Everyone was a bit weary that another hot one was in front of us. I did my best to prepare them with salve on their bites, bug spray on the weakest points, fly masks, and pitching hay from the round bales in to the barn for those who would spend the day in stalls.
I ran home from work at lunch time to open some doors now that the sun had moved and close other doors to prevent the afternoon sun from pouring in. Big Lanna would come in the barn and I would settle her in for the afternoon. Two wheelbarrows of their deposits would be picked up and spray and salves rechecked and applied, if needed. Then a quick shower and back to work for the afternoon.
Evening routines began at 9:30 or 10pm – whenever they felt it was cool enough and safe enough to venture out for the night. That meant some short nights and times when I would tell Little Man that we had just left the barn and here we were right back in it again. Little Man's response? Wag, wag, wag. And then he would move to his favorite resting spot while he patiently waited for me to finish.
And then there was the bridge. Minneapolis has made the international news this week. And not for a good thing. Because a bridge collapsed and caused death and missing people. People who were just going home from work or delivering their products or on vacation in a rented car. Just ordinary people moving around and
WHAM!
Your life changes or is gone forever.
More than anything this week, that bridge has put an edge on all of us. Any one of us could have been on that bridge. Any one of us could have been caught up in the mess of wire and concrete and muddy water and burning fuel. And any one of us could have had family or friends on that bridge. It took me three days, but I found a co-worker from Target Stores. I knew she used that bridge to head home to her family and when I couldn't find her, it took all I had not to go down there. To stand next to that bridge and call to her over the water. I did find her, eventually, through her Mom. She's on vacation this week! Thank you, Lord.
So it's been a hard week. The bull in a china shop, the heat, and the bridge. But just this morning, I stood in the barn and pondered a few things. My natural instincts were followed and I ended up standing next to Miss April while she ate. I needed to apologize to her – the bull had been in her face this week. She had taken it well but her eyes showed me her shock and her disbelief. And the start of her mistrust. I've left her alone for a few days – let her mull it over. And let her watch me and see the "normal" caretaker return. And so this morning, I tested the waters and reached out to rub her face and clean her eyes and then to wrap my arms around her.
Miss April did exactly what I had prayed she would do. She forgave me and rested her head on my shoulder until I couldn't hold the weight anymore. She knows and she accepts me, bull and all.
And so to those of you who have been in a too small room with that bull this week, I gingerly am walking up to you, too. Putting out my hand and maybe asking for a hug. Testing the waters to see if you, too, can forgive me. And accept me, bull and all.
To the rest of you, I offer a note from a young lady who recently visited us here at THE FARM on her birthday. Her words are so poignant. And so I must share them with you:
Dear Wonderful and Kind People who volunteer their time to help THE FARM:

Thank you so much for the wonderful tour I was given. I loved it! It was the best birthday present! I was so inspired that when I'm old enough I would like to volunteer there, too! I think it's wonderful that you help save these horses in need. My favorite horse was Big Guy! It was so touching. Now I know what I want to do in life. I want to save horses. Build a farm of my own. I can't tell you how much fun I had!

Deeply thankful,
Hannah
Thank
you
, Hannah. Your gift to all of us is your heart and your innocence and your words. Words to show us all the impact we have on young hearts and minds like your own. And words to remind us – even the bull in the china shop – that good is done every day. Even on the tough days.
Enjoy the journey of each and every day,
Sandy and The Herd