Sunday, January 27, 2008
The Caretakers

Yesterday was the day of the
2007 State of THE FARM Annual Meeting
. And once again, this committed group of volunteers plus some of our Friends of THE FARM assembled to review the year in numbers and to recall a few of our memories. It was a morning of admissions for me, personally. A morning filled with acknowledgements that Andy had been right. Yes, I said that. Andy had been correct – it has just taken me seven years to admit it.
We began the meeting by reviewing our new Recap Accounting Process and by reviewing the contents of a sample recap. By implementing this recap, our numbers have shifted in sub-categories in comparison with 2006. The major categories, however, have remained constant between years. Now what do I mean by that? It's best explained by just giving you the numbers:

In 2006, Refuge Farms completed 21 events (recaps) for a net income of $13,077.In 2007, Refuge Farms completed 59 events (recaps) for a net income of $31,234.
Don't let the numbers mislead you! We did not radically increase our numbers of events! Not at all! In fact, we dropped the Summer Social, for instance. What we did in 2007 was to complete an Event Recap for every event. Every presentation. Every group visit. And every single day of Public Hours. Hence, the increase in the number of events and the resulting redirection of the dollars.
And then we need to consider something I call Unsolicited Donations:
In 2006, Refuge Farms received $27,231 of Unsolicited Donations.

In 2007, Refuge Farms received $8,033 of Unsolicited Donations.
This variance is again due to the fact that events were recorded on recaps therefore minimizing the opportunity for these unsolicited donations. In 2007, an unsolicited donation was just that – a donation that appeared out of the goodness of a heart and not related to an event or a planned visit to THE FARM.
Add those two numbers together, and now we have a valid comparison of Total Donations:
In 2006, Total Donations for Refuge Farms totaled $40,308.

In 2007, Total Donations for Refuge Farms totaled $39,267 or a decrease of 0.97%.
And even a decrease in Total Donations doesn't cause my heart to stop beating. Not in a year of $3 fuel prices and a year when even The Red Cross is laying off employees due to decreased donations. No, we held our own. The Friends of THE FARM did not forget us. Bless every single one of them. Bless them, indeed.
Our expenditures were the next big number to examine. No changes in the way we record Expenditures, so the comparisons are valid between the two years:
In 2006, Refuge Farms Expenditures rose 3% to a value of $57,643.

In 2007, Refuge Farms Expenditures rose 3.15% to a value of $59,464.
And this, too, is a remarkable factor when you consider that mowing the lawn used to cost us a bit over $20 in fuel. It now costs us over $60 to mow the same lawn with the same equipment. And a bag of feed was roughly $8.50 in 2006. That same feed in that same bag is now over $12! Remarkable that we were able to maintain expenditures to a single digit increase at all!
Guests? This should blow your socks off!
Because of the recaps and the factors that we accumulate, I can tell you for a fact that
2,829 people were touched by Refuge Farms in 2007
. 2,829 people. Think of that! That's 6,000 hands to touch a horse! 6,000 feet to walk the yards and 6,000 eyes to look a the Memory Bed! 3,000 people! Amazing!
Refuge Farms
became a destination in 2007.

The Refuge Farms deficit in 2007 was up by 16.15% to $20,999.
Our challenge in 2008 is to eliminate the deficit. Either by reducing expenses or increasing donations or most likely, by a combination of both.
At this point in the meeting, the room erupted with ideas! Hands were everywhere with ideas on how to improve and what fundraisers to modify or add! It was noisy with your comments and ideas! And your energy and dedication in solving the deficit! What do we do with all of those ideas?
Focus Groups!
On February 9th at 10am at the Menomonie Public Library, anyone with ideas is welcomed to join us as we break in to groups and brainstorm solutions. Solutions to Event Publicity, Volunteer Training, Bulletin Boards versus Email, Fundraisers, Event Evaluation… We will meet and come to conclusions which will change the way we manage this facility. Exciting. Scary. Record setting. And needing every one of you.
* * * *
Throughout the presentation, we viewed a sampling of the Tony Stromberg pictures of The Herd that will be featured in his new book,
"Forgotten Horses".
You could hear and yes, you could feel, the responses. Even on a lousy personal computer with a minimal projector, you could tell the photos were heart reaching. You could tell this talented man had captured the spirit of PONY! and Lanna and our Babee Joy. What a treat to share these gifts from Tony! What a kind and generous and obviously talented man he is. Thank you, Tony Stromberg. We are honored to be among those featured in your new book. And we are in hopes that this new book will awaken all of us Humans to those that are forgotten…
* * * *
No annual meeting is complete without Volunteer Recognition. Especially in an organization that is completely supported – without exception – by volunteers! The volunteers of
Refuge Farms
did this in 2007:
Over 12,875 hours were contributed to our Missions of Healing by 69 volunteers.
Remarkable people giving remarkable talents and their time. How do you say thank you for that???
One small way is to recognize those volunteers with 100+ hours of service in 2007. These volunteers recognized were:
· Jessie A. at 104.5 hrs.
· Melody G. at 109.5 hrs.
· Barb G. at 113 hrs.
· Mark G. at 122 hrs.
· Rose R. at 168 hrs.
· Colleen B. at 182 hrs.
· Betty G. at 182 hrs.
· Tara B. at 231 hrs.
· Sabra B. at 239.5 hrs.
· Lynn S. at 296 hrs.
· Tracy O at 379 hrs.
· Kathy M. at 1,424.5 hrs.
· Cathi C. at 1,562 hrs.
· Vincent V. at 1,905 hrs.
Thank you to all volunteers for your time and service to
Refuge Farms
. We are an organization run totally by volunteers. As I say over and over, without you there is no
Refuge Farms
! Thank you! From me and The Herd!
* * * *
Lastly, we recognized a volunteer who has lived the Missions of Healing in all aspects of their life. Not just by volunteering at
Refuge Farms
, but by the very act of living their life – their priorities, their beliefs, and their dedication to the healing of all around them.
Colleen B.
was recognized for her commitment of saving lives of all creatures and for the generosity of her heart. Colleen saves bunnies and cats and dogs and yes, she stops for turtles. And her energy for creative ways to reach people with her message is never-ending! It was with great and deserving pride that I presented Colleen B. with the
2007 Frances Andrew Award
.
And this year, again, I couldn't stop at just one recognition - no, there was another!
Cathi C.
was recognized as a Human Being who walks in the steps of healing. In the short time I have known Cathi, I have watched her become personally upset if her healing cannot quickly resolve an issue or if she cannot be included in the healing of a hurting creature. Cathi heals horses and humans, dogs and cats, birds and bunnies. Cathi exemplifies the Missions of Healing and so it was a pleasure to present the
2007 Frances Andrew Award
to Cathi C.
And this year, I couldn't stop at just two recognitions - no, there was one more!
Tracy O.
has a heart the size of the Chippewa Valley. She absorbs people's dogs, the first Annex horses of
Refuge Farms
, and she continues to teach me and others around her how to minimize our ecological footprints. She teaches by example. And she joins us with a sense of humor and a continuous willingness to contribute that again, teaches us all. Tracy is committed to the preservation of the wolf, the fair treatment of all living creatures, and to living a lifestyle in true and honest respect of the earth. Awarding the
2007 Frances Andrew Award
to Tracy O. was a natural response for me.
* * * *
We closed by retelling the story of Frances Andrew and Diane. The story of how
"it'
was found between the two of them on a cold and drizzly day in October. At a time before the road sign, before our brochures, before the guest book, before the website, before something called public hours. Back when I was struggling with the concept of sharing my horses and a man in Texas was doing his best to teach me. And teach me he did and still does.
When Andy and I would talk, if guests had come to THE FARM and had not found
"it",
I told Andy that I was convinced I had done something wrong. I hadn't poured out my heart enough. I had failed somehow. And if guests had come to THE FARM and had found
"it",
I told Andy I was convinced that in that visit I had done something right. That was obvious to me since they had found
"it".
I put the pressure of everyone's ability to find
"it"
right square on my shoulders. I told Andy I believed that I needed to find the formula for the perfect tour so I could guarantee that guests would find
"it"!
Wrong, Andy said. I had done nothing right or wrong in either situation.
"It"
was either meant to be or not meant to be and my actions would not change the destined result. I was simply the caretaker, he said.
"You create the platform. You assemble the herd of unwanted horses. You open your barns. You be the caretaker, Sandy. The rest will happen on its own."
For seven years, I had dismissed Andy's wisdom as misguided. What did he know? I had thought he simply didn't understand. And it was I who was wrong. Again.
Andy was ever so right. We are all the caretakers. When a family or a single guest arrives at THE FARM and we give a tour, if they find
"it",
then destiny is fulfilled. If they do not find
"it",
then destiny again is fulfilled. We present our Ministers each and every time with the love and respect and awe that we have for each and every one of them. We welcome our guests as genuinely as if they were our family. And we leave it to them to find
"it",
if they are to find
"it".
We do nothing right or we do nothing wrong.
"It"
is here for the finding. We are the caretakers and the ones who will share
"it"
freely with anyone who comes. The rest must happen on its own.
Just retelling the story and remembering Diane and Andy and his words were healing to me. I am relieved of the weight of having to do it perfectly each time. No, I don't do anything to help others find
"it". "It"
is here. I am just the caretaker of them. And proud and humbled to be that caretaker. Each one of you is a caretaker, too. Every hour that you give is in taking care of The Herd in some fashion. Telling the stories. Mowing the lawn. Picking the barns. Selling the calendars. You are taking care with each and every gesture. And that, my family, is what we are to do. We take care of them. And in doing so we take care of each other and of ourselves. The rest will happen on its own.
* * * *
Our challenges in 2008 are to remain faithful to ourselves, each other, and the Missions of Healing. We must allow the public access to our Ministers "free of charge". We must work smarter and not harder, please! And we must utilize our strengths and talents to the very best of our abilities. We go forward with big challenges but with equally big hearts and minds set in determination. I look forward to our first Focus Group meeting! Hang on! It won't be a quiet meeting, that's for sure!!!
To those of you who attended, thanks for being there and thanks to listening as I brought us back to the very beginning. "
Take this horse and make a difference in somebody's life with it,"
he had said. I wonder if he knew what he was starting….
Enjoy the journey of each and every day,
Sandy, the Caretaker, and The Herd
Sunday, January 20, 2008
Numbers! Numbers! Numbers!

It seems that these past weeks have been all numbers, numbers, and more numbers. Excel spreadsheets. Data entry and more data entry. Checking and double-checking. Balancing and re-balancing. Vincent said it the best in an email late yesterday, when he said, quietly, "
My head hurts
."
Really.
It is the close of fiscal 2007 for
Refuge Farms
and this coming Saturday, the 26th, is the date of our Annual State of THE FARM. Just what, you ask, is a State of THE FARM? Funny, I knew you'd want to know!!!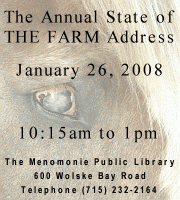 This time of year it is necessary to create totals and recaps and finalize expenditures and incomes in preparation for our annual IRS tax filing, the 990. Well, as a result of that preparation there are several observations, trends, facts, and calculations that result. Interesting things that show themselves. "Things" for us to review and discuss and maybe even make adjustments, as a result. "Things" that show themselves in the numbers. Or trends that we were suspecting but not really sure of yet. Trends can be confirmed or firmly denied by these "things". And overall, these "things" are numbers that we can use as a measuring stick. Especially when we compare numbers from this year to numbers from last year. Then the "things" really show themselves.
What kind of numbers will we look at? We start with looking at expenditures. The total expenditures for the year and then the breakdown of the categories in those expenditures for 2007. Finally, we'll look at the 2007 expenditures in comparison to the 2006 expenditures. How did we do in holding the line? Were we, too, hit by the rising cost of living and doing business? How badly has the rising cost of fuel and feed and general purchases impacted our expenditures for the year 2007?
The next category of numbers we will examine will be the numbers from our events. Now it gets interesting! Our events are categorized as a Fundraiser Event, a Public Hours Event, a Publicity Event, or a Missions Event.
Fundraiser Events are just that – events we hold with the distinct purpose of raising funds.

Public Hours Events are pretty self-explanatory by their title, aren't they?

Publicity Events are typically presentations to groups and clubs.


Missions Events are the core of our purpose. Events that we do because it is what we are. Group visits by Vacation Bible Schools. Camps for young adults with disabilities. Visits by students in transition. We do these events not with the goal of raising funds or spreading the word about us being here. No, we do these events to share our Ministers and offer them as instruments of healing to anyone who will come.
By looking at the numbers in these categories, we clearly see our successes and our areas for reconsideration or improvements.
And finally, we will look at the numbers from the donations made by The Friends of THE FARM. What trends do we see? What are the factors we believe impact this number? What actions might we take as a result of these numbers?
We do have some fun at this meeting, too! We have door prizes interjected throughout the presentation. Door prizes given just to keep everybody with me as we plow through the numbers!
Volunteer recognition, of course, will be given for those volunteers with service hours of 100 hours or more in calendar 2007. Small tokens given to those who work so hard. But a chance to give a hug and a personal "
thank you
".
The Frances Andrew Award will be given, too. This is one of my favorite parts of the meeting. Frances Andrew, you know, was the horse that Andy gave to me with the challenge to "
take this horse and make a difference in somebody's life with it
". The horse that started it all. A glorious Clydesdale with beautiful sky blue eyes…oh, what a horse he was!
In his honor and with the intentions of Andy Durco, Jr., an award is given to a member of The '
Other
' Herd who has gone above and beyond in the spirit of our Mission Statement. Now, their actions that we recognize may have nothing directly to do with
Refuge Farms
. They may have given in the general area of Human Rights or Community Services. The award goes to someone who sets the bar for us all. Someone who lives by the part of our Mission Statement that says, "
I will watch over.
" My favorite part, for sure.
Kathy M., our Operations Manager will speak and that, too, is one of my favorite parts. The heart of this woman will be visible in her face and her words. She is a gift, this girl, and it is my pleasure each year to introduce her and turn over the presentation to her. When she speaks, you can hear a pin drop in the room. She's a born leader and her commitment and dedication to
Refuge Farms
and our Missions is beyond reproach.
We have food, too!
Of course!
Have you ever known us to not have food when we get together? The emphasis is on healthy food, this year, however. Well, mostly healthy food. Salad to begin with. Very healthy. Toppings for the salad. Still very healthy. Cheesecake for desert. Not so healthy, but delicious!!!
Once the food comes out, we'll relax and just talk and laugh until it's time to hug and say so long. We'll clean up the room and pack away the handouts for history and audit purposes. File everything when we return in the big box marked "
2007
". Tape up the box and store it away.
But that box is full of lessons. And we don't store the lessons. No, the lessons from 2007 will yield one thing: change. Change is the blood of a growth organization. Change causes unrest and turmoil at times. Change can make any of us nervous and "icky". But change is constant and necessary. Without change
Refuge Farms
would not have survived these seven years and would not be growing in such leaps and bounds!
There are times when some of "oldsters" within the group sit and laugh when we tell some of the newer volunteers about "
when we first started we used to...
" It is now hilarious when we think back to how we did things. How we managed to cope. How we managed at all! And today, we are doing the best we can with what we have to do it all with. I am proud of the organization and its impact and service to the Human Beings that come here.
Change causes some to rethink their participation and move on. Change causes some to rethink their decline to participate and to return. In every instance, there is a purpose. In every instance, there is change. I have come to embrace change. Who am I to say what
Refuge Farms
is to be? Who am I to say how
Refuge Farms
is to get "there"? Who am I to challenge this Master Plan that I find my entire life now absorbed by? And who am I to resist the change that makes it all possible?
No, change is good. It is the challenge of all of us to deal with change and talk about the change and resist the tendency to withdraw around the change. Only then, can an organization remain intact and solid as it grows and changes. And believe me,
Refuge Farms
is on the path of growth and, subsequently, of change!
So with all those thoughts and lessons and changes upon us, the box of 2007 is taped and put away. It is then time to sit at the desk and take a deep, deep breath. Start a new folder on the computer. Start a new accordian folder. Start a new alphabetical folder. Start a new TO DO LIST. Start all over again with a new box marked "
2008
".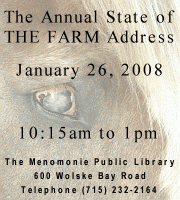 Come and join us for the 2007 Annual State of THE FARM this Saturday, January 26th at the Menomonie Public Library. Doors to the library open at 10am with our meeting beginning at 10:15 am. Come and see the numbers and share in our successes! Come and hear of the changes! Come and see what the "
MAGIC
" looks like on paper!
Enjoy the journey of each and every day,
Sandy and The Herd
Sunday, January 13, 2008
Random Thoughts

It has been an out-of-the-ordinary week around THE FARM this past week. But on the other hand, this past week has been exceptionally normal. Huh. I guess "
life
" has been here this past week.
Just a week ago Friday, I let something very heavy that I was holding up over my head fall out of my hands. Didn't do it on purpose or because I wanted to. No, my aging shoulders just decided it was time to relax. Now. That doesn't seem like an issue, does it? But unfortunately, this heavy thing fell down on my right arm. Again, not an issue, is it? Well, except that my right arm was on a heavy steel brace. Now, that's an issue.
So when the heavy steel extension came down on my arm and the heavy steel under my arm supported my arm, guess what had to squish to accommodate the weight of the falling steel? Yup. My arm. Like I said, that's an issue.
As a result of this injury, this past week has been filled with me walking around the place either cradling this bruised arm or holding it upright like I am constantly greeting the world with the American Indian "How" sign. I was not really even able to brush my teeth or brush my hair with that arm let alone hook or lead horses! Lifting feed buckets? No way! I spent this entire week either standing and watching or trying to perfect my skills in using my left hand!
We won't even talk about operating a mouse and processing emails left-handed. I now truly appreciate the new shorthand of "U" instead of "you"! Most frustrating and worrisome is the fact that our Annual State of THE FARM is coming up fast! And here I sit, unable to key, write, or do anything with that right hand. Worried? You bet, but I trust we will do our best with what I can assemble with an arm that's healing. And healing very slowly, I might add!
And true to their character, The '
Other
' Herd rallied around and cared for The Herd and me while I was wounded. Starting on Saturday, the day after the accident, someone was here in the afternoon to insure the house was warm and the litter boxes changed. And that even my tummy was filled with something other than cereal. And The Herd never missed a meal or had low stock tanks. Barns were cleaned and in general, you would never know that one of us was out of commission.
Many times while I was standing around watching everyone else do my daily chores, I looked up at the Mission Board hanging in the barn. I was the crippled. I was the weak. And I sure felt like I was the lost. But these women cared and watched over. The fed us all in justice. I am in awe of their dedication, caring, and commitment. Thank you to every one of you.
Then about Tuesday, I believe, I received one of those emails – "
I love my horse but…
" Yup. There it was. The pledge of undying love with the explanation of why the horse no longer fit in her pasture and so was scheduled to be euthanized on Saturday. That's correct. Only four (4) days notice. But I did my best to look past the Human and see the life on the other side – a cute little Shetland mare with a bad eye and a tendency to founder. Very manageable. Not life-threatening and certainly a good pet or carthorse for someone!
Emails and postings flew! I was talking to South Dakota, Minnesota, Madison, even Iowa. Big and little rescues are full – packed! But we did not abandon the mare. No, instead we continued to spread the word as I worked with the owner and tried to get Saturday's appointment cancelled.
Then, quietly, came an email from one of The '
Other
' Herd. A home for the Shetland? Yes, she had one. A good one. A young couple with young children and already a few rescues in their pasture. Yes, this couple would take this little girl – unseen – and give her "
a home for the rest of her days
." The relief was almost overwhelming!
Postings were updated and a few of us talked: "
Exhausting work, isn't it? Given so short of a deadline! How will we manage this winter when all of us are already over capacity? Are we sure it's a good home for the Shetland? Yes, they keep coming and coming and coming. No, it doesn't seem to ever end. How do we survive? Not just fling up our hands in surrender?
"
Wisdom came from one – an experienced one. "Don't look at the horizon," she said, "just work on the next one. Take them one at a time. You can manage one." Good advice. I need to remember that.
Why? Because when I lifted my head late Friday night after making the deadline on the Shetland, I found three (3) more just like her sitting in my email inbox. One at a time, Sandy. Just work on the next one. One at a time.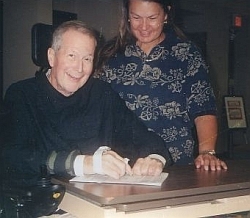 And then throughout the week, I have spent quiet time – when I could find some – to think and remember my Andy. Last Sunday was the anniversary of his crossing and it seems so right that it be cold and raw outside. Andy met every challenge in life with a set jaw and his face right in the wind. Just like someone else I knew and cared for at the close of her life. Andy would be facing all of these bumps straight on and reminding me that I'm "
tougher than all that. For crying out loud, woman, just do what you've gotta do!
"
Once again, good advice. From a good man. Someone I miss horribly but talk to just about every day. You need to guide me, Andy. Stand behind me and push me sometimes. Stand in front of me and block the way other times. Stand beside me and smile when it all comes together.
Typical week – physical pain, emotional bumps, a life or two saved, and others with like minds and hearts here whenever needed. Just how did I fall in to this life of richness? Once again, I can hear my Andy – "
You are just plain out lucky, woman!
"
Enjoy the journey of each and every day,
Sandy and The Herd
Sunday, January 06, 2008
Leap of Faith


When Sandy asked me if I wanted to do a Guest Blog I instantly said, "No." A blog is so personal and you really open yourself up. I thought no way! I'm not ready for that yet! But then I started thinking about what an honor is it to be asked to write a blog. So I spent days thinking of how to put the words that were floating around in my head down on paper.
Then at church our Pastor was talking about a Leap of Faith and it instantly hit me. As I reflect upon 2007, I took leaps of faith in every area of my life - personally, emotionally and spiritually.
When you look up Faith in the Webster's® New World College Dictionary the definition is (I shortened it up a bit):

As I look back at 2007, I reflect on the amazing relationships I have with many of the volunteers at
Refuge Farms
. It was a leap of faith to go out on a limb and fill out the volunteer form. I'm not one to open up to people but I'm glad that I took the leap of faith.
I found an old friend in 2007. One that I had almost stopped believing in and felt He was never there for me. I started believing in God again after coming to
Refuge Farms
. God never left me. He was always right there with me. It was I who gave up on Him. I'm so happy to have found Him again!
When I think about the words "
leap of faith
", I think of Sandy who took a leap of faith to start
Refuge Farms
and what a leap of faith Andy took when he gave the reins of Charity Case to Sandy and said, "Sandy, take this horse and make a difference in someone's life." Wow! Those words are huge! The horses at
Refuge Farms
took a leap of faith to be here. They knew; they felt something strong, true, and good in Sandy. They feel safe, they are fed, they are sheltered, they are loved, and they are happy.
We take a leap of faith to open our hearts and talk about our lives to strangers at
Refuge Farms
just because we share a common bond for the love of horses.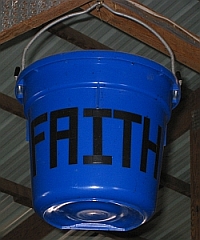 It's a leap of faith to hang the Faith Bucket from the rafters in the barn. It's the Faith Bucket that means so much to so many but the word "FAITH" has so many different meanings to everyone who sees it. Every time I go into the barn at
Refuge Farms
I stop and look up at the Faith bucket and pray for the horses, for Sandy, for the volunteers, for
Refuge Farms
.
In 2008, what leap of faith you will do? Make it meaningful! Make a difference! Do the best you can do! And when you go to bed at night say, "I'm glad that I took that leap of faith! It was so worth it!"
God Bless and Much Love,
Gina
Tuesday, January 01, 2008
2008


It is just past midnight New York time. The infamous ball in Times Square has just dropped and 2008 is now a reality. A new year is just seconds old. Three hundred and sixty-six days are in front of us. Eight thousand seven hundred eighty-four hours are waiting to pass. History is in front of us. It stands patiently waiting for us to spend it. What will we do with this time we call the New Year?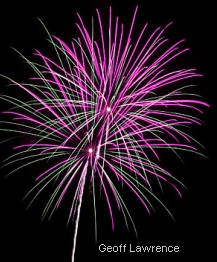 My mind flies with hundreds of thoughts and ideas of the possibilities! Without any limitations, my dreams are enormous and grandiose! But soon the reality of what is sincerely possible settles in and I once again think of more realistic and likely opportunities. But still, with the "
what if?
" lingering in my mind.
The Herd.
We must care for The Herd. That means providing shelter and feed and hay and room to exercise and play. That also means vaccinations and hoof trims and treatments for those in need of them. Special meds for those that would benefit from them. Caring for them also means blanketing them in the cold and providing cool, moving air for them in the heat of the summer. Clear, clean water available year-round. Barns that are clean and safe. The Herd. There is a lot of work required to care for The Herd. Some of those hours in 2008 will be spent caring for The Herd.
The 'Other' Herd.
I must care for The '
Other
' Herd. That means welcoming them and thanking them. That also means providing them with feedback and concerns for their safety. And it means sharing these Ministers with them to allow them their just reward for their hours of diligent work and dedication. Volunteers give freely of their time and energy to support something called a Mission that they believe in. They do it to feel good inside. They do it to help make the world a better place. They do it because they love The Herd and each other. Thank the dear Lord they do it at all! Some of those hours in 2008 will be spent caring for The '
Other
' Herd.
The Friends of THE FARM.
I must care for The Friends of THE FARM. These people and organizations financially support our Missions and allow us the freedom to support and care for these animals. And the freedom to share these animals with other Human Beings who come and are in need of an accepting ear to listen as we ramble. Or a warm body to hug when we feel so very alone and scared inside. The Friends of THE FARM ask for nothing back, but I must find ways to give back. That could be a note or a small token gift. Nothing too fancy! The budget, you know! Some of those hours in 2008 will be spent caring for The Friends of THE FARM.
The deskwork.
Oh! The deskwork! As much as I would prefer to be outside in the barns or outside mowing lawn, there is this force calling me – no, pulling me! – to sit at the desk and move papers for some of those hours in 2008. Without this deskwork there is no donation and expense tracking. Without this deskwork there are no homes for the fostering horses that need us, too. Without this deskwork there are no newsletters or event posters or articles to publish. And in 2008, there must be deskwork to secure grants and funding which will allow us to continue the tasks in front of us. Many of those hours in 2008 will be spent at this desk doing deskwork.
The public.
Our events and public hours for 2008 are already scheduled and publicized with the sole purpose of allowing the public to find us and enjoy us. Free of charge. Time is spent to plan and prepare for the public's visits. Manual labor is spent to prepare the site and setup properly. And then the public comes. Do they find the
magic
? Do they find 'it'? Will they return? Did we help them in some small way? I've learned not to ask these questions with each Human Being who visits us. No, I've learned to stand back and ask these questions for a period of time. A group of people in general. And to let the individual stories of
Magic
come on their own. It is safe to say, however, that the public is wrapping their big arms around us. Yes, they are finding "it" here. And yes, they see what we are doing here is a good thing. Time must be spent in 2008 expanding our public outreach.
The law.
Oh, that thick book of state and federal non-profit rules and regulations. Filings and licenses. Permits and registrations. There needs to be a yearly calendar of just those deadlines and fees and forms to be filled out! I must spend time in 2008 to read and truly study the law. For the sake of the organization and for the sake of better sleep!
But most of all, I find in 2008, that each of us must take care of
ourselves
. It is so easy to get wrapped up in all these things to do. Tasks to complete. Letters to write and files to create so that they may be filled with papers. Details to track and Internet searches to complete. So many things! In 2008, may we all remember to enjoy the moment. Take the time to enjoy The Herd. Take the extra care to enjoy each other. For only then, will the time spent in 2008 be worthwhile.
Here's an example of what I mean:
It is a chilly and overcast October day at
Refuge Farms
. Tony Stromberg is here from New Mexico to capture – hopefully – photo images of The Herd for his next book on horses in rescues. I am thrilled and eager to do whatever it takes to support his work.

The man is talented. That's obvious by looking at his first book, "Spirit Horses". Pictures in that book bring me to tears! And here is this man in my muddy pastures with this herd of thrown away rejects. We must capture their amazing capacities in his lenses! We must!

And the man seems to be part horse. He relates with them on a level unlike what I have seen before. The horses readily accept him as one of them. There are no boundaries between he and the horses in a matter of moments. I must say that even Mr. Parelli could learn from Tony Stromberg.

A photo of Babee Joy has eluded Tony for a day and a half now. She stands like a model for him and just when he focuses on her, she looks to him and the frame is lost. It has been a long afternoon of Tony wandering in the mud and doing his best to capture Babee Joy in his camera.

Why does she do that? Tony explained that she feels his gaze focusing on her. She senses the direct look of his eyes and since she is prey and he a predator, she must turn to insure her own safety. It's instinct. The trick, Tony said, was to catch her without her awareness…if that was possible! But, Tony, said, the moment may present itself. The goal was to be ready if it did.

Finally, it appears that the moment will happen! Tony is literally on his knees in the mud with his camera looking to Babee Joy from under the belly of Jeri-Ann! Yes! The picture he has been looking for is just about in his grasp!

OH NO!!! Unit! Get out of there! No, Unit! Go away from him! Don't go there!

Unit sees Tony on his knees and so wanders up to him to check out his face and his lens and just, in general, get between Tony and Babee Joy.

Me? I'm up by the fence frozen so as to not disturb this possible elusive photo. And then I'm biting my lip! Why didn't I think to occupy Unit? I should have known that Unit would get in the way! What can I do now to try to salvage the moment? Then I look at Tony. Is he frustrated? Is he pursing his lips? Is he pushing Unit out of the way in an attempt to save the photo?

Nope. The man has dropped his camera and is playing with Unit. A genuine smile of sheer enjoyment is on his face. The photo of Babee Joy is gone and Tony is just fine with that. Instead, he has chosen to live in the moment and enjoy the chance to play and nuzzle with Unit.

That is what I mean. Taking advantage of the moments as they present themselves and having the strength and courage to enjoy them! Letting the pressure of "the plans" and "the lists" go by the wayside. Learning to live fully in each and every experience as they present themselves.
There. That's the best use of all of those hours and minutes in 2008. To enjoy the moment. Keeping
Refuge Farms
moving forward and not letting the paperwork get too far behind. Working on the projects and our needs but not at the continued expense of daily enjoyment of this heaven and angels that surround me. Balance. It is called balance. A good thing. Balance. I can sleep now. I can get a good night's sleep on this first day in this new year. Balance. I have a great resolution for this New Year we call 2008.
Enjoy the journey of each and every day,
Sandy and The Herd