Sunday, April 27, 2008
The Story of Handsome - Part 1
Warning: Some pictures in this blog may be difficult to view.


In order for you to understand the home from which Handsome came. In order for you to fully appreciate the apprehension and fear in my heart as I drove to retrieve him. And in order for you to fully understand the significance of an old man's question.

In order for all of this, I must first tell you the story of three other horses. You must come to know them and their stories before I can tell you the story of Handsome. And have you understand. The story of these three horses takes place in 2001....
The November ground was getting hard from the cold nights and there was a cold, sleety rain coming out of the gray overcast skies. It was truly miserable outside.
"Not fit for man nor beast!"
I could hear my Mother tell me. And here I was on the road for three plus hours to rescue horses I had never even seen.
Oh, that first rescue I had been so naïve! I had actually expected relatively sound horses. Simply older horses no longer able to professionally compete in a horse-pulling contest. Horses simply in need of retirement. I had been totally, completely, and enormously unprepared for what was in front of me.
Upon arrival, I spotted two large horses standing on a hillside. Like bookends, they stood there with their heads hanging down trying to escape the cold, sharp winds. But what was that lump between them that they were standing guard over?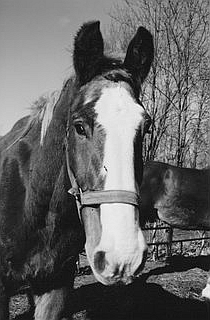 I walked up the hill and sure enough, the "lump" on the ground was the third horse. An old horse with one eye gouged out from a meeting with a bull. His head was enormous! And the body? Well, the body was so small you barely say it lying there. His feet were huge and stuck out from under his skeleton of a frame. This is the "lump" that the two bookends were guarding. How long had they been standing there to protect him? The loyalty of these two big horses was not lost on my heart.
I spent the better part of the day on that hill in the freezing rain. Working and coaxing. Massaging and feeding. Watering and rubbing. Pulling ever so gently. Singing and encouraging. Praying and crying. I had promised the old horse that if he would rise, I would bring him to a warm barn and warm food and warm blankets. And I would listen to him about what to do with his life. I would do all I could for him, if he would just rise.
My watch told me it had been a little over four hours. I would give him another hour to gather up his strength. If he still was unable to rise, I would contact the local vet and give him relief from this frozen hill. I would not leave him here. And I told him that. One way or another, we were leaving this frozen barren hillside together.
I paused for a while and just studied him. A proud horse with a long, worthwhile past. A horse that no longer served a purpose and so was just left to die out here. Freezing to death would most likely be the cause. But not before the wolves and coyotes and rats had a few meals on him. Asking him to try just once more, I lifted the rope without putting any pressure on his face. And this old, emaciated, weary, worn-out horse stood.
And then I saw it. Frozen in to the dirt of the hill so solidly that it was actually a part of the hill was a large patch of the hide of the old horse. His right side had been on that ground so long that as the ground became cold, his body lost the fight of keeping his hide warm. And so the hide had actually melded in to the earth and frozen right with it. Dear heavens! The strength of that old horse to rise knowing full well that his rising would cause this harm to come to him. But he chose to rise and not die on that hill. A new profound respect for the old horse overwhelmed me.
We all four walked gently and very slowly to the trailer. The two bookends never left his side. They walked as if to catch him in case those skinny, atrophied, weak legs gave out on him. But the old horse was proud and had decided he would make it to the trailer. And he did. With difficulty breathing and in obvious pain, in a pure miracle of strength and determination, this old horse made it into the trailer.
Once inside, I threw a horse blanket on him and then stood back. As expected, he was quickly down in the deep pile of dry shavings. The bookends came in to the trailer so all three of them could easily see and nudge each other on the ride home. After closing the doors, I ran as quickly as I could back up to the hill to gather my belongings. I was starting to feel the cold and wet of my own skin now that the horses were safely tucked in my trailer. My teeth were chattering and my body was shaking.
Without hearing him, George had approached me on the hill. He had been watching from his house and came out to tell me of his surprise that I was able to get the old horse up. But, he said, if the old horse had not gotten up the other two would not have left him. So he was glad that I could get them all off of the hill.
I turned to George and did something I had never done before and have never done since. I voiced an opinion of the behavior of the person who had abused the animal that I was rescuing. And I voiced my opinion right to his face while looking him straight in the eyes.
"George,"
I said,
"you're gonna go to hell if you don't start taking better care of your horses."

With that I gathered my items and departed. Stopping only briefly to check on the three precious animals inside the trailer and to tell George that he did a good thing when he called me. He agreed. He probably had waited a bit too long, he supposed, but he was glad they were in my care now. With that simple statement, I felt the weight of all three of these large pulling horses resting now squarely on my shoulders.
The Old Horse on the Hill I called Tom-Boy. The bookends kept their names of Sonny and Clyde. It was a very long journey home that day. I drove carefully and slowly, really not wanting to turn in to my own driveway. My heart knew Tom-Boy's choice the minute he was comfortable and warm in the bed of shavings. He was ready and his one good eye would tell me of his decision when I approached him once we got home. I would help him on his final stage of his journey.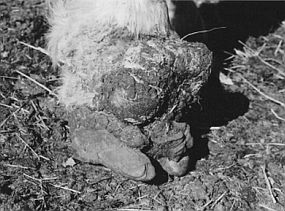 Sonny and Clyde spent thirty days with me. I tried specialists and every source I could possibly think of to try to heal their wounds. Sonny had an enormously infected wound of proud flesh on one of his front feet. Surgery was performed and even that did not rectify the condition. And he weakened as time went on. Clyde, too, had a maggot-infested hoof with a dead coronary band. And a horse with no hoof is a horse with pain and misery.
Thirty days went quickly but I was grateful for each and every day. Sonny and I had time to play! This horse was alert and truly a playful giant. A bit clumsy with that enormous growth throwing his balance off, but playful just the same. Clyde and I had time to share long hugs. This horse was an introvert and simply wanted to heal so he could be a horse again. They all crossed with gentle hands touching them and a voice full of respect and compassion singing in their ears.
And so, I had
"rescued"
horses from George years before. His telephone call that night in November of 2007 was for another horse. Another "good horse" that he thought I should come and get. The situation had changed, he said. Could I find the way over to his place to pick up this horse? He had a bad eye, but he was a good horse. Could I come? Tomorrow?
With great apprehension, I started east once again on I94. What would I find this time? How emaciated would this one be? How bad was it this time? Full of fear but determined to help whatever was awaiting my arrival, I began the journey to George's farm one more time…..
Enjoy the journey of each and every day,
Sandy and The Herd
Sunday, April 20, 2008
It's Great to be Heard!

Everyone once in a while, someone will see an issue so clearly that it becomes logical and blatantly plain-to-see for them. It becomes obvious to them. A no-brainer. And it seems incredulous that others can't see the situation as clearly as they do! It is peculiar to the one with the clear vision that others around them are able to go about their daily tasks without talking and working and
doing something
about this obvious, true, and logical issue!
LB (as I affectionately call Barb G.) is such a person when it comes to hay for The Herd.
To LB, it is obvious that without hay there is no
Refuge Farms
. That without hay, everything else we do and plan for is nonsensical. Without hay, there is no herd. It is very simple to LB. Black and white. Blatantly obvious. No discussion for LB because there is no need for discussion. We must have hay over anything else.
At the start of the year 2008, true to her convictions, LB once again shouldered the cause of hay for The Herd and pledged her matching contributions for
The 2nd Annual Hay Fund Challenge
. The first $2,500 would be matched by LB – dollar for dollar – and the monies put aside to begin the purchase of hay for the winter of 2008-2009. Some of The Friends of THE FARM pledged $50 per month for the Hay Challenge. Others have donated to The Challenge as they have found us or wanted to make donations in memory of a special equine companion or just a donation after hearing of us.
The 2nd Annual Hay Fund Challenge
is moving along and people are hearing LB. Her words on not falling on the ground. Her words are finding others just like her.
Others like Sally D. and Joy B.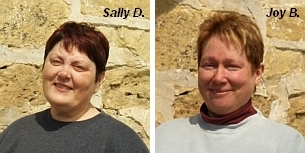 Sally D. and Joy B. found
Refuge Farms
after moving to Spring Valley from Green Bay, WI. In fact, they found us right about the time that Miss Bette fell and suffered from The Storm From Hell on the worst night of last winter. These two bring their happy hearts and willing hands to THE FARM as well as true understanding and real life experience of how a non-profit must survive and what obstacles it will face along the way.
And so it is with great appreciation of all three of these women that I pass on to you an email just received from Sally D. and Joy B. Read on.....
Sandy

We have been talking and wholeheartedly agree with LB that hay is central to the welfare of The Herd. So, we would like to issue a second challenge. We will match an additional $2,500 of donations to The 2nd Annual Hay Fund Challenge. That means The Challenge for the 2008-2009 winter hay supply will be for a total of $5,000.

We encourage all friends of Refuge Farms and visitors to the website to help supply the basic need of The Herd. We especially challenge The 'Other' Herd to donate to the challenge and to share the challenge with family, friends and lovers of horses. Some of you may work for companies that match your charitable giving -- if so, you can triple the dollars you give to the Hay Fund Challenge.

For the Mission of Refuge Farms to continue we all need to step up and help care for the most precious members of Refuge Farms, the horses. LB was eloquent in her blog "For the Love of The Herd". You cannot stand with The Herd and not have your heart go out to their needs. We all need to step up and give -- buy one less latte, or choose not to eat out one time.

Sally D. and Joy B.
And so it is.
Refuge Farms
, from the generosity of these three women, now has a $5,000 Hay Fund Challenge for the entire world to see and support! For every dollar you give, these women will match your dollar and that money will purchase round bales of hay.
Hay. It's like air for The Herd. Without it, truly, as LB says, there is no herd. They must have hay and so we must find ways to purchase the hay that they require.
Join with me in support of these women and in support of The Herd.
Thank you, Barb G.
for being that strong, lonely voice constantly chanting of our need for hay!
Thank you, Joy B.
for hearing LB and choosing to act upon her words!
Thank you, Sally D.
for giving your voice in chorus with LB to insure the message is heard! And thank you to all of you who participate in their challenge and support the very basic need of these wonderful Ministers in Horse Hair!
Enjoy the journey of each and every day,
Sandy and The Herd
Sunday, April 13, 2008
In Honor of Terry DuBois


It was the Public Hours Saturday in March. A spirited but composed woman approached me and asked, "Are you Sandy? I'm Diane DuBois." My heart swelled at the sight of her! I did not know her nor had I known her husband, but we three are linked by a common purpose and the compassions in our hearts - we rescue.
Diane's husband and the love of her life, Terry, has recently passed away. When she speaks of him, Diane's face changes and she straightens her shoulders a little bit more and her smile is huge and tender. These two people loved each other, that is plain. A real, genuine, heart-based love. The kind of love we all dream of. The kind of love we all search for. These two loved that way.
What transpired next seems almost like a dream. Please read on to see how Diane is carrying Terry's Spirit with her, how she is continuing the work the two of them began together, and to see how a connection between Terry and Diane and
Refuge Farms
now exists...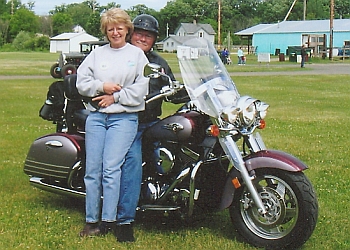 Dear Sandy,

Terry and I had been together 21 years after meeting at the Sheriff's office where we both worked. We realized right away that we were both huge animal lovers and dreamed about a home in the country where we could make a home for ourselves and have lots of animals.
We didn't want to go out and buy animals or get them from breeders. We wanted to rescue animals that were not being taken care of. We wanted to be the last home that they had to go to and, like yourself, we promised each one that they would never go hungry, never be abused, and we would help them die with dignity.
In 1993 we got our wish and bought 10 acres of land in Martell and built a big pole barn which we insulated and heated. And then we built our home! We started with 2 horses, 3 adult cats that we already had, and a pregnant cat that we rescued when she was hanging around the courthouse where I work, obviously without a home.
Terry was a big, strong cop with a heart of gold. He LOVED cats which for a guy is kind of odd - they usually like dogs. Seeing Terry holding a little kitten in his big hands was priceless. As you can imagine, the word soon was out and people started calling us to be the new home for their unwanted pets.
One very fortunate thing in our lives was that my daughter married a veterinarian. God does help those that are doing something good for the world. So every animal we have gotten gets spayed or neutered for Zero Population Growth.
Currently, I have lots of cats - all fixed and living the good life. I also have 3 horses - one is a rescue racehorse, 3 pygmy goats, 1 angora goat, 1 sheep, and 2 llamas. They have all come with different stories but they are all fat and happy now.
But then my life had to take a new path after losing Terry to a fatal sudden heart attack. I thank God daily for the love we had for each other and the wonderful things that we accomplished together. I will continue to take comfort in my animals and keep our farm going. I have faith, family, and friends to help me go on.
So, after I have rambled... The connection here is that Terry and I joined the Blue Knights a few years before he died. Many a time we would ride Highway 29 and would comment about your "Refuge Farms" and say that it reminded us of ourselves. We always admired anyone that would give of themselves to help animals.
When the Blue Knights approached me about the idea to have a memorial ride for Terry, they asked me where I would want the proceeds to go. At first I thought Mayo Clinic because Terry had also dealt with Multiple Myeloma, a bone marrow cancer, for the last 7 years and Mayo had done so much to bring awareness and treatments in the recent years for this type of cancer. But then I thought the ride was local we should give to someone local.
So God spoke to me and I thought of you and your farm and even without knowing who you were or what type of place you had I felt it would be a good place to donate to. And after seeing your farm and meeting you and your great "herd" I am totally convinced this is a great place for the proceeds to go.
I am looking forward to getting to know you better, sharing stories, and supporting each other in our quest to help animals. My blessings go out to you and your staff for all the great work you do.

We will talk again soon!
Diane DuBois
They say the miracles are in the small things. A gentle hand helping a stranger. A smile to someone in pain. And a gift of yourself to someone you don't even know. Diane is just that miracle to
Refuge Farms
. I am honored and humbled by her generosity. And I must admit, I am selfishly excited to get to know her and share stories, share worries, and share our victories in this world of rescue.
The day of the
Terry DuBois Memorial Motorcycle Rally
is Saturday, May 17th. Diane has offered
Refuge Farms
the opportunity to set up at the rally and tell people what we do and how we do it. We also will be serving food to all of those hungry bikers! I can hardly wait!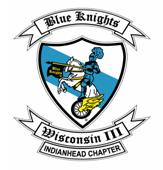 The Blue Knights is a non-profit fraternal organization consisting of active and retired law enforcement men and women who enjoy riding motorcycles. They work long and hard and raise money for various charities such as Make-A-Wish Foundation, Toys for Tots, and Relay for Life. This Motorcycle Rally is to celebrate their brother, Terry DuBois. In my brief meeting of two of the members, I can feel the closeness of this organization. The best way I can describe the feeling is to tell you the Blue Knights appears to be a brotherhood. Family. They care and take care of each other. They are a "herd" just like The Herd.
So join us, won't you? Come and share in the spirit of the brotherhood of the Indianhead Blue Knights, Chapter III. Come and meet Diane for yourself! And come and celebrate the man for which we honor on that day, Terry DuBois.
Thank you, Diane, for reaching out and impacting the life of these horses and the Humans that come to learn of trust and respect and forgiveness and joy from them. Bless you, Diane, for continuing the life of a rescuer. I am humbled by your generosity and inspired by your courage and perseverance.
The miracles are in the small things. Small things make all the difference in our world.
Enjoy the journey of each and every day,
Sandy and The Herd
Sunday, April 06, 2008
I'll Tell Her

I don't mind sharing this with you. Some of you will read this and shake your head and say,
"Yup. Happens this time every year."
or
"Yup. I've noticed it."
or
"Yup. I can see it in her face. And hear it in her voice."
But regardless, this next statement is honest and true and nothing to be shocked about – it is simply a statement of fact and part of the cycle.
I've lost my joy lately.
This doesn't mean I'm in a depression or needing emergency medical treatment or anything serious. It just means I'm in a funk lately. Just working hard to smile a bit lately. Just not my natural self – having to work at patience and listening and taking time to be around people. Finding myself stressed when I'm not by myself.
Seems odd, doesn't it? Someone who sits here and writes and speaks of the joys of life sitting here now saying she's lost her joy? Well, it happens. It happens to everyone. I'm just telling the world about it and sharing with you why I think it's gone for a while.
Too long of a too cold winter. Miss Bette was a crisis that caused me to be on the very edge the remaining days of this past winter season. Dear Heavens! She almost froze to death! And on my watch! How could I have let that happen! Just when The
'Other'
Herd was coaching me and telling me to relax and breathe that all would be well.
WHAM!
That dark cloak of death came around to threaten us. Go away! Stay away for a while! We all need time to heal!!! Miss Bette is recovering but we both aged some that night. We both have physical scars from that night. And I don't think Miss Bette is back to her deep sleeps yet either.
And the never-ending snow has helped to rob me of my joy. Nothing gives me more pleasure than to go out and dig in the earth of the Memory Beds. To tend to overcrowded Ono. To fill in the bare spots on dear Ima. To clean up Frannie. And to decorate DukeDuke. To finish the stone boat on Jerry. And to cover and begin the enormous task of decorating Big Jim and Miss Bonita. And then there's Slim. Just waiting for his tall, blonde grasses. Oh, to get that warm earth under my nails! The therapy in it is remarkable. The talking I do to each of them as I groom them. The songs that come out of my throat. And the tears that roll down my cheeks. Therapy. Pure and honest therapy in working in the dirt and grooming The Herd of The Crossed. The snow must move on and the spring rains must come. They must. I need to dig in the dirt.
There are worries with The Herd, too. Will Ole Man Cole be able to sustain the heat and humidity of another summer? How will Sweet Lady Grey adapt to a new pasture with new pasture mates? Handsome's eye will be addressed but it will put this huge, gentle creature at risk. That is fearful to me. And then there's Lanna. Her body continues to grow, it seems, rather than to shrink. And right on schedule, the dear horse is getting her winter coat. Right before the sun gets hot. What to do with her….a puzzle.
My personal situation causes great stress. The job market sucks. I'm not exaggerating or being rude, it just plainly sucks. It's tough being an "older person" out competing with the young adults. Gonna lose that one every time! And at risk is my life's earnings and home. So, I keep my head down and purchase nothing that isn't a "have-to-have". The biggest worry? Health insurance and prescriptions. Scary, scary, scary. Can't get sick or hurt…. And need to make those meds last!
Right in there, too, is the stress of the financial projections for THE FARM. It's a battle out there with such high fuel costs and the ever-increasing cost of living. The money to donate is drying up and without donations, we must develop new concepts and develop new avenues of funding. The
'Other'
Herd continues to work on new ideas and I rely on them and their creative minds and continued commitment to supporting The Missions! Not an easy task, however. Not an easy task and I see and appreciate that. But the issue is still there. We need to raise or find or get the money to support THE FARM somehow. That brings stress. To all of us!
And of course, I wouldn't be honest if I didn't tell you that I worry about all of the horses out there suffering. Hungry. Cold. Abused. I talked with a Sister in Rescue this morning. And we agreed that the problem will never go away. This is one we can't fix. But it will be an itsy bit smaller because we are working for all we are worth to help all that we can. We agreed, too, that if we could only rescue one, that would be the reward. All the reward we would need. To help just one.
So you put all of that together with a growing pile of paperwork demands, and there I am. Working harder than I ever have in my life and feeling farther and farther behind. And the joy? Well, it has slipped away for a while….
And right on cue, simple things happen to realign me. Simple things will jolt me out of this spot and I'll let the joy come back again. And one of those simple things happened last night…
Kathy and Craig and I were talking about options and plans and ideas when a vehicle pulled in to the yard.
"Do we know this man?"
Kathy asks.
"Nope, but he's here,"
was the reply. It was a man about my own age. Driving by on his way to Menomonie. He is from the Superior, WI area and his mother and her sister and his cousin were in the car with him. He knew we were closed but he had heard about us and wondered if they could just look at the horses through the car windows.
The next thing you know we are all in the barn.
"Now that's a big one!"
his mother cries as reliable Jeri-Ann comes up to the rail for pets.
"Oh, and another big one!"
she continues as gorgeous and enormous Babee Joy stands next to her pasture mate. And then Beauty joins us. The mother was born in Canada, you know! And Beauty came from Canada. A connection of sorts.
Unit joins us and we talk about Cole and April and Spirit. Now all of this seems rather ordinary, doesn't it? A tad bit not-so-ordinary when you know that the mother is 96 years old. Walked in the barn under her own power, too. 96 years old. All dressed in a matching pant suit with a silk blouse and coordinated jewelry on her neck, her ears, and her wrists. Amazing. The younger sister is 92 years old. Now she was full of questions! About breeds and ages and how the horses interact with each other. Quite a pair, these two. In fact, they had homesteaded a bit of property in Woodville a long time ago, and so this was really familiar land to them. Did I know the place, they asked?
At one point, we were looking at the horses in the Helen Keller pasture and the younger sister – the one that was only 92! - says to me,
"Did you see the article in the paper last week about the starved horse? The mare that used the hay and water to make milk for her baby horse? Wasn't that remarkable how that horse thought of her baby instead of herself?"
I smiled. I told her to look out in to the pasture. See that horse that looked like a small Budweiser horse? Yes. Well, that horse is Miss April. The Miss April from that article. That's the baby horse. The one from the article.
Her eyes flew open!
"Really? Is that the horse? Really?"
I reassured her that yes, that horse was April, the daughter of Ima. And yes, Ima had lived here for six years after she had arrived.
"Well, if you know the horse, you must know the lady who wrote the article then?"
the younger sister asked.
"Yup. I do."
I said.
"And I'll be sure to tell her you enjoyed her story! And her horse!"
Joy. It can be robbed by the stresses of life and the worries of how we are to manage. By waiting for what we know is coming soon but by not being satisfied with where we are now. Joy can disappear simply because we lack faith that all will work out. We lack belief or trust in a Master Plan and we lack the strength to surrender to the power of such a thing. Joy. It's easy to lose it.
And just when you think you can't stand up anymore, a simple visit by a woman in her 90's brings you a genuine, from-the-heart smile. And I feel it inside. Yup. It's still there. The joy is in there. Just napping for a while. Just waiting to come back. As soon as I have the faith and confidence to let it come back.
Enjoy the journey of each and every day,
Sandy and The Herd