Wednesday, August 30, 2006
Who rehab'd who???

I have this loud ringing in my head. It is a ringing sound that I hear above the sound of my footsteps on the gravel driveway as I walk to the barns. I guess it's more the absence of noise that I'm already noticing. The absence of the squeak of the wheel on her cart. The absence of the sound of her tender front feet stepping quickly to keep up with me. The absence of her barking at the horses when they come too close to the gates.
I sit here a mess of emotions. Gratitude. Sorrow. Relief. Regret. Joy. Loneliness. Compassion. And of course, there are these tears.
How do I tell you what is in my heart? This heart that is breaking and singing all at the same time?
How very, very grateful I am for having known her for such a brief time! Grateful for the lessons of patience and acceptance that she taught me every single day. Grateful for her understanding on those mornings when I was late and needed to hurry. Or those nights when I was late and needed to hurry. But she understood and would wait patiently until my schedule allowed me the time to spend with her. Sunday mornings were our favorite times. We would sit in the swing in the summer or by the fire in the winter and just relax in not having to hurry. She would usually nap on Sunday mornings. Nap as I puttered around doing really nothing. Except being with her.
Sorrow in her loss. Sorrow for me, actually, not for her. Sorrow for me that she no longer accompanies me and guards me and warns me. And pesters me. And gets right behind me. And causes me to pause and wait while she moves while teaching me patience. Sorrow in her absence. The absence of those footsteps and that damn squeaky wheel.
Enormous relief that she is whole once again. Relief that her courageous and patient battle with her failing and disappearing body is over. Relief that already she is running and free!!!
Regret that I didn't spend more time with her. Brush her more. Take her swimming a few more times. Feed her more treats. Show her my love just a bit more. Even when I was late. I guess I will always have these regrets, even though she and I were together more than most married couples I know.
Joy, pure and screaming joy, at the gift of her in my life! Joy in the faces of the children who met her and played with her and giggled at her. Joy in her willingness to accept us all. Joy at being able to see her bolt to the truck when I spelled R-I-D-E. The joy of hearing her bark when Unit tested the gates.
Loneliness purely because I miss her already. I miss talking to her. Asking her if she thought that "it" was all right? Or did I need to do "it" over? Loneliness for me but surely not for her! She is already free and whole and over that Rainbow Bridge! Finding all those she misses – DukeDuke, Halima, Jerry, RedMan, Joseph, Hannah, Slim. And yes, she has already found Lassie. Her predecessor who, likewise, was void of her left hind leg. Lassie who left a huge gaping hole that she eagerly and respectfully filled by her constant, steadfast loyalty to me.
And compassion from her and those around her. That feeling of acceptance at all times. No judgment. No grudges. No pouting. Just always there and ready. Always ready to find a stick (or a rock if no stick was to be found). Always ready to go for a ride. Always ready to go to the barns. And always ready to just be there to support me.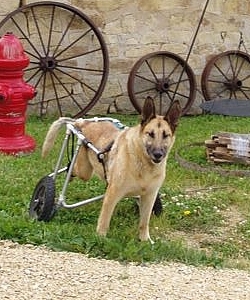 Lady-the-Dog.
My companion and my friend. My guard in the barns and my partner. The dog who rode endless miles with me in the old pickup. Who went to the cabin with me. And who got lost with me in the woods as we looked for the perfect tree for Donna. Who never turned her head from me when I was late or early because of work. Who always loved me and forgave me even before I had sinned.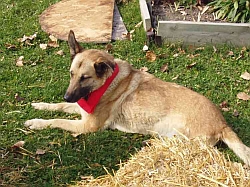 Lady-the-Dog
who came to me as a rehab project. "Definitely, this dog is not going to stay!", I told my friends. But who patiently worked passed my fears and soon became something I couldn't imagine my life without.
Lady-the-Dog
who was here before
Refuge Farms
.
Lady-the-Dog
who came to me not wanting me. Wanting her old owner. But who soon came to love me and accept me in his place.
Lady-the-Dog
who showed children that her cart was no different than their wheelchair. Who went to Camp Quest and ministered right with the horses. Who was just a part of it all. She asked nothing special. Just to be accepted.
Lady-the-Dog
who now, already, is back to playing "You Can't Cross the Line" with Jerry, the Roan Horse. I would stand and smile as I watched the two of them challenge each other for who owned the fence line. Jerry would stick his nose under the board fence and Lady would chase him back. And Jerry would stick his nose under the board fence and Lady would chase him back. Jerry would look through his mane at me and say, "Look! I can make Lady bark!" and stick his nose under the board fence. Finally, I would assure Lady that it was okay and she would come with me. But not until she had barked one more warning bark at that Jerry!
These two challenged each other just about every morning on our way down to the barns. Jerry would stand by the driveway waiting for Lady to appear and then the game would start. Can't you just hear it already?
I need to write the story of
Lady-the-Dog
now. We need to record her presence here with the story of how she came to be and how she taught us all. How she loved us and accepted us. And truly was grateful to cross. How such a little creature in the midst of such large creatures had such a deep and lasting impact. How it was really all a part of the plan, now wasn't it, that she came here for rehab. But really, who rehab'd who???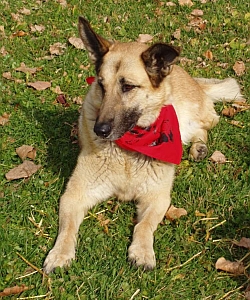 Lady-the-Dog
. The absence of your noise is what I now, already, miss the most. Thank you, little girl, for your loyalty and trust to the very end. For that sigh from you that told me, "Thank you, mama. I am ready. And now you are ready, too. See you soon."
Lady-the-DogL
=Love of Life
A
=Adoration of Sandy and The HERD
D
=Determination to live life well every day
Y
=Youthful Exuberance
T
=Trusting that all will be well
H
=Heart of Gold
E
=Enjoying rides in Her truck
D
=Dilligence in her Farm Duties
O
=One of the Best
G
=Graceful to the End
written by
Barb Gramenz
Friday, August 18, 2006
Amen, LB. Amen.

As a follow-up to last week's blog, I wanted to share an email with you from one of our cornerstone members of The '
Other
' Herd.
This volunteer had expressed her concerns to me that this whole fostering program was costing
THE FARM
money. No one had to pay for us to find a new home for their horse. No one had to pay for the fuel to go and pick the horse up. And no one had to pay for the delivery of their new horse. Why would we do this when
THE FARM
is so much in need of funds to pay for hay, for crying out loud?
And really, most of the volunteers and certainly not the general public, even know that we do this kind of thing. Is it really a part of our mission? Should we really be doing this?
My feeble attempts to explain what was in my heart were inadequate. She left
THE FARM
that day frustrated with me and my poor decision making. Then she read the blog and here is her response. Her email speaks
volumes
to me and, with her permission, I am publishing it for the whole world to see.
And I am publishing this email with the note that no one knows what it's like in someone's shoes until you are standing there. So no one is to blame. No one is bad and no one is good. It's just life - reality - and how we all choose to deal with the decisions we must make. Like the blog says, I don't do this fostering for the owners or the new owners. I do it, quietly, for the horses….
Dear, Sandy, thank you for the new blog! After reading, it has put my fears and doubts to rest! Guess it is a part of the cycle of THE FARM that has never been really talked about during Ways of the Farm or any other place. The horses are the most important consideration and hopefully, it causes some of the "owners" to take pause and take inventory about some of the choices they have made, and in the future do it better. thank you for being you.
Amen, LB. Amen.
Enjoy the journey of each and every day,
Sandy and The Herd
Sunday, August 13, 2006
It is the right thing to do.....

There is a whole side to
Refuge Farms
that you may not know about. I seldom talk about it. It's the "quiet" side of our mission. This "other side" is a very private process and a responsibility that has grown out of need. Because there are just too many horses out there and too few owners willing or able to any longer take responsibility for them.
The portion of
Refuge Farms
that I'm speaking of is the Surrender and Fostering Program.
I receive telephone calls and I receive emails and people stop in frequently with the desire to find a home for their horses. They have outgrown them. The horse isn't young and fit any longer. The horse has baggage. Or sometimes it's very simple – there's a new horse in their lives and the money only covers the expenses of the one horse.
Now I could spend this entire blog talking about the pros and cons of those situations. Let's just save that for another day.
Refuge Farms
is not here to judge or criticize.
Refuge Farms
is here to help. And
Refuge Farms
does it's best to help the horses that find themselves in this spot. And we help through the Surrender and Foster Program.
The first step is understanding the horse that needs a new home. It's special needs (of which there usually are some or the horse wouldn't need a new home), it's history, it's prognosis, and it's personality. I do this by spending time with the owner and listening with everything that I have. Body language, voice tone, and gestures are all part of the horses story. I need to know the horse without seeing or touching the animal. The owner is my only and best link.
Then I begin perusing my folder marked "Possible Fosters". Is there a home in there somewhere? If I think there's a possibility, I place some telephone calls or send some emails. If not, I start to spread the word.
You can see from the description of the process that fostering can be time consuming. Sometimes the horse doesn't have that much time. Sometimes it's almost an emergency placement. It is at these emergency times that I am challenged the most and have to reinforce the
Refuge Farms
mission to myself.
"We take the "diers", Sandy. We cannot save every horse, Sandy. We do not take the horses that have options. We cannot take every horse that needs a home.
(I really need to write this down and pin it on the barn wall...almost like a mantra!)
When I find a match (and hopefully I do!), the two parties meet and the horse is introduced. I wait to see if
"it"
happens. Does the horse accept the new fosters? Do the fosters accept the new horse member? What kinds of facilities are available to house the horse? I spend an enormous amount of time talking about transitioning the horse. It must be slow. It will take time. But the end result of a methodical and patient transition is the lack of chaos. The process works. And I do my best to sell it to the fosters.
If all goes well, then the time for delivery is arranged. And when that time comes, there, of course, is paperwork.
First, the owner signs a Surrender Letter where
Refuge Farms
promises to the owner that the horse will be:
·never mistreated
·never underfed
·never sold, traded, given away, or slaughtered
·that life choice decision will involve the owner, if possible
·that the fosters will surrender the horse back to
Refuge Farms
if they find, at some point, that they cannot keep the horse for whatever reason
·and that the owner may request and receive the horse back, if so desired.
This Surrender Letter I read out loud to the owner and I read it as,
"I promise you, Sally, that Doc will never be mistreated. Doc will never by underfed..."
It is a very personal conversation. And I feel the weight of each promise as I make them right in front of everyone.
Once the Surrender Letter is signed, I then dry my eyes and turn to the fosters. The Foster Letter is read and I ask the fosters to promise
Refuge Farms
that the horse will be:
·never mistreated
·never underfed
·never sold, traded, given away, or slaughtered
·that life choice decision will involve the owner, if possible
·that, if at some point, keeping the horse is not an option, the fosters simply need to contact
Refuge Farms
for re-placement of the horse
·and that the owner may request and receive the horse back, if so desired.
The Foster Letter is powerful, as well. And typically the fosters read and reread it to insure they can uphold all of the promises. We have discussion. The signatures are finalized and the horse is now the responsibility of
Refuge Farms
(gulp!) and fostered out to a willing keeper.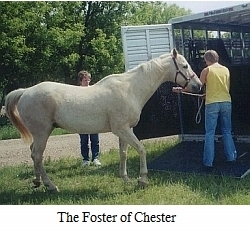 The final step is the transport of the horse and working through the transition. Only in one case have I had to re-place horses due to an improper transition. And I own that error. I did not spend sufficient time talking about transition and I did not stay on the beat of the process with the fosters. My fault. At the expense of life quality for those horses for 60 days, I learned a very valuable lesson.
I carry the guilt and will someday forgive myself. Just not yet. Have those two horses forgiven me? I pray so. Their new fosters love them to pieces and they are once again united in the same pasture. All is well. Time will heal their outward wounds and I have learned the value of the role of
Refuge Farms
in such a situation.
This whole program seems like a small thing, doesn't it? Yup. It sure does. Until you get the hug of an owner who knows their horse is safe. Is in good hands. And will be given the opportunity to live out its natural life without the threat of mistreatment or slaughter. Those "owner hugs" are tight. Sometimes it's hard for me to breathe! There are usually tears, but there is gratitude and relief, too, all rolled up in to one big hug.
Then there are the hugs of the fosters. Shorter and more joyous! A new horse to love! Their "foster hugs" are never very long –
We must get out to the barns and show Doc around the place! See you soon, Sandy! Bye!
Just like visiting THE FARM, there is no charge for the Surrender and Foster Program. Charging would go against our mission and philosophy. The Surrender and Foster Program at
Refuge Farms
actually ends up costing THE FARM money and time. I don't do it for the owners or for the fosters, although they are most happy that
Refuge Farms
is there for them. No. I do it for the horses.
I do it so there are fewer horses without options out there for me to rescue. I do it because we can, I guess. Because without doing it, I would have trouble sleeping at night. I do it because just like yesterday, as I'm driving home from a successful surrender and foster, I'm smiling and humming a song. It feels good. It is the right thing to do. It is why we are here.
This program is a way that
"Horses Helping…"
is helping people through the use of horses. I do it because it's
"taking a horse and making a difference in someone's life".
Andy did not intend this, I don't think. Maybe he knew? I know I didn't think I would be fostering! It has just become an extension of that initial challenge that turned my retired, quiet, safe and secure little life around. Thanks, Durco! I do owe you - big time! And so do 79 horses…so far!
Yes, it is the right thing to do. Even though it's difficult and worrisome. But I'm old enough and hopefully wise enough to have learned that nothing good is ever simple, is it?
Enjoy the journey of each and every day,
Sandy and The Herd and our latest foster, Rafferty!
Sunday, August 06, 2006
Happy Birth Day, Lanna!

Today is August 5th, 2006 - the third Birth Day of Lanna. Happy Birth Day, Lanna, as you begin your third life!
I'm sure you can guess by now that Lanna is a horse. Of course! Lanna is a 2400-pound Belgian mare who delivered Jeri-Ann to us on May 1st, 2005. Lanna is a 7 year old blind mare and today is the day that marks the start of her third life.
What?
Is your forehead wrinkled in confusion? Are you convinced that I've lost
"it"?
I don't think I have, but to be sure, you need to read on…
Last Friday morning began as most hot and humid mornings have begun around here. Getting fresh water set up. Picking every possible piece out of the barns to minimize the flies. Feeding. Setting up fans and doors to minimize the sun's heat but maximize the airflow.
The only thing different last Friday morning was Lanna. She was lying in the barn. She looked okay, but it was peculiar and so I kept one eye on her during the entire feeding process. Just a concerned caretaker watching for any telltale signs that one of her charges may be in trouble.
It was time to feed the Helen Keller side of the barn (of which Lanna is a member) and so I opened the gate. Lanna got herself up and it seemed to me that when she did so, she appeared a bit "heavy"…or maybe I was just looking too hard for something…? So, I continued my routine all the while watching her big body out of the corner of my eye.
I hooked her to feed her and gave her a flake of hay. She turned her head. Now I know. Lanna is in trouble, for sure.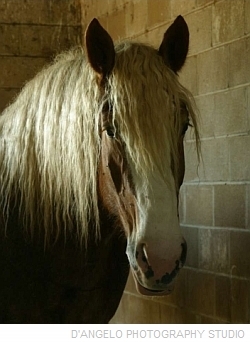 You see, Lanna is a younger version of April – a hoover. Lanna eats everything around her. After eating, when I unhook her, she will cruise the barn and check out the other feeders just looking for a missed morsel. And so for her to turn her face away from hay was a definite sign of a mare in trouble.
She stood while the others ate and I, likewise, stood in the center of the barn and observed everything I could. Her hind legs were out behind her – she was, in a way, parked. Her head was low. Her breathing seemed a bit faster than normal. She was a bit damp but I could attribute that to the humidity and 80 degrees at 6am. I watched.
When the barn was completed with their breakfasts, I began the process of unhooking everyone. And when I unhooked Lanna she went straight to the center of the barn and lay down. Really not too gracefully, either. She just kind of plunked herself down. She laid on her left side to the count of 10. Then she was up and plunked herself down on her right side.
I was already moving to the telephone when I saw that she started to roll. Colic. Lanna was showing sure signs of colic.
I did my best to remain calm. I have experienced both medical and surgical colic on
THE FARM
. I don't like either of them. Surgical colic had taken Francis Andrew. Medical colic had taken DukeDuke. Colic is spooky and fast and painful and often times fatal.
The telephone call was placed and I haltered my big Lanna and up she was. And then off we were. Walking. We must walk. If it was gas or a blockage, we needed things to move and the best way to get this "thing" that was painful in her to move was to get her to walk. Walk. Walk. Walk.
All the while her head was down, but she walked with me. Slowly behind me. She did not stop or pull back. But she did not really care about the other horses that came up to the fence to greet her. Or the traffic that whipped by us. She just walked.
Ninety minutes later the vet arrived. We listened to her heartbeat that was at 50 – a bit accelerated. She should be somewhere between 30 and 40. Her small intestines were giving off some good sounds, but the large intestines were pretty quiet. An exam found a small pocket of gas but no telltale turns or signs of a twist. Her gums were pale but she did have a refill time.
Pain meds were administered and a tube was put in to her stomach to give her water – none of which she gave back. In a way, that was good. Brown, icky fluids coming out of her tummy would have said a twist had already occurred and her systems were backing up. But no fluids came back at us.
While the tube was in her, a half-gallon of mineral oil was administered. This did nothing medically for Lanna, but it would be a marker for me. If there was
not
a blockage, I should see an oily manure appear out of her in 24 hours or so. The oil coming out would tell us that the path was open all the way through.
The vet left. By 4:30 that afternoon I was back on the phone to him. No poop. No urine. I'm worried. Head isn't too low, but that's the meds working. His advice?
"Walk her, Sandy. The best medicine for her now is to walk her."
We walked. For 2 ½ hours straight, we walked. We walked until her hind feet were dragging. We walked until my legs were numb and I'm sure her legs were aching. By 7pm, I put her in the corral with fresh water and fresh grass and told her that I needed a shower and I'd be back, as ordered, every 2 hours to walk her some more.
Well, I couldn't wait for 2 hours, so I spent the night walking her about every 90 minutes. Needless to say, by midnight, Lanna wasn't really pleased to hear me coming to get her!
At 1pm, she was lying down and rolling when I came out for her next walk. Another vet visit. More meds.
Keep the walking going, Sandy.
Her heartbeat was still around 50 and yes, she was tired, but if this colic was not surgical –
if we could fix it
– she needed to walk.
By 8:30am, we must have walked 6 miles together. I put her in a makeshift stall in the barn where she could hear everyone and hear the horses around her. She had water and a small fan. And she could pace a bit but not lay down. Movement was good for her. All the right supports in place. But minimal, tiny poop during the day. And no oil.
At 6pm on Saturday, we started our routine. As we walked, I told her that I didn't know that Tingley rubbers on my barn shoes could be quite so heavy! And as we passed Jerry, the Roan Horse, I asked him to stop calling to her. I wanted Lanna around me for a little while more. These past 2 years had turned her in to a gentle giant and she had much loving to give and to get. So, Jerry, just leave her alone for a while. Okay? Please?
The rain started around midnight. Our first walk in the rain was kind of fun. The second walk in the rain wasn't so much fun. By the third walk in the rain, neither of us was pleased! At about 2am, as we turned the corner to head down the driveway, Lanna stopped. I had figured this would happen pretty soon. Pretty soon she would just stop and say, "No more walking, Mama! I'm tired!"
But instead of complaining, she stopped and I heard the noise I had been praying for! Plop. Plop. Plop-plop. Lanna pooped! And it was Lanna size (big!) and it was oily!
The flashlight in my hind pocket that I had been carrying around for 2 nights now came in to good use. I could see the results of all of this walking and there it was in my driveway! A fresh, oily, half-a-wheelbarrow-full pile of horse manure!
Hurray!
I threw my arms around her neck and thanked her! I thanked Jerry! And I sang Happy Birth Day to Lanna!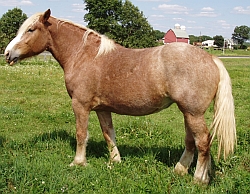 So today, August 5th, 2006, begins Lanna's third life. Her second life, I selfishly think, was begun that day two years ago when I loaded her in to my trailer. Then last Friday, she spent a bit of time thinking about moving on. Then in the early hours of August 5th, 2006, Lanna decided to stay and so her third life began!
So just how will be celebrate this victory? This win? This beating of that infernal colic? Both of us will rest! And we certainly will
not
go for a walk!!!
Enjoy the journey of each and every day,
Sandy and Birth-Day-Girl-Lanna and the Herd