Sunday, December 23, 2007
Handel's Messiah

Thirty-seven (yup, that's 37) years ago, on November 21st in Duluth Minnesota, the Duluth Central Music Department performed a Christmas concert of huge magnitude. I was a member of the Orchestra and the Red Choir. That year, all I remember about the summer and fall was practice.
Practice! Practice! And even more practice!!
Our music instructors believed that the assembly of students in the choirs and orchestra that year were technically and personally able to take on the task they had in mind - to memorize and perform Handel's "Messiah".
And we were. Or at least our instructors got us to be. Mr. Roby, Mr. Anderson, and Mr. Stellmaker. Good men and talented instructors. Dressed in our formal long black skirts and white blouses or dark suits, we all gave our very, very best that evening. In fact, I still have the vinyl record album (yup, vinyl record album) of the performance and when I take the time to listen to it, I still get goose bumps and can hear Mr. Roby reminding us to
"Breathe from your guts!" "Stand straight!" "Feet apart!" "Think! Think! Think!"
So, as I head in to this week of Christmas, my mind wanders and visits everywhere in my fifty-plus past years. Christmas as a kid. My Dad. My Mom. Christmas as a young woman and the years I spent living in Hawaii. Coming home to surprise Mom that significant Christmas of 1978. Christmas days with my beloved Sister. Later, Christmas with The Herd. And now, Christmas with all of you and The Herd.
But invariably, my mind begins to sing the Messiah. That infamous Hallelujah chorus and the ever-so-difficult Amen Chorus. But sing I do – alto and tenor parts, of course! – out loud in the barns and in the house! And I am once again a teenage girl on the cusp of a life unknown. A young girl singing her heart out to her Mom and Sister in the audience. A young girl desperately missing the Father who had just so recently crossed. And the goose bumps begin again.
I can't sing the Messiah here to you on the blog and I guess that's lucky for you! But I can give you the words. How timely these words appear to be! How many times they reference that slippery and evasive thing we call "peace". And how humbling are the surroundings but royal the welcome. Whether you believe in this faith or not, the words can't help but reach you! For all of us, these words seem to speak of tolerance and good will and joy and a celebration of life!
Enjoy! Enjoy the Messiah and this week of Christmas! May you know the Peace of the Season!
Handel's Messiah

Comfort ye, my people, saith your God; speak ye comfortably to Jerusalem, and cry unto her that her warfare is accomplished, that her iniquity is pardoned. The voice of him that crieth in the wilderness, prepare ye the way of the Lord, make straight in the desert a highway for our God. And the glory of the Lord shall be revealed and all flesh shall see it together; for the mouth of the Lord hath spoken it.

Behold! A virgin shall conceive, and bear a son, and shall call his name Emmanuel: God with us.

Oh thou that tellest good tidings to Zion, get thee up into the high mountain! Oh thou that tellest good tiding to Jerusalem, lift up thy voice with strength! Lift it up, be not afraid! Say unto the cities of Judah, behold your God! Arise, shine, for thy light is come; and the glory of the Lord is risen upon thee.

There were shepherds abiding in the field, keeping watch over their flocks by night. And Lo! The angel of the Lord came upon them, and the glory of the Lord shone round about them, and they were sore afraid.

And the angel said unto them: Fear not! For behold, I bring you good tidings of great joy, which shall be to all people. For unto you is born this day, in the city of David, a saviour, which is Christ, the Lord!

And suddenly, there was with the angel a multitude of heavenly host praising God and saying: Glory to God in the highest and peace on earth, good will toward men.

Hallelujah! For the Lord God omnipotent reigneth. The kingdom of this world is become the kingdom of our Lord, and of his Christ; and He shall reign for ever and ever.

For unto us a Child is born, unto us a Son is given: and the government shall be upon His shoulder; and His name shall be called: Wonderful, Counselor, the mighty God, the everlasting Father, the Prince of Peace. Amen.
Merry Christmas to each and every one of you!
Sandy and The Herd
Sunday, December 16, 2007
The Very Best Present of All

It is a brisk December morning in Duluth, Minnesota. A ten-year-old girl is chattering and bouncing and dancing around the kitchen – Dad's home! Dad's home! And today is the day we get our Christmas tree! And Dad's home!

What's so special about Dad being home? Well, usually he's not! You see, Dad works construction and so on Sunday afternoons, he takes his travel trailer (which is newly cleaned and stocked with clothes and blankets and food and a few notes from his ten year old daughter) and he travels to the job site, wherever that may be. Dad stays in that travel trailer for the week and returns home usually very late on Saturday nights. He works a six-day week, you know. The family needs the money and the company will pay him if he's willing to work that extra day every week.

But this week! Oh! This week! Dad came home on Friday night! His daughter didn't know it because she was already fast asleep when he pulled in to the driveway late Friday. But upon awakening on Saturday morning she found him sitting at the kitchen table drinking coffee! On a Saturday morning! A whole day early! Whooppee!! Dad's home! Hence the chatter and the bouncing and the dancing of the young girl! Dad's home!

Breakfast was made and inhaled. The breakfast was a pound of bacon fried in a cast iron skillet, blackened toast, eggs fried in the bacon grease, and milk. Tons of milk. So full they could barely dress, the Father and daughter loaded themselves with long underwear and pants and wool socks and boots and mittens and neck scarves and a saw. Yup, these two were going for a walk in the woods out back and would be returning with this year's Christmas tree!

Once back in the pinewoods, the young girl looked for trees about her own height. Nothing full. Nothing balanced. Oh, nothing good enough! She looked over to her Father and saw him standing with his head bent back and looking up at the sky? What in the world was he doing??? They were supposed to be looking for a Christmas tree! Not spotting clouds!

Well, the Father explained, the best Christmas trees were really treetops. They got good sun up there and so they were full and even and nicely shaped. The perfect Christmas tree for their living room would be a treetop!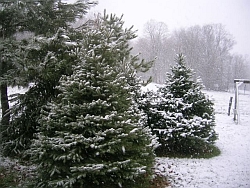 After much neck strain and some quick tree climbing, the perfect Christmas tree was on the ground and being hauled back to the house. "Oh!" the Mother exclaimed, "that tree is so big!" "Just perfect!" was the daughter's response. And it soon would be.

The remainder of the day was spent with Dad and Mom decorating that tree. The bald spot (which there always was one!) would be placed toward the corner. The lopsided tip to the tree would be remedied with shims of wood. The lights were strung by the Dad – a family tradition, you know – and then all of the mercury glass decorations and garland and egg ornaments were hung with extraordinary care. It took hours. In fact, the family ate supper in the living room off of TV trays so as to keep decorating before it was bedtime that Saturday night. And by bedtime, the tree did look beautiful. Glistening and shining with lights and ornaments. All that was missing was the tinsel!


Sunday was tinsel day. Upon returning from Sunday School, the box of tinsel came out and the messy, time consuming, putsy task of laying tinsel on the tree would begin. It took hours! Truly, all of Sunday afternoon would be taken up with hanging tinsel. But by the time to hug Dad good-bye for another week, the tree was looking like a silver statue over in that corner of the living room! And there was still half a box of tinsel to go!

The Dad drove off for the week and the house became very quiet. Both the Mom and the daughter were caught up with their memories of the weekend and their special times with Dad. Oh! But wake up! There was much to be done this week! The tree must be completed and the presents wrapped and under it before he returned home again this weekend!

Between school and Rusty, the dog, and playing in the snow and hanging that infernal tinsel, the week passed quickly! Soon, Dad's big smiling face was back in the kitchen and once again he was home for the weekend! It was Christmas!

Christmas morning began at about 3am or so – no need waiting since Santa had already been here! So up they were! The daughter bouncing and chattering and dancing in the living room and the Dad with his cup of coffee! Keep filling it, Mom! It is very, very early!

Presents were opened and cards were read to each other. It was a grand morning of sharing gifts. Gifts they had selected for each other based upon their love and desire to please. Gifts purchased on a very limited budget but overflowing just the same! Even the dog got a present on Christmas morning! No one was left out!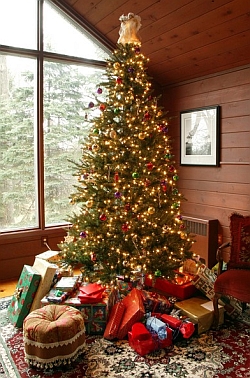 And it never failed. At 6am, like clockwork, the telephone would ring. It would be the county or the airport calling. Someone in Duluth who needed someone to run a plow for the day. You see, the normal crew had the holiday off and the runways or some streets down by Lake Superior needed plowing due to the drifting snows. Could the Dad fill in for the day?

Dad would dress and Mom would pack a lunch. Off he would go to spend Christmas Day in a plow. The Mom would assure him that Christmas Dinner would wait until he returned. No matter how tired he might be…. Christmas dinner would wait for him.

The young girl spent her day arranging her gifts. All of her gifts would be delicately and deliberately arranged under the tree and then she would take pictures using her Brownie camera with its big, bright flash. A new bulb with every picture! And pictures were needed so she could put these black and white photos with their jagged edges in her Christmas album!

Then after a hearty Christmas breakfast and a quick romp in the snow with Rusty, the young girl would return to the living room to find a few grocery bags lying next to her presents. It was time. And so now the sorting really began! Presents were sorted as to their size and purpose. And by how much this young girl loved them. The not-so-wanted presents went over to her right. The gotta-keep-this presents were placed over to her left.

Over and over again, the sorting and resorting was completed. Until finally – usually several hours later! – the young girl would call her Mom in to the living room and they would fill the grocery bags with the not-so-wanted presents. Then off to Woodland they would drive to deliver those grocery bags of presents to the girls her very own age. Only these girls lived in the orphanage run by the Catholic Church in Woodland. These girls were her height and her age but they seemed very shy around her. She thought that was odd, but she left her bags of not-so-wanted presents with them and wished them all a "Merry Christmas!" as she ran out the door. It was getting dark and Dad would soon be home!
As we grow wiser in our years, we realize that Christmas is made of memories. Christmas is making memories with your family and your loved ones. When I think of Christmas, I remember getting the Christmas tree with Dad. I remember decorating the tree. I remember opening presents. And I remember the trip to Woodland to deliver the bags of presents.
But what I remember most is the
feeling
of Christmas. The warmth and the caring and the security of being a part of a family that loved me. That wanted me. And that raised me to share and think of others as best as I can.
Christmas is the time of a very special birth. And at some point each Christmas season, I walk down that memory lane to reattach to my Mom and my Dad. And I thank the dear Lord for giving me the very best present of all. Them.
Enjoy the journey of each and every day – and make a memory today!
Sandy and The Herd
Sunday, December 09, 2007
Christmas Cards

It is the time of Christmas. The time of family and friends and gifts and lavish meals and church services and colored lights everywhere! It is a time of peace and reflection and kindness to strangers. And it is the time of Christmas cards.
Throughout the year, you will hear me moaning,
"I hate email!"
And I do! Although I have become dependent upon it and use it to plan and make commitments and pass on tidbits of knowledge or humor, I find it leaves much wanting, at least to me.
A single email message may be taken as humorous by one reader and as an insult to another. Ask me how I know this! An email message is flat – there is no voice or tone or excitement or pacing or whisper or loudness! Flat. Just flat words on a flat screen. Somewhat effective for business, but oh, so inadequate for personal relationships or for extensions of kindness. No touching by email. Just my eyes reading something that I can all too easily delete.
Now, don't get me wrong! I am currently without my email system after doing an innocent disk defrag and cleanup and I feel isolated and unable to be heard! I can see my emails coming in and I am able to read them but I cannot reply to a one! Nor can I generate and mail a new message! And I feel helpless! Cutoff and at a total loss! How can I ask questions? Send notes of reminders? And notes of thanks?
Bullseye. Notes of thanks. By email. What's happened to us?
I have received invitations by email. I didn't attend the event.
I have received thank you messages by email. I didn't feel appreciated.
I have been scolded by email. I felt offended that
"it"
didn't matter enough for a telephone call.
I have been labeled by email. Again, I felt
"it"
wasn't obviously worth a personal conversation, so I pressed that delete key again.
I have been told of cancer by email. I picked up the phone.
I have been told of a passing by email. I drove to them.
Why do we insist on using email to discuss and inform and question
life
? What happened to the telephone? The visit? The handwritten note?
It is at this Christmastime of year that I treasure my daily walk to the mailbox. I open our new mailbox with the anticipation of a child opening a box of presents! Who has written? Who has sent a picture? Who has thought enough of me to take the time to write???
Each card is treasured and taped to the glass of the big clock in the dining room. They stay taped there until well in to January. I look at them and see Kathy's three sons as they grow a bit more in to young, handsome men. I watch Karen's twin daughters as they become young ladies. I watch my dear Cora grow in her pursuit of her spirituality. And I carefully search to see how well Ilene and Whitey are moving to the close of their lives - gently leaving the wilderness and moving in to the city upon realizing their fragility. I look for Julie's little girls as they become young sweeties. And I read of the move for others and how they miss their families and friends back home.
And then when I've had my fill, I reattach the cards to the envelopes. Taking them down, I reread each card and photo and letter just once more. Letters of family updates – relocations, colleges, marriages, births, passings, new jobs. Oh! The fun of catching up!
Stored until next year, I have these Christmas cards in a drawer and all too often, throughout the year, I find myself pulling out a specific card to touch the paper and feel the ink. Look at the picture and reread the note just between us. Someone has passed. Someone is fighting for their life against a very smart disease. Someone has been on the receiving end of a tragic accident. Someone has a promotion. Is getting a divorce. Is having a baby! Yes, I call or drive to them. But not until I retouch their Christmas card. I feel them through their Christmas card and I am immediately back to when we were close.
This Christmas, I challenge each of
you
to find the time to write Christmas cards. Yes, time is at a premium during this season of the year. I know!
But
find the time
! Don't go shopping just once more. Lose a bit of sleep. Forget seeing the new movie. Setup the table and drag out that old mailing address book and cards and stamps and write Christmas cards. Touch your friends and family with a bit of paper, some ink, and words that can only come from you.
As I drop my Christmas cards in to the mailbox, I envision the hugs I am sending through the mail. Hoping that these cards will be opened with the same pleasure that I open mine. Hoping that the card will be taped somewhere in their house, too. And hoping someone can feel my hug through this simple gesture of a Christmas card.
Those of us working hard to support The Herd and Missions of
Refuge Farms
do so because we believe in the
Magic
of these horses. The ability of these horses to teach us. And they teach us empathy, understanding, compassion, respect, to be caring, to be healthy, to be active, to be safe, to look after each other, and to look out for each other. They teach us about life, death, illness, and recovery. They teach us to be natural. They teach us who we really are.
Now, I ask you, have you heard their lessons? Have you truly felt their
Magic
? Look after one another. Show compassion and understanding. Isn't it time to handwrite your Christmas cards?
Enjoy the journey of each and every Christmas card,
Sandy and The Herd
Sunday, December 02, 2007
There is Snow on the Bales

They gave us fair warning! They told us it was coming! No one should have been caught unaware! No, I'm not talking about another gas price increase – I'm talking about snow! White, ground covering, gotta shovel, crunchy-when-you-walk, blindly white, drifting snow!!!
Saturday morning was a typical morning – pick the barns, top off the tanks, feed, and while everyone is hooked for feeding, move ten round bales in to the pastures. Unwrap the round bales, unhook the horses, pick the barns again, empty the wheelbarrows, and head in to the house. I had to get to Applebee's before the lunch crowd to put up our table tents advertising our Christmas Breakfast on December 8th, and so I decided to head in early to be home before the snow hit, which was forecasted to be mid-afternoon.
While I was picking the barns after their morning feeding, I heard something hitting the barn. Addie-Girl and Cole and April were tucked in the corner of the Helen Keller side. Miss Bette and The Babies along with Beauty were standing in a semi-circle facing the door on the Gelding's Side….hhhmmmm….. Their instincts and weather systems were far better than our human systems! They knew the snow was coming earlier that mid-afternoon! In fact, they knew it was right on top of us!
At just about 10am, the first icy crystals started hitting the ground. Moisture! Insulation! Snow! I went outside and put my face in to the falling snow.
But wait!
That wasn't soft snow! That was icy, hard, needle-like white pellets!
Yikes! Ice!
That shifted my priorities from running errands to caring for The Herd. PONY! and Gracie and Spirit would be stuck outside simply because they would not venture in to the small space of the barn with the big ones in there, too. Lanna was already tucked on the backside of a new round bale, but she needed to be checked. Sweet Lady Grey and Blaise would stand outside the old barn unless Blaise were put in to a box stall. Their eyesight was so poor – on both of them – that the barn area was scary and so they needed to be checked.
PONY! and Gracie were put in Miss Bonita's stall and a half-barrel filled with water was started. Spirit came in to her stall, which is used by Beauty at feeding time. I ventured out in the ice storm to check on Lanna and found her shivering in the cold. This ice would melt on her and then freeze, which wasn't too bad, but the wind! It was strong and out of the East and just didn't let up. Lanna needed to be blanketed and brought in the barn for shelter.
So, some changes were made. The sixteen-foot gate of Miss Bonita's stall was moved to another set of hinge pins to allow more space for that stall. I was so glad that Kathy had hung that wrench in a special spot for me in case I needed it! Sprit was moved over to join Gracie and PONY!. This left a ten by twenty stall for Big Lanna, which she would undoubtedly feel was too small for her, but it was better than being outside!
I accomplished the first set of changes, got a tank heater going in the blue half-barrel of water, retrieved and then tied Lanna to the post in the center of the barn. I brushed her off to help her dry and let her stand while I checked on the two older ladies up in the old barn.
Sure enough, Blaise and Sweet Lady Grey were standing out in the wide open with their butts to the wind. I called and they gladly came in the barn! With really no encouragement, Blaise went in to her box stall and Sweet Lady Grey parked herself outside of the wall – well inside the barn. With a round bale for her, I threw Blaise some hay and offered her some water. They seemed just fine for the time being.
I searched with horse blanket tubs and found the 87" blanket that I had used for Richard at this very time last year. It was the largest I had, and so armed with it and a deep breath for patience, I went back to the big barn to care for Lanna, not sure what this would bring.
Lanna trembles when she is in new surroundings, so I wasn't sure if the shaking flesh was now cold or new surroundings. Probably a combination of both. Regardless, I brushed her again and tossed the blanket up on her. Now, I have to be honest. I did this last part while I was standing up on the gate at her head. Lanna is one big girl. And she is quick. And if that hindquarter should swing over at the sound or feel of the blanket, I did not want to be on the ground!
It took us a few attempts, but eventually, she would stand still long enough so I got the blanket over her shoulders and then worked on getting it over that sizeable rump of hers. Every strap was fully extended and it barely reached under her tummy! The sides stopped in the middle of her rib cage and the back foot of her duppa was hanging out in the air. She did look a little comical, although I told her she looked very nice and that this blanket would help to dry her off and get her temp back up…she listened with eyes wide open and nostrils flared! It was easy to see that I was stressing her!
In to the stall she went where she quickly walked the walls and gates to determine her boundaries. She was offered hay, but wanted no hay now! There was too much to deal with! Something was hitting the barn! The barometer was up and her ears told her so! This thing riding her back! And now this small space! Every instinct in her told her she should be outside where she could escape if she needed to, but she stood while I rubbed her chest and tried to calm her. A quick glance at the clock on the wall and I knew I had better hurry if I was to be on the roads at all today and be safely home.
By 3pm I was back in the barns to check on things. More changes were needed…
Addie-Girl, April, and Cole were like three dominoes standing in the corner trying to escape the strong winds from the East. The winds were so strong, in fact, that our rubber strips used to prevent the hot summer sun from penetrating the barn were blowing up over the roof and were denting the metal of the barn! When that happened it was like a small bomb going off in the barn and everyone jumped! Me, too! Unexpected and at random times, it was sure hard to relax with that happening.
And Spirit was not happy in with Gracie and PONY! Gracie had been pushed up in the round bale – not just next to it but
in
it! – by her protector, PONY! While he stood behind her on full alert, Spirit was over in the corner by the water barrel and her eyes pleading to get outta here!!! I had few options! I could put Spirit up in the other box stall of the old barn or let her outside or…. Wait a minute. Why not try it?
Haltering Spirit, I asked her to be patient and aware of size. Be aware of the narrowness of the stall. The height of the walls. The blindness. And the sheer size of her new stall mate. I put Spirit in with Lanna.
Hay was offered and both of them focused on that for a while. Long enough to get through the nose smelling and squealing and teeth showing – even though Lanna couldn't see them, Spirit made every attempt to show off her very back molars!!!
Handsome chose to stay outside in the storm, which didn't surprise me. He obviously isn't used to being in a building and a storm will put him on full alert. Inside isn't natural unless you get used to it. It was just too soon for Handsome to come inside. And Josephina, of course, would choose to be outside with her man. No need to even try on those two!
About thirty minutes passed and the rounds were made to check on everyone again. The Three Dominoes were still just fine. PONY! had allowed Gracie to get out of the round bale. They were fine. The semi-circle of big mares was still intact – some dozing and some watching the storm. Blaise was sleeping and Sweet Lady Grey was eating out of the round bale in the barn. Lanna and Spirit? Well, introductions and egos were past, and they both settled down
"to a long winter's nap"
. I smiled as I stood in the barn. It had been some work, but The Herd was safe.
Sometimes you can plan all you want. You know the snow is coming and you think you are ready. Then when it comes you realize that you need to adjust your plans and your itinerary. They must be cared for and be sheltered. It's that
"watch over"
thing.
I fed at 7pm and then rechecked everyone at midnight. Blaise was munching on some hay while Sweet Lady Grey now slept. The semi-circle had changed their order, but stood pretty much the same. Josephina and Handsome were covered in snow and ice, but that natural insulation was keeping them warm. The Three Dominoes were a bit snow covered but intact. PONY! and Gracie were sleeping with PONY! resting his chin on Gracie's back.
And Spirit and Lanna? My first thought was that Lanna had eaten Spirit! I couldn't see the little one! But then I looked down. There she was! Sprawled out on the ground with her legs stretched out and sound asleep. Big Lanna stood at her feet much as she had stood at Jeri-Ann's feet while her baby had slept.
With that picture in my head, I headed up to the house to rest myself. Content that we had weathered the first storm. Knowing there would be more to come in this winter season. Grateful for the moisture and the insulation for the ground. And tired.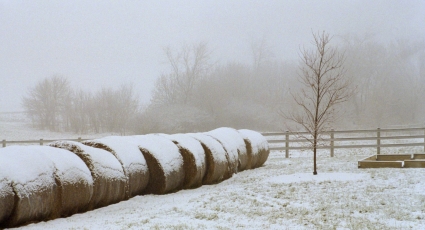 There will be snow on the bales in the morning. And the ground will be white. But The Herd will be dry and ready to play in the new grounds. Ready to leave their prints in this sheet of softness. And also, hopefully, ready to go outside and poop!
Enjoy the journey of each and every day,
Sandy and The Herd