Sunday, April 29, 2007
Hay, there!

Yup. That's what I meant to say. Even though I can
feel
and
hear
my 8th grade Grammar Teacher, Mrs. Waits, correcting me most specifically, saying,
" 'Hay, there?' Isn't it your intention to say 'Hey, there!', Miss Gilbert? And perhaps another choice of words may be more appropriate?"
Well, Mrs. Waits, I said what I meant to say. Got your attention, too, didn't I? You see we need to talk Facts & Figures this morning. We need to talk about events and hay. With an "a".
After each and every event, the same question comes from everywhere:
"How did we do?"
And it's a fair question! How did we do after the Spring Applebee's® Breakfast? How did we do after the Spring Younker's Community Day event?
In order to give you more information sooner, there is a new page on our website. It is the
Year-to-Date Event Recap
page. A simple page to look at but packed with all the information you need to answer that question,
"How did we do?"
For each event, we will tell you how many volunteers worked, how many guests attended, the total amount of funds taken in, the total amount of expenses incurred to put on the event, and then the resulting net amount of funds that will go toward expenses in support of THE FARM. We will still have the full event recap documents available to you at the Annual State of THE FARM Meeting, if you desire. But this way, in the meantime, you can keep your eye on our progress. Cool, eh?
You may want to book mark this page, but if you should forget you can find the page under the Facts & Figures button from the home page.
The big topic to bring before you this morning is the Hay Fund. We all know the cost of everything is going up and up and up. Hay is no different. And the cost of fuel to move the hay is astronomical. (I will not digress in to a political discussion, however! Even though I may want to!!!)
Here's an example for you: In 1999, I purchased and had delivered a 2,000 pound round bale of hay for $30. That's a ton of hay in my yard for $30. Today, THE FARM is very fortunate to have 1,200 pound bales of hay in the field for $35. Delivery of the hay is extra. In 2007,
Refuge Farms
will be most fortunate to purchase 240 round bales for $35 each. Delivery will be an additional $750.
I'm not complaining! Most hay dealers would charge us $40 for that same bale! And the hay would be sitting in their field waiting for us to come and load it, transport it, and unload it. We are most fortunate to have our Hay Man!!!
So just yesterday morning at 7:30am, I committed to purchasing 240 round bales at $35 each plus the $750 delivery charge. I'll do the math for you - that's $9,150. The good part? We have our hay locked up in a season when hay is already scarce and hard to come by!
Compound that with a dry, dry summer last year, minimal snow this past winter, and virtually no rain this spring and you can read my mind, can't you? We need to hay feed this summer, too, since our pasture is gone. Or more correctly stated, our pasture never arrived!
Through family connections of our Operations Manager, we have located 250 bales of good, clean, never-been-rained-on round bales for $25 each. That supply should get us to the winter supply. We pick the hay up ourselves by using a trailer from a generous neighbor –
Thanks, Amy and Alvin!
– and then Kathy and I venture in to the hills of Urne, Wisconsin. Each trip brings back 10 bales of hay that should – hopefully – last about ten days or so. At the end of those ten days, we make another trip.
The math here is pretty simple - 250 bales at $25 each is $6,250. The real eye popper comes when you add the summer hay to the winter hay. It's $15,400. Eye popper and heart stopper. Sleep stealer. Grey hair maker.
Barb G., whom we affectionately call "Lambing Barb" sees the issue clearly. She is a horse person who knows that without a source for hay and without that source locked up, our Herd is in jeopardy. And so LB has taken action, bless her heart!
Another new page on our website is entitled the
1st Annual Hay Fund Challenge
. The page and the concept is the creation of LB. And I am most grateful and humbled.
Barb G. has challenged us to raise $2,500 for hay. Any donations from this page will go in to a special savings account opened specifically for hay. Those monies will be used for nothing else but hay.
And then here's the kicker: LB will match that $2,500.
How do I thank such anticipation? How do I thank such support in easing my mind? How do I thank someone who knows the stress of not having hay???
All I can do is hug her. Thank her. And feed The Herd. With LB's generous challenge, we will be 33% of the way to our year's supply of hay! And our Open Barn and other events will do wonders in getting us even farther.
So, ponder the reality of the rescue and the feeding of The Herd. Monitor our progress by book marking the
Year-to-Date Event Recap
page and compare it to our hay needs. Then visit LB's
1st Annual Hay Fund Challenge
. Please. And thank you. From me and The Herd!
Bless you, LB!
Enjoy the journey of each and every day,
Sandy and The Herd
Sunday, April 22, 2007
We made Progress!!!

Saturday, April 21st was the 5th Annual Progress Days at
Refuge Farms
. Now just what, you ask, is Progress Days? Do we study the horse? How to work with the horse? How to disc the land? How to use technology to make progress?
Not quite. In fact, Progress Days has
nothing
to do with the horses and
everything
to do with the horses. Have I got you confused yet?
What we do on Progress Days here at THE FARM is this: We tidy up the place after the long winter and in preparation for another summer of guests and events. Sounds pretty simple and relatively easy, doesn't it?
Tidy
. Such a nice little word….
Here. Let me fill you in on just what we
tidy'd
:
Kathy and Cathi worked on the West Lawn. You see, throughout the fall and winter, we store our round bales of hay on the West Lawn. And with our equipment, every time we move a round bale, we end up "tunneling" under the bale and dislodging hunks of earth and sod. Plus, when the round bales freeze to the ground, as they most likely do, our moving them will leave frozen clumps of hay and mesh netting behind. All of this – the ruts, the hay, the mesh – was cleaned up by these two who were armed with hay forks, rakes, wheelbarrows, and a ton of muscle!
Meanwhile, Betty the Human and OSRose were on their knees. No, they weren't praying (I don't think!). They were cleaning and grooming feet and feet and feet of Memory Beds. They cleaned Lassie and Moritz and Squeak and Ono and Ima and Lady-the-Dog and Frannie…. Every Memory Bed was cut back, raked, and
it's a miracle!
I can see the beds again! And guess what?! There's new growth coming out of the ground under all that stuff left over from last year! Amazing!
I lost count of how many huge wheelbarrows OSRose and Betty hauled to the burn pile. All I know is that there are now clean gardens out in the yard again! Wonderful! And the Memory Beds now reflect the respect that we have for each of these creatures that has graced our lives with their presence.
And while all of this was going on, Sabra walked the ditches and the yards over and over again. Picking up sticks and Little Man deposits. Not a fun job, I'm sure! But she kept smiling the entire time. And I really did chuckle a few times as I drove by on the Allis. You see, I would watch Sabra pick up some sticks and clean an area and then methodically move in a new direction. And with those Southern winds, sometimes right where she had just completed was once again littered with a new stick freshly blown out of the trees! No wonder the job seemed never ending!
And while all these people were doing all these chores, another herd of us was moving sawdust from the Old Barn to the New Barn. Bucket and bucket after bucket after bucket. The old Allis never missed a beat. Ran out of gasoline twice, but never missed a beat! I'm guessing we moved 30 tractor buckets of sawdust in to the barn. Seems like a simple job, doesn't it?
Let me tell you, it took four of us to accomplish it! You see there was Lynn up here in the Old Barn to rake and scoop the sawdust away from the walls and to cover each load with the tarp and then drape our logging chains over the tarp. Why do this? Because of the same wind that blew new sticks out of the trees on to Sabra's clean lawn! That southern
breeze
was a good strong and steady
wind
. Without the tarp and the chains, all that sawdust would have ended up north of the freeway!
Mary stood by the gates to insure one of the horses didn't sneak out on us. And every once in a while she would retrieve one of the chains that had slipped off of the tarp on the journey.
Then once the sawdust made the journey to the New Barn, Mark and Kate would pull off the chains and the tarp so the load could be dumped. Once the tractor was out of the barn, they needed to use the forks and shovels to get it to the walls or in the end stalls. I think out of all those loads, not a one was left right where it was dumped. Not an easy job and certainly not a clean job!
We broke for lunch in shifts since Kathy had started to till up Slim's Memory Bed somewhere in there. A good start on Slim yielded hunks of sod that Cathi and Heather used to fill in a big dip in the yard. Nothing goes to waste here on THE FARM!
After lunch, the Horse & Pony Club joined us for some horse grooming and a bit of time to just enjoy The Herd. This herd of rejected horses that we work so darn hard for! Tilling the earth, patching tractor ruts, raking hay clumps, cleaning gardens, picking and picking sticks, moving sawdust…all these hard labor tasks simply because we all love these horses and treasure them so much that we are willing to sweat for them!
At the close of the day, Cathi could barely walk. Lynn was filthy. Kathy was riding a child's bicycle down the driveway. Betty the Human was still working on Memory Beds. And Mark, bless his heart, was asking, "What else do you need me to do?"
Oh yeah, where was I the entire day? I was the one driving the Allis. Simple. Simple. Simple. But it gave me the chance to survey these generous people who gave of a beautiful Saturday to come to
Refuge Farms
and to work hard and to get dirty and to take pleasure in their progress.
The gift of Progress Days is to look, at the close of the day, and see a difference in the place. The gifts of Progress Days to me, personally, are those snapshots in my head . . . Betty on her knees in the yard for hours. OSRose stepping through Frannie's Memory Bed so carefully. Cathi limping along. Sabra picking up stick after stick. Lynn and Mark full – totally full – of sawdust! Mary's smile every time I passed the gates.
We are all sore today. But pleased. We made Progress!!!
Enjoy the journey of each and every day,
Sandy and The Herd
Sunday, April 15, 2007
She's Here!

It was ten days after her crossing. My eyes still overflowed just at the thought of her. Just at walking in the barn. Just at feeling the southern breezes. Just at the sight of her halter. Where she used to eat. Where she used to lie in the pasture. Miss Bonita had crossed and I was experiencing sincere and heart breaking grief.
But The Herd needed hay and so the tractor was started and bales were moved. Difficult with the equipment that we have. The bales are lifted only inches from the ground. Sometimes they drag the entire way to the pasture leaving parts of bale all along the route. Sometimes I need to haul them in reverse so they are "pushed" in to the pasture otherwise they will not stay on the bale mover. Usually, we use big logging chains to tie them on like big bungies – only much, much heavier.
Today, as I moved this particular bale, Kathy and Tara were walking behind the tractor ready to push the bale and hold it on the bale mover in case I hit a rut or something to cause the bale to start to slip off. And as I inched forward in the pasture, my eyes were glued to the bottom of the bale and the ground immediately behind the tractor. Just watching for any sign of slippage.
And there it was.
On top of the earth.
In plain sight.
Miss Bonita's shoe.
Last summer, Miss Bonita had thrown a shoe. We had walked the entire pasture –
twice
- in a big human chain with not ten feet between us looking for that shoe. When we didn't find it, Cathi and Sabra bought THE FARM a metal detector. Suzie the Gardener, Cathi, and I spent
hours
searching the pasture for that shoe! And it was never found. We finally concluded it was buried somewhere in the wet under the round bales. Because we knew that shoe sure wasn't in the pasture anywhere!
And now here it was. Right in plain view. And surprisingly, not all rusty and full of muck as it should have been after a summer and a fall and a winter out in the weather and with horses all over it! No, in fact, it was clean. Too clean. The carbide on it was still shiney. Huh. My conclusion was swift and intensely obvious to me:
Miss Bonita had thrown her shoe out so that we would find it. Miss Bonita was trying to reach me and tell me, "It's okay. I'm okay. Please don't be wrapped up in regrets or sorrow. Celebrate my presence. And prepare! Prepare for a new one!"
I kept telling Tara and Kathy,
"She's here! She's here! And they're all here if she's here!"
The shoe – Miss Bonita's shoe – now sits on my would-be mantle. I see it every day many times on my many trips up or downstairs. And when I see it, now I smile. She is here. I know it. And yes, we did prepare. And yes, a new one came. Within a matter of hours, our Addie-Girl joined us. With the eyes of wisdom. With the patience of Job. And with needs that we can support. Someone new to love. Someone new to see. And here with Miss Bonita's guidance, I know it.
You see, I didn't drop the trailer and go find Addie-Girl or even pick her up! A first for
Refuge Farms!
Addie-Girl came to us. A most kind and caring family in Northern Wisconsin sent a simple email to
Refuge Farms
. A horse they knew and loved was looking poorly and the owner had agreed to let them take the horse if they could find someone to take her. He just didn't want any calls from agencies or the police. The horse was sickly and no money was available to put in to her to fix whatever it was that was starving her down.
But how did that family find us way down here? In her caring, Dianne went to the Internet and searched for Wisconsin horse rescues. There we were. That fact alone is
MAGIC
to me. Our Vincent, way down in Louisiana, is saving horses. And healing Humans. This website reaches people and because of this website, Dianne found us and sent a simple email. Could we take her? She was a very good horse. And she and her husband would even bring her to us…. Could we take her?
With fingers that were not my own, I keyed a prompt response back. Yes. We would take her. Who was that keying the response? Not me. I'm usually most hesitant and must validate the horse is out of options. But something told me this horse was. Something told me to move swiftly before the owner changed his mind. Totally out of character, I accepted a horse by email.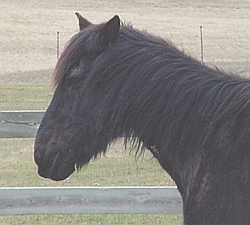 A mere few hours later, Dianne and Andrew pulled in the driveway on that March day full of heavy, cold rains. In the trailer was a horse, I thought, that I would foster. A Percheron, they said. A younger mare. Andrew went in the trailer to bring her out.
"Do you mind,"
I asked,
"if I come in the trailer with you before she comes out?"
My eyes saw the hip bones and the spine and the saggy skin and those very sad eyes. I began with, "Addie, I have a few things to tell you. They are The Three Promises…."
So, some big doors have closed. A bit. Not completely. I think it's better to say that chapters have been written. The book is still being created. For sure. And in her way, Miss Bonita has told me – told all of us – that it's okay. Smile. Remember. And continue the works. Because there are so many that we can support and help heal. Open your arms and hug them as they come to visit. Open the barns and shelter them for a while. Give. Even through the tears. It always, always comes back to you. Horses and Humans. Any that will come. Love them all. And remember with smiles and celebration.
Thank you, my dear Miss Bonita.
Enjoy the journey of each and every day,
Sandy and The Herd and now, Addie-Girl
Sunday, April 08, 2007
I got it

Animal rescue and rehabilitation has become a passion for me over the past seven years or so, though I have loved animals for as long as I can remember. In fact, it may have taken me nearly forty years, but I've finally decided what I want to do when I grow up! Having volunteered at humane societies, a wildlife rehabilitation center, and through experiences with my own rescued pets, I've discovered that helping animals in need is not only what I want to be doing, but what I believe I'm
supposed
to be doing with my life.
Each rescued animal, of course, comes with a story. Some of the stories are all too familiar and frankly just annoying; owners who decide they don't have enough time for their new puppy, or the hamster that's "too much responsibility". But those animals are fairly easy to re-home. Then there's the 14 year old dog who's being surrendered by the owner who has had her since she was a pup, because she's developed a medical problem that's too much trouble to deal with - that one makes you incredibly angry. But worst of all are the deliberate and unfathomable acts of neglect and cruelty inflicted upon animals by a supposedly more evolved species - human beings.
While I love to help rehabilitate rescued animals, and truly believe that's where my future lies, these stories were taking their toll. I often felt a crushing sense of despair about the never-ending parade of animal abandonment, neglect, and cruelty cases, and the seemingly pervasive apathy of society in general to their plight. Not to mention the atrocities human beings perpetuate upon each other, or the destruction our species is wreaking upon this earth. Not seeing myself as much of a "people person" anyway, I found myself becoming increasingly, withdrawn, despondent, and pessimistic. If I was being affected this profoundly already, how could I ever hope to make rehabilitating rescued animals my fulltime vocation?
Then last October, my friend Cathi (aka CityGirl) called me; she was all excited about this rescued horse sanctuary she'd visited and I absolutely had to go out there with her! Well, she didn't have to twist my arm much - an opportunity to spend time with rescued horses? Of course I would go! I promptly accessed the
website
- now that I knew about it, I had to find out everything I could about the place
right now!
I read about the horses, of course; cried at their stories, rejoiced in their rehabilitation, and gazed longingly at their pictures. Then I read the "
All
About
Refuge
Farms
" section. Wow - I absolutely
had
to meet this Sandy Gilbert. Just from reading what she had written, I knew this woman was going to be an amazing source of inspiration for me. I was chomping at the bit, so to speak, to get out to
Refuge Farms
for my first visit.
I'll admit there was something I had reservations about, however. What was all this business about using these recovering horses to heal visiting human beings? Shouldn't a horse rescue focus their onsite efforts
completely
on the horses? Granted, other rescue organizations have community outreach programs using rehabilitated animals as therapy and/or educational animals, and I believe they are wonderful endeavors, but those activities are usually conducted offsite, leaving the rescue facilities to focus their attention on the animals' rehabilitation. It seemed only logical that animals placed at a sanctuary and not available for adoption should be as insulated as possible from the stresses inherent to interactions with strangers.
How Sandy herself could be so passionate about extending the Missions of
Refuge Farms
to include healing human beings was a mystery to me. After all, it was she who rescued these horses and often had to deal directly with their abusers. She always saw these horses at their worst; the results of the neglect, fear, and unspeakable cruelty they had suffered. I'd read the story of Ima and April, and could not comprehend how she was able to even be civil to that horrible man. I understand why she needed to be, of course; it's the
how
she managed it that eluded me.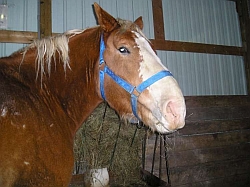 The day for our visit finally arrived and off we went. I was greeted warmly by Sandy and volunteers alike. We walked to the barn with Sandy introducing me to each horse we encountered along the way, and she told me his or her story. Then along came this
enormous
horse named Big Guy who, with no hesitation whatsoever, stuck his head over the gate to check me out. Oh, my! To gaze into those mesmerizing eyes and to stroke that huge head and soft nose was something I'll never forget. For a few moments, it was as if the rest of the world just receded into the background - there were only the two of us, and this incredible feeling of calm enveloping me.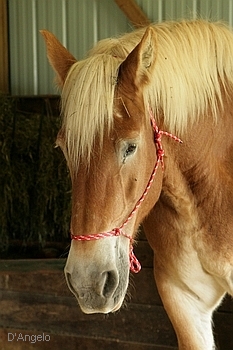 I met Bonita. Oh, what horrendous treatment this majestic horse had endured her entire life before Sandy brought her to THE FARM. I heard of her strength, courage, determination, and tremendous will to live in spite of her physical challenges. But what was most amazing to me was her capacity for forgiveness, and her willingness to place her trust in the humans of
Refuge Farms
in spite of what all her prior experience with humans had taught her.
In the end, I didn't ask Sandy any of the questions I had intended to ask before I arrived. Just spending the day with those extraordinary horses and the people who cared for them -
I got it
...
The
MAGIC
Sandy wrote about was real - I'd actually felt it. Maybe this
MAGIC
is different for each person who feels it, but I have no doubt that it affects them in a positive and fundamental manner. My hope is that everyone who experiences this
MAGIC
will speak of it to others and encourage them to visit, and as a result, continually spread the Missions of
Refuge Farms
. In this way, I believe we can make a positive, significant, and lasting impact on our world and its inhabitants.
I now volunteer at
Refuge Farms
because I've come to adore the horses and the people who care for them, and I believe wholeheartedly in the Missions, but I have selfish reasons as well; the horses, the people, and the atmosphere of THE FARM bring me a sense of peace I've experienced nowhere else. I've found that this peace regenerates me, and the example set by these remarkable horses and their dedicated caregivers grant me strength and patience.
Bonita, it was an honor to have known and loved you. We miss you deeply...
Sabra
Sunday, April 01, 2007
A Horse's Prayer

This poem is offered to you in gracious honor of, in complete awe and in total respect of, and in consuming adoration and soul-felt compassionate love of The Great Ones: Miss Bonita, Big Jim, DukeDuke, Slim the Giant, and, of course, Jerry, the Roan Horse. May their lessons be burned in our hearts and their spirits be forever amongst us and buried deep within us!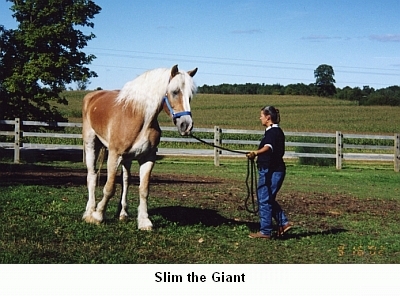 To thee Master, I offer my prayer -
Feed me, water and care for me, and when the day is done, provide me with shelter, and a clean dry bed to lie down in.

Please be kind to me. Talk to me. Your friendly voice soothes me and brings me comfort. Pet me and brush me often, that I may serve you more gladly and learn to love and trust you.

Watch me, for I am unable to tell you when I am not well, or that something is wrong. So watch me, that by signs you may know my condition. Give me shelter from a storm or the sweltering heat of the day and a blanket on a cold winter's night.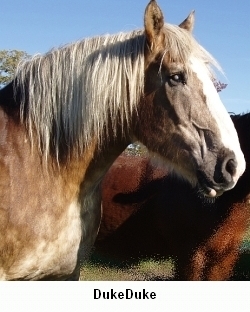 I do my best to carry you and your burdens without complaint, and patiently wait for your return. Please don't be angry with me if I question what it is that you want me to do. Just try and understand my world as I must try to understand yours.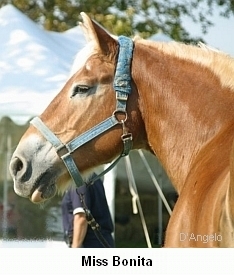 Finally, O Master, when my useful strength is gone, do not turn me out alone to fend for myself, or send me to some unknown fate, but do thou, my Master, take my life in the kindest way. And may God reward you for caring enough to see me to the end.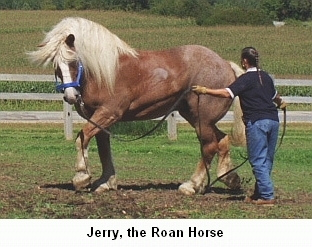 All I ask are these few things, in the name of Him, who was born in a stable. Amen.
by L. Voskuil Dutter