Sunday, November 26, 2006
They're Here! They're Here!

At a prompt 11am, down the lane they came! All of us kids – even the 50+ year olds – were clapping and running to announce,
"They're here! They're here! Mr. & Mrs. Claus are here!"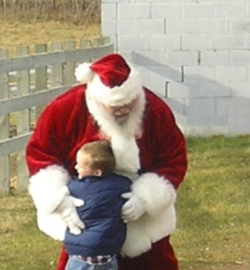 Little Jack went running down the lane to greet them! Hurray! Mr. & Mrs. Claus are here! Jack's honest and joyful greeting started what was to be a most memorable and forever favorite day here at
Refuge Farms
.
Mr. & Mrs. Claus were here!
What
joy
these two bring to
Refuge Farms
! For the third year, we are the humble hosts of the
real
Mr. & Mrs. Claus. In the brief two hours they spend with us, children of all ages come for a visit with Mr. Claus and a hug and candy cane from Mrs. Claus. And children of all ages are once again filled with the glee and the hope of The Season.
Cameras are everywhere! For some young ones, this is their very first conversation with Mr. Claus. I could see the faces of the Mom's as their eyes were recording the moment in their minds to remember forever. I could feel their joy mixed with the realization of just how quickly time is passing and their young one is growing…
For others, it is a repeat visit with Mr. Claus. And this year, they've brought a list to make sure he knows for sure just what they are wishing for! One mother told us her son had been planning his visit with Mr. Claus for weeks. Another Mom told us her young son stood by the door from early that morning and kept asking, "Now? Can we go to Santa now?"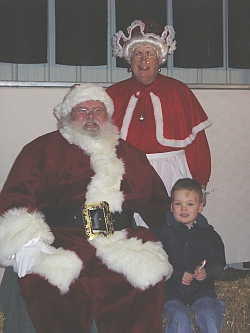 What a couple these two are! From the moment their stroll down the lane begins to the very last hug and good wish they shower us with their love of life! I truly love these two like they were a part of my immediate family. What big hearts and joyful souls they have!
Refuge Farms
is so very blessed to count these two among our Friends.
And what would you see when you arrived to visit with Mr. & Mrs. Claus at
Refuge Farms
? Well, first Tracy would greet you and you would hear the Christmas music playing in the yard. Then you would notice the candy canes, the Santa and Frosty the Snowman, the wreaths with the glorious garland, the Christmas star on the barn door, the poinsettias in the yards on a few select Memory Beds, the Christmas trees….you would be in a Christmas Wonderland and gently guided down the lane to the barn for your meeting with The Spirit of Christmas, himself.
Once in the barn, you would smell the hot chocolate and apple cider, eye those huge cookies, and look around at all of the sights. You would see Gracie and PONY! there for your pets, and Miss April ready for your hugs and brushings. Even Unit would be in the barn for you to marvel at!
And then there's the chimney in the middle of the barn…with wood and gold garland for a fire – what a sight! Oh! And there they are! Mr. & Mrs. Claus are seated in the barn surrounded by straw bales for sitting and two of his best elves to help you get on his lap!
Your visit would last as long as you wanted…no need to hurry here….it's Christmas! After your visit, you would go to the Christmas tree and pick an ornament off the tree for you to take home for your very own! Wow! This ornament is cool!
Then it was out to the bonfire and some time spent enjoying the sunshine of this glorious day – all under the watchful eyes of Jeri-Ann and Babee Joy in the corral. Man!! Have they grown!!!
All of this while you are surrounded by these people in Santa hats…all of them smiling and willing to help…all of them truly the heart and the soul of our mission. What do we call these Santa's Helpers? We call them, affectionately, The
'Other'
Herd. These are the volunteers of
Refuge Farms
and it is these hands and hearts that create this day for you. And this day is created all out of the goodness of their hearts and their desire to share with you. Christmas gifts all year long, aren't they?
On your way back down the lane, Tracy would once again wish you a Merry Christmas and send you on your way with her big smile! And you would remember this little bit of time you spent at
Refuge Farms
as a time of happiness and hugs and smiles and sheer joy at meeting the
real
Mr. & Mrs. Claus!
Thank you to all who helped and participated! What a wonderful day! We made a difference in many lives yesterday – including mine. Have a safe trip back to the North Pole, Mr. & Mrs. Claus! See you next year! And thank you for spending some of your precious time with us!!!
Enjoy the journey of each and every day in The Spirit of The Season,
Sandy and The Herd
Sunday, November 19, 2006
An Angel in Disguise

It was the Friday before Thanksgiving and you could just
feel
all of us rev'ing up for The Holidays. The panic of The Season had officially begun.
I was leaving my office a full ten minutes late for a meeting in Eau Claire. I had dawdled, I call it. Walked over to the attorney's office to pick up some papers. Walked out to the mailbox to pick up the mail for the office. And then finally wished everyone a good weekend and departed. Ten minutes late.
As I pulled out of the parking lot, my dear friend, the "low fuel" light, came on. I checked the console and learned I had a computer calculated "61 MILES TO EMPTY". Safe. Eau Claire was less than 30 miles away and so off I went. I could get fuel in Eau Claire after the meeting. That was my plan.
On to the freeway. Traffic was heavy and the cars were full of families. Already, the traveling for the family get togethers has begun. I am a tad bit jealous, but I get back to reality and focus on making some time and getting to my meeting in Eau Claire.
I pressed my foot on to the accelerator and instead of going faster, I felt the truck lose its energy. The diesel began to knock a bit. So, I checked the console once again to see "31 MILES TO EMPTY" and knew I was still carrying some fuel. Must have been some junk in the line. The power of the engine came back and so I continued. Past the exits with diesel fuel available. Carrying out my plan.
One mile later and I'm parked on the side of the road with my flashers on. Out of fuel. No one to blame but myself. No need sitting here. It could be hours before a State Trooper goes by and I was less than a mile from the next exit. Better to get out and start walking than just sitting here waiting for a remedy to come to me. Help comes to those that help themselves, my Mom said.
I started walking, glad that it was in the 30's today. It could be worse, I told myself. Much worse. I was praying as those big semis flew past me. No blowouts, please. That flying rubber can be lethal. With no hat for my head and only my dress gloves, I was very glad the weather was cooperating, at least.
Not 5 minutes later, I hear tires on gravel behind me. And the rattle of a diesel. I turn to see the cleanest, biggest, blackest Dodge Ram pickup I have ever seen coming up behind me. Behind the wheel is a bear of a man, motioning me to come to him.
I go to his passenger door and he offers me a ride. I explain – weakly – the low fuel light and the console reading but then say something about it knocking and I knew I was out of fuel. The driver stops his truck and looks right at me. "You have a diesel?" he asked. "Yup", I said.
In reverse we go! No questions or hesitations. Just backing up to my truck.
You see, Ted Fletcher is an over-the-road hauler of recreational trailers. His Dodge Ram is 7 months old and has over 100,000 miles on it. And it's a diesel. And Ted carries spare diesel fuel with him.
"When you go through South Dakota, you never know if your fuel will last you to the next stop. I go from Flying J to Flying J, and sometimes I wouldn't make it. All depends upon the wind." Ted explained, as he poured his precious spare diesel fuel in to my truck without thinking twice.
We talk a bit and I find out Ted has just ordered a new Ford dually one ton. I like the man even more, now…. I tell him of the Power Stroke and how it has the power he needs and reassure him that he will love his new Ford. I felt I could have spent quite a bit of time talking to this big hearted man. A kind man who stopped to help me without even knowing my name. Ted was Thanksgiving in the flesh, it seemed.
Funny, how this incident turned my heart around. In these past weeks you have watched me struggle to find my center, my soul, and my joy. And this entire episode had started out to be just one more challenge in a day to get through so I could get to my meeting, get home to the kids, feed, and oh yeah, get ready for deer hunting season.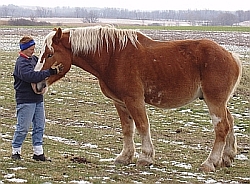 And you know me well enough to know I don't hunt, but instead I shelter some of the more "deer-like" horses at sunrise and sunset each day of the season, trying to minimize the risk of a careless shot. And then there's Big Guy, who now stands still during the sounds of the gunfire, but whose entire 2,400 pound body jumps at each shot. I stand next to him through the first hour to try to reassure and soothe him. This Big Giant of a horse is calm on the outside but still terrified on the inside. Just like us, I think…. just like us.
So, I ran out of fuel on the freeway. Late for my meeting. And so late to feed and shelter the herd. And at the end of a week that has been full, to say the least. No, it's not a killer, but it's just another push in between my shoulder blades. I persevere forward and then here comes The Spirit of Thanksgiving in his big, black Dodge. A picture of the Faith Bucket hanging in the barn comes to the front of my mind…
Ted never asks for money to replace his fuel. He never asks for a thank you or anything. In fact, I have to ask him to get his name and address. He stays with me long enough to insure my diesel will stay running, and it does. And then, I surprise us both I think, when I just hug the heck out of Ted. Right there on Highway 94. And I'm beaming! Thank you, Ted! You are an angel in disguise, I tell him. Little does he know what he has done!
You see, you, Ted, have undone all the ick of this past week. You have reversed all of the times I've heard people proclaim, "I hate Christmas!". You have performed your own brand of magic by this simple act of kindness. Bless you, Ted! Little did you know the impact of your actions. I feel like a dried up sponge who has just felt the soothing drops of fresh, clear water land on it…
I retrieved the name and address of this man and then saw he was from Canada! On top of it all! No Thanksgiving up there, you know, but this man still has The Spirit and The Heart of it. His homeland only adds to the magic for me…
So, Ted, I made it to my meeting and then home safely and have thus far protected my herd from a careless bullet. At least the best I can. But the road last Friday was made much smoother because of you. In fact, the road turned a big corner because of you. A corner back to joy and happiness and remembering the meaning of this Season. I'm smiling again, Ted! Thank you. For the fuel. For the care. And for the wave! May your kindness be returned to you ten-fold.
And by the way, Ted, Happy American Thanksgiving and Merry Christmas!
Enjoy the journey of each and every day in The Spirit of The Season,
Sandy and The Herd
Sunday, November 12, 2006
Finding My Soul

Many times in this adventure I call
Refuge Farms
, I have witnessed this thing we call "
Magic
". It is a connection and a spiritual level thing that I am at a loss to describe. I cannot cleanly or clearly define it but it is here. I know it and others, too, have witnessed it. It gives me some comfort when others witness it and they, too, struggle with the words to describe what they have just seen with their very own eyes.
But the "
Magic
" this past week has been spent on me. And for that I am grateful because this past week, I have needed "it". And without fail, "it" was there every time I reached out for "it".
Once in the past week, our energy healer, Cathi, called unannounced just to see how I was doing. Funny how she knew I was in a corner and needed a bit of encouragement and support. Funny how she knew just to listen while I tried to convince her – and myself - that I was fine and really okay. Funny how I was screaming for help inside and her call came right on cue. Thank you, Cathi.
Once in the past week, our dear Webmaster called to see how things had transpired and he just listened. He tried humor and then stopped when he saw it wasn't working that day. And then he just listened and offered his support when I asked. Then afterward, he was still there for me, I know it, but he was quiet. So quickly, our friendship has developed and Vincent has learned when to be quiet. Thank you, my dear Vincent.
Once in the past week, Paula took time out of her enormous responsibilities as a breadwinner and primary care giver and
healer
to come to THE FARM and help my body as it struggled with just plain wearing out. But Paula, too, took the time to listen as I described the aching and she helped my body support itself and deal with this wisdom thing some people call aging. And Paula, who took her precious time to question and listen, worked her magic. And I had a full night's sleep without awakening in pain for the first time that I can remember since before the Open Barn. Thank you,
Paula
.
Once in this past week, LB stood quietly and just listened to me as I stated my distaste for some of the changes in my life as a result of the onset of winter's cold. She looked me straight in the eye and just listened. And the medicine just poured out of her. And I felt better having stated my distaste out loud to another Human Being. And that Human Being did not chastise me or scold me or tell me that this was all my choice. Nothing was changed but I felt better and could now let the anger go off in to the atmosphere instead of harboring it inside. Thank you, LB, once again.
And throughout the week, Kathy has called and come and continued her works here. And each time, she brought her spirit and her smile with her. And each time she continued to work "around me" knowing something was weighing on me but being gentle and polite and sensitive to my need for privacy and giving me the space that I needed. And the hugs that I needed. Her newly acquired skills at loading round bales eased my mind considerably. The Herd has hay in front of them because of Kathy's willingness to try something new and give one of the nicest fall days we will have this year to THE FARM. And I was able to minimize my time cleaning this week and not have to retravel in to town on the weekend because Kathy was there to help. Again. Thank you, my dear friend, Kathy.
Once in this week, our Veterinarian, Dr. Brian, came to THE FARM and worked his magic with some of The Herd. He removed points on teeth and even pulled one loose and hurting tooth from Sweet Lady Grey. Dr. Brian did all of this knowing it would be a bit of time before I could pay his bill but doing it all the same. Dr. Brian also extended his care by scheduling his next visit to perform the same magic on four more of The Herd. Bless your giving heart, Dr. Brian. And bless your skilled hands. In giving your skills to The Herd you are giving your magic to me as well. I feel a bit calmer inside, knowing teeth are better and getting better on our ministers.
And of course, it was our Tara who brought Dr. Brian to
Refuge Farms
. A future Veterinarian herself, she cares and tactfully works with me to educate me and try to teach me new things knowing my resistance to change and my "years of experience" will be obstacles to her. But she gently pushes forward and her impact is tremendous. Good work, Tara. You dance well in so many ways!
And as I sit here and write this, I feel the tears streaming. And I realize I owe all of you a thank you, as well, for just reading this and not judging. And not emailing me to say "Stop it! Stop feeling sorry for yourself!". You allow me to go here and not be ashamed. You allow me to go here, talk about it, and then get out of it. Thank you, to all of you for allowing me this self-pity without judgment or disparagement.
But more than anything, I owe The Herd for this past week. They have allowed me to be impatient. And cross. And weepy. And late. And distracted. And careless due to that distraction. The Herd has sensed my uneasiness and done exactly what they needed to do. They have all, collectively, calmed down and come in to the barns and stood where they would be fed. And been patient when I forget to put their feed in front of them before I move on to the next barn. And not be pushy with me when I finally see my mistake and give them their supper… 45 minutes after everyone else!!
And they have opened the unlatched gates and stood in the entrance and looked at me to show me my oversight – doing the job that Lady-the-Dog would have done in warning me that I was leaving a gate open…but without trespassing out of the pasture. And they have stood and eaten at their designated place even though I have forgotten to collar them or hook them. They have known and done the routines all on their own because they knew I was "different". And they did their very best to help me. Bless their hearts.
And they have allowed me those impromptu hugs and tugs that I have taken whenever I have felt the need – at 10pm or 2am. When I just HAD to have them, they understood and stood quietly while I soaked in their medicine. "
Magic
" I call it. What healing power their smell and their warmth has!
Even Jerry, the Roan Horse has been there this week for me. I have adorned him with a few select perennial bulbs and the power of his spirit was so great I could feel the pressure on my chest. He is still in my heart and just over my right shoulder. I do miss the hugs of him, but I hug his jar and smell his hair and just wait. And here he comes flooding me with his powers. What a private but powerful relationship we have. I am grateful.
This is naked stuff, this blog. But life and the pressures of life can weigh you down… at least once in a while. Life does have to get heavy sometimes. It did for me this past week. My Mom used to tell me that if life didn't stress me sometimes then how would I know when life was good? The wisdom of that woman. And so I have grown enough in my trust and faith and support to be this naked out there….. for the whole world to see. Wow. I have come a very long way in such a short time.
Pastor Jean once asked me if maybe Andy Durco had given me this "making a difference" challenge that set off
Refuge Farms
just so Sandy Gilbert could find her soul. I pooh-pooh'd her. That is way too selfish of a mission to me. But I will be the first one to tell you that
Refuge Farms
is here so that Sandy Gilbert is able to be one of the many that finds their soul in the spirits of these horses and these caretakers. Now, that I'll buy in to and agree with whole-heartedly. I know of which I speak and I am willing to share them. There is "
Magic
" here. It's all around you. Just waiting to envelope you when you least expect it. And even when you most need it.
Blessings to all of you for caring and giving and supporting! I truly have healed from all of you and am traveling back to the center of my being…. as soon as I stop spinning!
Enjoy the journey of each and every day,
Sandy and The Herd of Healers
Sunday, November 05, 2006
Good Early Morning!

It's pre-dawn and I am up to get set and on the road to haul round bales today. What does this mean? It means that I will be hauling an empty trip load bale mover about 1 hour south of THE FARM to a field, loading the trailer with 6 round bales, and then strapping those bales down to prevent them from falling off the trailer. (That would be very bad!)
Then it's back on the road for the hour plus ride home to deliver the bales. Trip the trailer and watch the bales fall to the ground. Get in the truck and begin the trip all over again.
If I am lucky and the Spirit opens the roads for me, I should be able to make three complete round trips today – hence the need to get on the road! So think positive, safe thoughts for the travel, the loading, and the unloading. The herd loves the hay and it is my promise to keep, so off I go!
Enjoy the journey of each and every day,
Sandy and The Herd