Sunday, December 31, 2006
A look back...

What a week it has been! The world seems topsy-turvy as this 2006 comes to a close and the New Year of 2007 opens its arms to us.
One of the most ominous events of this week has been the hanging of a dictator. A hanging determined to be the just sentence for crimes he was judged to have committed against the Human Race. A hanging conducted by the very band of people this dictator had worked to exterminate. A hanging conducted in the dead of our night with a burial ordered by the new government to be completed prior to their dawn. An exit from this life veiled in secrecy and with extraordinary precautions. The power of the man followed him to his grave.
On the other side of the world, the raucous funeral service of the Godfather of Soul, Funk, Disco, and Rock was held on the same day. This man's funeral was truly a celebration complete with dancing and loud music and cheers and bands playing his songs and clapping and tears. Celebrities came out of seclusion to pay their respects and to stand at the podium to proclaim their love of this musician. This burial was anything but dark – it was a loud noise accompanying this history maker in to his next life. The power of the man followed him to his grave.
And some of us sat still long enough to pay our respects, through the medium of television, to our 38th President as he traveled from California to Washington, D.C. I was struck by the "ordinary" tone of the ceremony. How the procession was grand and respectful and elegant - not gaudy or royal in its appearance. This man's life was moved from his chosen, private life of service to a life of full disclosure and total lack of privacy because of the actions of a friend. This life change was thrust upon him and he embraced the request. And I so respect this man largely because he held his family and his faith close to him and used both to lead him as he became our leader. He pardoned his predecessor knowing full well that his opposition would use that act – successfully, at that – against him. But still, with his steady hand, he pardoned the man based upon his belief in forgiveness and how forgiveness is needed for healing. This quote of his is one of my favorite:
"Everyone comes to your side when you win. Only your friends come to your side when you lose."
The power of the man will follow him to his grave.
And then, quietly in Loyal, Wisconsin, a young man was brought back to his home for a memorial service and proper burial. This young man was only a few years out of high school but his manhood came to full bloom as he chose to serve his country in this time of war. This little town in rural Wisconsin will bury its second son lost in this war – just one of over nine hundred lost just this year. Another family torn at its seams as we all struggle to understand if we really belong there…. Are we being pretentious in imposing our beliefs on another culture…. Is the cost of thousands of lives lost from this world worth it…? The power of this young man will follow him to his grave.
And during the night, as I sheltered some of the weaker ones in the herd from the rains (yes, rains!) of December, I remembered another man who used his influence and his power to challenge this woman to make a difference in and with her life. To get out of her rut of "doing" and "having" and become a whole person by "being". How his simple challenge took my life and took it on a right angle turn! How this man, with his simple challenge, has created in me a wholeness that I would never have guessed existed! That I would thrill at holding a dozen cupcakes with birthday candles out to The Old Man as we celebrated his birthday in the barn! And that the face of The Old Man would tell me that he, too, was a kid once again! And that we both would rejoice at the series of events that brought us to know each other! This man, my friend, who challenged me, in fact,
gifted
me with life and the true contentment of doing good. The power of the man lives within me every single day.
2006. What a year. The possibilities of 2007 are unlimited and unending – we are only restricted by our energy and willingness to try! And to all of you, I give you my best wishes and intentions for this New Year! Blessings abounding to each of you! And for the entire world, I pray:

Enjoy the journey of each and every day,
Sandy and The Herd
Sunday, December 24, 2006
The Old Man and His Horse

I want to tell you a love story. The kind of story that rekindles your belief in commitment and loyalty and reminds you that true love is not hanging on to the thing you love. That true love sometimes means letting it go. It's the story of The Old Man and his horse.
The Old Man found
Refuge Farms
by reading his newspapers. He told me that he had seen us in the "Horse Calendar" of one paper, but he started thinking about us when he read the story of Big Guy…maybe, he thought, this was the place he had been looking for.
The Old Man will be 93 this week. Amazing. Sharper than some 40 year olds I know, for crying out loud! His mind is full of current events but yet he can tell you his hourly wage in his first job after the depression. I thoroughly enjoy talking with The Old Man. He is a living, breathing history book. And for a woman who has never known grandparents, this history book is someone I want to continue talking with and learning from…. It is my impression that The Old Man could teach me many things about life, about people, and about horses.
My first meeting with The Old Man was here at
Refuge Farms
. His neighbor had driven him down to see me on a Saturday in November when it was hard to believe that winter was coming. It was over 40 degrees, sunny, and a light breeze was coming out of the North…reminding us to prepare.
The Old Man sat in his van while he told me of his horse. And his dilemma. The horse was in his 20's – 25 or 26, he thought –
and a good horse. Not a mean horse. And he was an easy keeper
. But The Old Man walked with two canes now and so getting water to the horse had become a real challenge. And with winter coming, the water was freezing up and the horse needed water. Could I take him?
He was a good horse, you know.
As I listened I prepared my response. I explained our capacity issue. But I promised to look for a home. Writing down the description of the horse and The Old Man's telephone number, I felt my hands trembling.
What was this all about?
I felt my heart breaking in two.
Why?
My efforts went to fighting back my tears.
What was happening here?
The Old Man left THE FARM and I immediately felt a weight on my heart. Something about this situation was hitting very close to home and I hadn't a clue what it was. All I knew was that I had to feed my herd and get on with chores. Of which I did directly. But not without talking to some of the volunteers about The Old Man and his horse. And sounding out my pain which I couldn't even identify, but knew for sure was there. I could feel it. That dull ache of a broken heart.
Two days went by and I called The Old Man. Cold weather was coming and I asked if I could bring up a barrel for some water. It would freeze, The Old Man told me. I explained that I would bring up a heater, too, so the horse would have water until we found a home for him.
It was arranged, and so that Tuesday, I drove north and found The Old Man's house. He was waiting in the kitchen for me and I went in and we chatted. Would I come in the house when I was done? Sure, I said. And so out to the barn I went.
The horse lived on 40 acres and had access to hay inside the back of a huge old dairy barn. The barn had been modified to stall two horses. Their hay bins and feeder trays were worn from years of use. Old halters and harnesses hung all around me. Horse drawn farm equipment was stored everywhere. I could literally
feel
the history in the place. And in that space for the horses, was the frozen water supply that was worrying The Old Man. Not seeing the horse, I set about getting the water barrel and heater set up and then began the task of filling the barrel.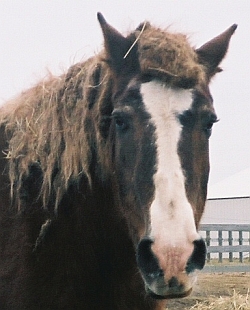 I heard his footsteps and so stood perfectly still – anticipating our first meeting. The horse was majestic in his age, standing tall with his head straight up. He came around the corner and looked me right in the eye. His eyes were dark and clear. His face was huge with an even white strip down his nose. And he looked right through me…not just at me. Seeing that I was not The Old Man and seeing me as an intruder, he simply turned and walked away….back to where he had just come from. I followed for a while, but the horse knew the terrain better than I and so soon left me far behind. Over on the hill he came to stand with his hips upward…facing the barn to await The Old Man's nightly journey out to feed him.
In that brief meeting, however, my heart left me. It was now firmly planted in the chest of this old horse...
In the house, The Old Man and I chatted as two people do when they are just getting to know each other. We looked at pictures and he told me the Wisconsin Draft Horse and Mule Association wasn't something he just belonged to – he had started the whole thing! And I told him how, over 10 plus years ago, I had spent an afternoon at one of their events… I had watched how horses had tilled the earth, cut the hay, harvested the corn …and I had thought how hard the work was for both the horse and the man.
"I worked 300 acres with horses in my day!" My respect for the man took a leap forward. Usually, he explained, when he worked the fields, he had a three horse team. And the horses weren't as big as they are now. They were smaller but stronger. They could last a whole day back then. Now they're bigger and couldn't last the work day, he said. Too much horse to move around…the wisdom just came pouring out of him as I sat in his living room and tried my best to be like a sponge.
"Where was the partner for the horse?" I asked. His partner had crossed six or seven years ago, The Old Man explained. The horse had been alone since then. Just The Old Man and the horse. Together.
My departure was based upon my promise to return. And as I stepped toward the door to leave, The Old Man asked, "Are you going to take him?" No, was my response. THE FARM was full but I had someone in mind who would give him a very good home. And truly I did. I needed to explore every option for this team - The Old Man and his horse.
And so the next week I did explore every option. I talked to several friends about the situation. And every option dead-ended. And I cried. And I couldn't sleep. I took several trips up to the old barn and either checked on the water or checked on the horse. Many times, I didn't disturb The Old Man – I just checked and left. But one time, as I was walking back to my truck, The Old Man pulled in to his driveway. When I was done, would I come in to the house to visit? Sure, I said.
As we sat and talked, I heard how the very house I was sitting in had been built by The Old Man back in 1951. Built from the trees on his land. He needed running water in his house for his new family and he needed sewer services in the house. The old log farm house could have been remodeled, but it was wiser to just build new. And so a good new house he built. The house is still strong and it's warm. It works well for him now. I looked over the 1950's wood trim and arched entrance to the living room and imagined it as new with children running in and out….and dad out working with his horses….and mom cooking a big supper in her new fancy kitchen….
Once again, I worked my way toward the door with a promise to return and once again, The Old Man asked, "Are you going to take him?" And once again I explained that I really couldn't take him. We were full. But that I was working on finding him a home.
And this time I wasn't nearly as comfortable in my response. The one couple I had in mind to accept the horse had just lost a mare and their hearts were not yet healed enough to love another so soon …and so the one home I had in mind wasn't an option….I was hurting for a home for the horse….
In my conversations with these friends about the situation, we discussed finding people to go up and care for the horse…we talked about bringing the horse to THE FARM….we talked about how cruel the situation was for everyone involved…. we talked of how sad it was to separate these two…but no answer came yet.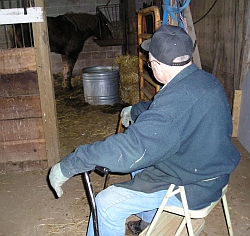 In one conversation, I said I thought that bringing the horse here would be a good option. We could make room and then The Old Man could come and visit. We have Memory Benches in the yard and the horse could eat some lawn grass while The Old Man sat and the two could spend time together...
But I told myself that until I
heard
the order, until I
knew
for certain, until the answer came to me
clearly
, I needed to look for a home for this horse.
Again I found myself in a situation where my head did not allow my heart to be heard. My heart was pleading to bring the old horse to
Refuge Farms
. Couldn't I see that this was our mission in perfection? "
Horses Helping
…" was just what this was all about! Sandy, open your eyes! The horse needs a home and The Old Man needs to know the horse is safe and well cared for! Wake up, Sandy! You can make a difference for both the horse and The Old Man!
But my head would quickly shut down such conversation and simply remind my heart that we couldn't feed another horse. The practical side of me would take over and put my heart back in it's place – in the chest of the old horse…
Then on a Tuesday morning, I uncharacteristically went to the Post Office. Usually I went to the Post Office Box on Saturday's, but this Tuesday I found myself opening the box and looking at the mail. And my answer was right there. It was clear. The answer was just waiting for me to read it…
"Merry Christmas, Sandy! God Bless!"
was written on the check stub. A donation burned in my hands as the tears streamed down my cheeks. Here was the answer! Take the old horse, Sandy, knowing that his care was covered by the generosity of this Friend. A smile broke over my face as I raced to the truck to call The Old Man! Could I come and get the two of them on Saturday and move the horse to THE FARM? Would The Old Man come with me for the move? Would that be okay?
And so plans were made and Saturday came and The Old Man and I moved the horse to
Refuge Farms
. It was joyful and very sad all at the same time. The Old Man saw his best friend leave his barn and his yard. The horse left his home of over 25 years. The horse saw The Old Man leave him in a strange new barn. But I promised them both return visits – this was not the end! No way! The visits would continue! They both will continue to know each other and talk with each other and smell each other…We would use our mission to help this horse as he grows older and to help The Old Man stay in touch with his horse…
On the return trip, The Old Man told me, quietly, that this was the first time he had been without a horse since he was 12 years old. And I then knew where the weight that had been on my heart was coming from. For the first time in this rescue business, my heart was not breaking for the horse. My heart was breaking for The Old Man. I knew of what he was speaking.
The Old Man loves this horse. These two have been together for over a quarter of a century. Think of the times they have spent together! How The Old Man has worked with the horse to calm him. How The Old Man has shown him, through his care, that the horse was safe with him. "He had been mistreated when I got him", The Old Man had told me.
The Old Man loves this horse. He cared for him and had turned him out on the very morning his wife had crossed. Even in his sorrow, The Old Man had cared for his horses. When you love something you take care of it, you know.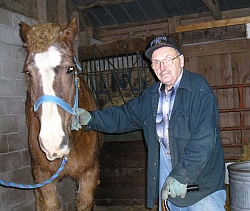 The Old Man loves this horse. He loves him enough to know that a horse needs water. The horse needs water more than The Old Man needed the horse. And so out of his love for the horse, The Old Man gave the horse away.
The Old Man loves this horse. And so in his choosing of who to give him to, he did not even think of a kill buyer or just any place to put him. No, he traveled to a stranger's driveway and pleaded his case, putting his pride aside for the needs of the horse.
The Old Man loves this horse. The two are a team. The horse ever responsive to the sound of The Old Man's voice. On the day we loaded the horse, we got to the back of the trailer and the horse stopped. I started my Natural Horsemanship and was soon put in my place. "Get up in there," The Old Man said from over twenty feet away. Obediently, the horse stepped up in to the trailer without a second thought. The horse loves The Old Man, too.
And so now the horse is here. And The Old Man and I talk from time to time. And I go and get The Old Man and bring him to THE FARM to visit the horse. And my heart is singing! We have a new minister in the herd – ever watchful, but calm.
"A good horse. Not a mean horse. And he is an easy keeper. A good horse, you know."
And I have a new friend. A grandfather, almost…or is he more of a father? Or is it that I see myself in The Old Man? Is it that I see myself loving my horses enough that some day I will seek out someone younger - with a heart like mine - to take my horses? Is it that I know my heart will be breaking at giving them away but knowing that they need what I can no longer give them? And so I, too, must ask a stranger to take my horses? My horses that I have given my heart to and must now give away? Is that what I see in The Old Man?
The answer was clear all along, oh ye of little faith… Oh, Sandy, how can you be so small? And at Christmas time? Throughout these past weeks, I've found it necessary to overcome my fear of heights. Twice now, I've climbed the ladder to clean the Faith Bucket that hangs in the barn. Twice, I've gotten the bucket off it's hook and peered in to the bottom of the bucket – as if the answer were in there! Twice, I've found it necessary to polish the symbol of what I am so lacking in…Twice I've gotten my feet back on solid ground and reaffirmed my commitment to being faithful. To trusting when I cannot see the "how" or answer the "what if". The faith that is needed when this Type A personality must move forward without knowing how…. the details…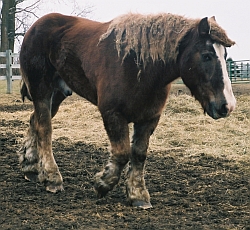 I now have a new horse to love and care for and to share with his rightful and true owner. And I have a new friend. A new friend who hugs me hello and hugs me good-bye. The Old Man who has many things to teach me. My Christmas presents this year will last forever! They are the love of an old horse and the time with The Old Man!
And this, all because of The Old Man and his love for his horse.
Merry Christmas to each and every one of you,
Sandy and The Herd
Friday, December 15, 2006
I will watch over...

It's after 10:30pm and I'm just now getting in to the house after the nightly chores of feeding. I'm sore and tired. And Kathy has just pulled out of the driveway and is finally on her way to her house. We both have frozen feet, our hands are cold, and Kathy's head is filling with, what sounds like, a good head cold.
Not supposed to be this way. We started feeding at a little after 5pm....
Heading out of the house after our
Refuge Farms
Staff Meeting with Vincent, both Kathy and I were pleased with our discussions that evening and excited about the coming weeks. We have Tara organizing the
New Year's at THE FARM
event and our conversation showed me that good, solid progress is being made on several significant projects. I am pleased even though both Kathy and Vincent are feeling the pressure, I'm sure.
So, off to the old barn we go to feed the "little herd". And nothing eventful happened here .... that is a good thing, you know...calm, easy, predictable ... the most difficult task was getting a halter on Blaise. That issue, however, becomes a non-issue once she sees her feed bucket!
Once that barn was contently munching away, we headed down to the big barn to feed the herd on the Helen Keller Side and then try our best to calmly feed the herd on the Gelding Side. You see, I had just moved a few horses around and so it was still a bit noisy and excited on the Gelding's Side of the barn... but nothing that couldn't be managed with quick hands and feet as well as ears and eyes in the back of our heads!
As I turned on the lights, I heard it. The moan. My eyes shot to the pasture on the Helen Keller Side. I saw Bonita and April and knew PONY! and Gracie were off to the side. It was Jimmer that I did not see. But then I heard it again. The moan. And then my eyes adjusted to let me see Jimmer lying in the hay. He was down.
Damn!
Turning, I shouted to Kathy,
"Open the door!
" Not fully aware of what was happening, Kathy dutifully began to put down the buckets she was working on and do her best to respond to my command even though, I'm sure, she wasn't even sure what door I was talking about!
And then again it happened. The moan. And now Kathy knew, too, that Big Jim was in trouble and our speediness in getting to him was critical.
Everything flew!
Doors came open, fresh gas was put in the Allis, PONY! was brought in out of the pasture and tied. Gracie was brought in next. Then April was herded in to a stall. Gates were opened. The tractor was started to warm up a bit. And we both started praying... In fact, as I was getting up on the Allis, I said to Kathy,
"I need you to pray, Kathy."
Her response?
"Already started that."
When I went out to Jimmer to put the collar around his neck, I noticed he was wet with sweat and really just there. Not moving. Not trying. Not fighting. Just there. My heart jumped up in to my throat. Is this the time he has chosen to cross? Does he not want to live and so not want to get up on his feet again? How will I know what to do? And what not to do?
When I drove the tractor around the corner, Jimmer showed his distaste for that contraption and did his best to right himself and get up before I could get the Allis close to him... but was unsuccessful. Too many years of pulling competitions had twisted his back and left him lying on his side like a mummy. He needed the help of the tractor but he also needed to want to get up... and I wasn't sure I was seeing that in his eyes this time.
The first step in trying to right him was to turn him so his feet were heading downhill - so when he was getting up he would not be working against gravity. I pulled him around using his bottom hind leg. He just let me do it... no fight and no tussle.... just lying there.
The next step was to try to get him up. And Big Jim let the tractor pull him but he did not attempt to get his legs under him. Instead he just let me kind of move him around. Fighting the tears, I watched as Kathy pounded on his legs and flanks to get the blood going all the while screaming and pleading with him to
"Get up, Jim! GET UP! GET UP!!"
We needed to try a different approach. Using his underneath hind leg, we rolled him over as gently as you can roll 2,400 pounds of cold, shivering, wet, stiff horse. But after the roll over, the "sleeping flesh" was on the top and his flesh with the good blood flow was underneath. Maybe, just maybe, the strong legs would be able to get him up.
Kathy and I both pounded on the flesh and muscle that had undoubtedly gone to sleep...all the while telling him that in order to get up, he had to
want
to get up. And we weren't really telling him. We were
pleading
with Jimmer. Neither Kathy or I would admit that maybe he was crossing tonight.
One more attempt to get him upright. I had my mind already decided that if Jimmer still did not participate on this attempt, I would continue trying to right him, that was for sure. I would not give up! But before I continued, I would call for Dr. Brian. I would listen to Jimmer's decision.
Hook him up to the tractor. Check the gears. Check the throttle. Recheck the gears. Get my right foot on the brake. Get my left foot half way down on the clutch. Back up slowly. Tighten the rope. Check the throttle. Pray. Lift my left foot a touch. Pray. Back up and bring him up.
PLEASE!
It is at this very moment that my fears are almost overwhelming! What if my foot slips off the pedal? What if the tractor stalls in mid-lift? What if I don't stop soon enough and pull Jimmer right over? What if the pulling on Jimmer's old body causes his legs to break? the fusions to snap? his old neck to suffer?
Oh, please!!!
It must be a smooth effort and his old body
MUST
hold together!!
Please!
Kathy was hollering and pounding and praying all at the same time! I simply glued my eyes to the horse and his legs and tried to be ready to stop, go forward, go backward... whatever it was that this magnificent horse would tell me to do.
I pulled a bit and he came a bit. I continued to pull and Jimmer continued to come. I pulled a bit more and Jimmer came a bit more. Finally, I had one pull left and Jimmer, bless his heart!
stood up!Thank you! Thank you! Thank you! Jimmer was standing!!
Both of us unwrapped this Gentle Giant from all of his ropes and collars and praised him! Now, it was truly in Jimmer's court to recover.
After some Bantimine®, some food, and a touch of hay, Jimmer is showing us he is back to stay with us for a while longer. He is guarding his girls - Bonita and April - as they sleep in the hay which just a few hours ago held his aged, crippled body. He is standing high and proud and being a good herd boss on his tired, shakey, arthritic legs. Jimmer is weak and sore and knows that tonight will be easy compared to what tomorrow will bring.
Kathy and I have brushed him and rubbed him with old blankets. And we have watched him for over 90 minutes to make sure he is not twisted or in pain. No sign of either, thank God!
So, it's after 10:30pm and I'm just now getting in to the house after the nightly chores of feeding. I'm sore and tired. And Kathy has just pulled out of the driveway and is finally on her way to her house. We both have frozen feet, our hands are cold, and Kathy's head is filling with, what sounds like, a good head cold.
But Big Jim is up and eating and his head is high! It is a good night at
Refuge Farms
! Jimmer will be checked every 30 minutes until there is absolutely no doubt, whatsoever, that he is just fine. And he will be hugged and kissed and pampered for a few days... just so he knows he made the right decision to stay with us for just a tad bit longer.
Love you, Jimmer. G'nite. You sleep. I will watch over.
Enjoy the journey of each and every day,
Sandy and The Herd and Jimmer!
----------Update - Early AM Saturday Morning:
It's 4:30am and just after the 8th or 9th check overnight - who's counting? Each check has shown me that Jimmer is still sweating. His rib cage and his neck are still producing sweat although it appears that his flanks are drying off.
He is eating although I see no evidence of his drinking any water. He's a bit "sucked up" around the hips.
His head is up and he's moving - in fact, he's almost agitated in his movements. He walks the circle of the barn whenever I open the gate. Usually he's very slow moving and resistant to moving after he has laid down. This is unusual.
How do I interpret all of this? I don't think he's in pain. Jimmer's head is up, his gum color is good, and he's eating. These are all symptoms of not being in pain. Although the sweating and pacing are symptoms of stress which usually means pain. I cannot tell if he has pooped since the door is open to the barn and he could go outside...but there are no deposits in the barn.
I will continue to watch him and will not stop the vigil until I see the sweat diminish and the poop appear. But he's up and active....although almost too active...Jimmer, oh Jimmer, what are you telling me?
----------Update - 10:30am Saturday Morning:
I have hope now…more than at any time in the last 12 hours.
Just now, as I was in the barn watching for any sign of progress or decline, Jimmer pooped. Not the usual amount and certainly not the consistency that is normal for him, but it is poop none the same. It's dry from being in him for a while and small balls, but it is poop.
And he is receptive to food. That is a very good sign. And then he heard my heart pleading and went over and drank about a dozen swallows of warm water. Knowing he was cold and shaken, I had plugged in the stock tank heater for him last night. I did this knowing in the 30 degree weather that the water would become warm. And I thought that was good for Jim. I know I would welcome warm water rather than ice water if I've just had a rough night.
The sweating on his neck continues but his sides seem to be drying. I have rubbed him with towels and he is calm when I do this. If he were twisted or had a gas bubble, he would not like my pushing and rubbing on his sides. And honestly, if Jimmer were twisted, he would have crossed by now.
Another tube of Bantimine®, some hugs and kisses, a scoop of feed, and a prayer. He's set for a while but looking like whatever he is fighting, he is winning!
----------Update - Early Saturday Evening:
It is now a full 24 hours since Big Jim lay down and I believe he's out of danger and on the mend.
The sweating has stopped and I've brushed him out several times today. He seems a bit sore in his shoulders which is more than understandable given the workout he had last night. But he is drying and not producing any more excessive sweat. Thank heavens for that!
Jimmer also continues to eat. In fact, he has a good appetite! That never suffered for a second!
His water consumption is light, but there. He's drinking and I still have the stock tank heater plugged in to warm the water thinking it may be easier for him than drinking ice-cold water on a sore tummy.
Those huge fragile legs of his are becoming steadier with each hour. The trembling has stopped in his hind legs and his step is big – not the tiny little step he usually takes after such an episode.
The poop is there – still not his same consistency as usual and not the volume I would expect, but it's there. Hopefully by morning, that will have righted itself.
So, no more Bantimine® and no checks tonight – at least I don't think so. But of course, if I find myself wondering how he is, I'm sure a quick peek in the barn won't hurt, will it?
Sleep well, Big Jim. I'll still watch over. And thanks for coming back yet once again!
Sandy
Sunday, December 10, 2006
I bet you are looking for Sandy!

Good morning! The Refuge Farms Blog is beginning a new tradition and I'm most excited! If you know us at all, you know we are big on traditions here, so first of all I'm excited about the creation of a new one…it makes me feel that we are creating something that will last long beyond today and tomorrow. Traditions are good. They create memories and that history thing. But more than anything, this new tradition will give others who are active in the Mission of THE FARM a chance to talk with you and discuss what they feel, what they fear, what makes them happy or sad or pensive or wishful. Our new tradition is a Guest Blog and today is our first!

And really, who more appropriate to publish our first Guest Blog than Vincent, our Webmaster Extraordinaire! Without this website, many of you would not have found us. And without Vincent, had you found us, you would not have been so impressed! "V", as I call him, has become an integral part of our outreach and I treasure him more than I tell him, sadly.

So, I'm creating this lead-in and then giving the "pen" to V for his entry in the history of Refuge Farms. Happy reading and enjoy! And V, thanks to you – my cup runneth over with gratitude for your dedication and consistency and creative ability. Bless you, my man!

Enjoy the journey of each and every day in The Spirit of The Season,
Sandy and The Herd


You see, one of Santa's elves came to me and told me how hard Sandy and The
'Other'
Herd had worked at the "All U-Can Eat Breakfast at Applebee's®," that I decided to let them sleep late this morning. From what I hear…it was a wonderful success. Great food, Great people, and Big hearts…sounds like a perfect recipe for an exciting event. Since I only have a limited amount of space I will just issue ONE BIG THANK YOU!!! Without your generosity
Refuge Farms
would cease to exist.
Can you hear it? Can you feel it?
I can even smell it all the way down here in New Orleans…it's Christmastime. Christmas evokes so many feelings for so many people. Some are happy and some are sad. A lot has to do with the way we are brought up as children, the experiences we have faced in life and even what spiritual beliefs we might have.
I have always believed Christmas was mistletoe, presents around a Charlie Brown looking Christmas tree, snow, family, happiness, lots of good food and a belief that time must be set apart to remember the
"real"
meaning of Christmas. It's funny sometimes to recognize how far we have traveled from the "ideal" Christmases of our childhood.
Sadly, someone changed the rules and forgot to tell me. Down here there use to be a celebration called "Christmas in the Oaks." Thousands of lights and ornaments were hung in our public park and you could ride through at night and become a kid again…there was even hot chocolate and Santa for those who could persuade Santa they had been good that year. Now it is "Celebration in the Oaks"…a change post Katrina…NO! You see it's not politically correct anymore to say "Christmas" in advertising, marketing, or anything related to the government.
Navity scenes have also been a casualty of this new politically correct thinking. I miss the good "old" days. The Coca-Cola® Santa smiling back at you with those big red cheeks and a twinkle in his eye. I don't want a carb conscious Santa who is late because his Pilates™ class ran overtime. I want to see a Jolly Ole Saint Nick with
". . . a little round belly, that shook when he laugh'd, like a bowl full of jelly."
We can dream can't we?
With all that has been said…we have all we need to make Christmas the best possible holiday for those around us…ourselves. It doesn't take presents, the latest fashions, or toys that will break before New Year's Eve comes around. Kindness, thoughtfulness and empathy. What better gifts can you give and share? It may be a cliché but look at those around you. We are living in very difficult times. Often we tend to focus on people in other countries or on situations, however tragic, where there is very little chance we can ever make an impact. A solution could be right next-door. Think about your neighbors, your friends, people you pass in the grocery…Christmas is a rough time of year for everyone. Hold the door open for someone, buy a cup of coffee for someone, wish a perfect stranger a "Merry Christmas"…you may get a smile or you may get a frown – but that person knows, at least for that second, someone cared enough to wish them well.
Christmas is a time to reaffirm (or establish) beliefs and be respectful of other's beliefs. A time to try and get back on track to what should be important. Believe in something and hold true to the values that have made us a great nation. We may not all have the same political or spiritual beliefs but we have to live together…as a city, as a state, as a country, and as a world. I think it is important to keep Christ in Christmas but that doesn't mean that non-Christians can't participate in the celebrations. It is the goodness and kindness that comes from within that makes Christmas the special time that it is.
I wish everyone a very
Merry Christmas
…
Vincent - Webmaster
Sunday, December 03, 2006
History…

I had lunch with an old friend this week. And I can just hear him questioning,
"Now, is the friendship old or are you referring to me as old?"
That lunch has made me ponder the value of friends and the value of history with those friends.
This particular friend of mine goes way back in my life. We first met when I was young and bold and on the cusp of an upcoming career in Retail and Food Service Technology. My consulting firm was building a good name for itself and I was well traveled, well informed, well dressed, and always well groomed.
Gary was a sales rep of that technology and so our relationship began in controversy. I, the customer, wanted. And he, the sales rep, was to give.. End of story!
Out of that contest grew a friendship. Gary and I discussed politics, religion, family, business, the future, and life. Nothing was off limits in our discussions and at times our words were painful to hear or to say. But honesty, I like to think, was one of our strongest characteristics.
My business strengths of organization, determination, and assertiveness flowed over in to my personal life. In fact, there really wasn't much of a divider at that time. My business was my life and my life was my business. I had a purpose and that was to make a good name out there! I was driven, to put it mildly!
Gary was more relaxed and more willing to take his time with some tasks. It drove me nuts! And many times, as we talked, Gary would tell me that he just couldn't relate…he was trying, but he just couldn't relate. You see Gary grew up in a big family and his Mother was still active and a part of his life. And Gary had never spent a night in a hospital. And Gary had been healthy his entire life. All of these differences between us, but still the commonality of our friendship.
Years passed. I purchased two horses and a dog. I watched my sister cross and felt helpless in not being able to fix "it". Gary supported my grief although our friendship was relatively new at the time. But it was the start of that history stuff. A friend who still visits when you aren't in charge. You aren't in control. In fact, you are barely hanging on to any control at all! And the friend still listens and hugs you. And still comes back to be a friend again. History.
Years passed and I purchased an old house in rural Wisconsin. The house warming party was full of new friends and sure enough, the old friend appeared. I proudly showed him the holes in the foundation. The windows with gaps for snow and wind and rain. The collapsing barn. And the old woodwork and the beautiful floors. Gary listened. History.
Years passed. And my own health took a few bumps along the way. Once again, this friend was there to listen as I updated my will. Listen as I talked about the treatments. Listen as I tried to find humor in the muddy stuff I was wading through at the time. More history.
Years passed and I found the world of horses in competition. Gary listened. A little while later and I was furiously striking out at anyone and everyone! The anger of what I had witnessed in a world where horses were instruments and "motivated" by drugs, and whips, and electricity was seeping out of every single pore of me! Gary listened. I struggled with the changes in my life but knew what I must do. I rescued Ruby and Jerry. It helped to treat my new wounds. Gary listened. More history.
Years passed and we lost track of each other. Gary continued his life and passions as I developed new passions and found purpose in the kill pens of Wisconsin. My life became less and less related to Retail and Food Service Technology and Gary's life continued on its path as he developed new passions in local politics and service organizations. History without anyone listening.
Years passed and I continued to pursue the healing of the rejected and tossed away. Gary's life continued on as he pursued the civic responsibilities that interested him. But there was the occasional email received. And the note once in a while when something in life reminded either of us of our friendship and all that we had witnessed in our lives together.
A mutual friend called and I made the time and traveled a bit to attend a visitation for Gary's eldest son. It had been quite some time since we had seen each other but I knew the pain of his loss. I knew the need to talk and at the same time the need to be silent. I knew where he was and a friend does what they can to support their friend at such a time. This time I listened. More history.
Then out of the blue, a telephone call. "Want to have lunch?"
I was a tad nervous as I walked in to the restaurant last week. I am now equally as driven as when a consultant but not quite so well groomed or well traveled or well dressed anymore. There was no need to worry, however, because before I was fully seated, I was totally at ease. The history was back. Brief updates on our lives since we had talked last.
And this time, we both listened.
Finally. Our friendship is at a place where we mutually benefit from the passage of time. We both have the knowledge that the other one truly understands. Or at least tries to understand. The other one knows where we're coming from…our priorities... our wounds... our joys... our scars... our dreams... You see, we have history together.
True friends build history. It takes time. And endurance. And patience and the willingness to continue to return. Even when your friend seems to have failed you or let you down or not tried hard enough. Because after the years have passed, the friend is still there. Ready to listen. To care for you. To cry with you. To laugh at you! And to continue to build history with you.
It is a good thing, this friendship with history. I treasure it. And as I see my new friends around me today, I realize I'm building history every day with each of them, too. We are supporting each other in our mutual passion of healing. And all the while, creating history.
Any relationship, good or bad, will build history. Maybe what I'm really seeing for the first time, is the time it takes to build
good
history in any relationship with any living creature. Maybe what I'm coming to realize is that the only thing that matters at the end of this journey I call my life is the history that I've built along the way.
Such a timely lesson, isn't it? To remind us to treasure our friends and family when the world, at large, is pressuring us to Buy! Buy! Buy! To hold our dear ones close and look them in the eyes when we say, "I love you." To take care of ourselves as a gift to others.
So take the time to connect with someone you have history with. Call. Write. Email. Have lunch. The gift of time is precious and treasured. And it matters. They say that the best gift is from the heart…an old saying, but never more true. Amen.
Enjoy the journey of each and every day in The Spirit of The Season,
Sandy and The Herd