Friday, February 24, 2006
Listen to us sing!

Good morning, everyone! Today is Friday, the 24th of February. Yeah, so what, you say? What's so special about today?
Well, the Winter Olympics in Torino, Italy are coming to a close. It is the last Friday in February 2006 (already!). And it just so happens to be the birthdate of a very special person at Refuge Farms.
Our Webmaster Extraordinaire is celebrating his "day" way down in Louisiana today.
Happy Birthday, Vincent!
And so here's what we will all do.....
If you would like to, go to the home page of our website and email the Webmaster a special birthday note....he'll love it!
Plus
, mark your clocks for 1pm today, CST. At 1pm, let's all sing the song I've written out below (you'll know the tune, trust me). You can sing silently, aloud, from the top of your desk, in the barns....wherever you are at 1pm, join along:
Happy Birthday to you,
Happy Birthday to you,
Happy Birthday dear Vincent,
Refuge Farms loves you!
And Vincent - pause at 1pm and close your eyes....listen very intently. You'll hear us - guarantee it!
Enjoy the journey of today, Birthday Boy!
Sandy and the Herd
s
Friday, February 17, 2006
Grace is in the barn.....

So just what is grace, really? Is it forgiveness? Is it positive thinking? Is it giving good even when you get bad? Is it expecting good outcomes from your sometimes seemingly useless efforts? Is it thinking the best of people? Is it being receptive and willing to try?
Barb G. says that to her, "grace" is
"goodness and strength all in one"
. I like this. It means someone is strong and steady and good - that picture brings other attributes to my mind. Attributes like reliability. Like dependability. Like someone you would go in to a fox-hole with...
Cheri M. tells me that her definition of "grace" is not giving up. That "grace" is
"giving a loving response to someone who has accidentally or purposely injured me with their words. "Grace" is letting go of yesterday's hurts and starting today with new hope."
There. That's what I've been searching for. "Grace" is starting each day with new hope. I nod my head in total agreement and understanding. Each day is a new opportunity to do good. That someone will be better at the end of today because you were in their life today. That you made a difference today.
Each day I begin with a hope and prayer
That today will be safe and good
And that in some way, we will help someone out there.
That calm will prevail; That healing will occur:
That we'll touch someone with a ragged old horse;
That we'll make a difference in someone's life
And be grateful, at the end of this day.
from
"At the End of the Day"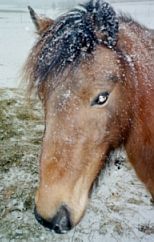 Grace, to me, is all of the above. "Grace" is not just a state of mind, it is a lifestyle. It is an inner commitment that constantly challenges me to be kind and understanding and patient. A goal I am woefully falling short of, believe me!
And what does this little pony have to do with my thoughts on "grace"? Let me tell you.
Once again, it is an odd hour when the telephone rings early last Friday morning and once again, I feel the need to answer the call, even though I know the chances are good that it is one of "those" calls.
Another kill buyer is calling to see if I can help him out. He's in a pickle, he says. A couple in northern Wisconsin had decided that they should downsize by one pony. So the kill buyer was called to come and pick up one of their horses.
When he arrives at the people's house, the owner goes out in to the pasture, halters a pony, and walks her in to the trailer. Very simple. No fuss. The pony was most compliant, he said. Upon closing up the trailer, the kill buyer notices that she's kind of "bonging around" in there…and so he asks the owner what the story is.
"She's blind" is the response. The kill buyer explains that he can't take her. He cannot ship her or sell her for kill due to her blindness. The owner's next response? "Not my problem now. She's in your trailer." At which the owner turns and goes back in to his house leaving the little horse in the trailer of a kill buyer who can't take her anywhere.
Hence the kill buyer's call from his cell in the driveway of the pony's owner. Or should I say previous owner??? "Can you help me out?" he asked. "I'm in kind of a pickle here."
You already know my response, don't you? Of course, I proceeded to explain our full status and how I wished I could help. Then the question I was not prepared for came at me - could I keep her while we found a home for her? You see, if the kill buyer put her in the holding pen, the other horses would trample her for sure. Could I just keep her for the weekend?
Well, yes, I had a box stall where she could stay and people could come and look at her... But, I told myself, do NOT touch her, look at her, pet her, or name her, for crying out loud! Don't even
think
about the 3 Promises!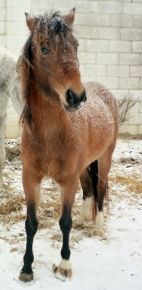 She arrived and I marveled at the itty bitty-ness of her. She was a touch taller than a mini, but longer in body and very petite...and completely blind...mane a twisted mess...hooves way too long but in solid shape...a thin but not emaciated body...and trust just oozing out of her.
She walked right behind you - not having a clue where she was or where you were taking her. She would pause and tilt her head to listen to the others...she knew there were horses around...she would smell you, the ground, the air...trying to acclimate herself and find something - anything - that was familiar.
There was no pulling back...no hollering...no pushing or biting. There was no fuss. Even sighted horses typically give more of a reaction to their arrival than she was giving... This little girl was pure and honest trust.
I had already placed several telephone calls to prospective new owners for this pony. And many of the calls were returned later in the day. No one was coming today to look at her. But maybe they would stop by on Saturday.
I spent a good part of the evening in the old barn watching her. I was most intrigued by her. She is calm. Alert. Curious. She stands quietly with no twitching or nervousness at all. Somehow, she appears to feel at home. Very aware. And very hungry. By 9pm, she has a very full tummy and is worn out and curled up in a tight little ball, deep in sleep. I whisper "sweet dreams" to this unnamed little creature and go in for the night. All the time shaking my head and marveling at the calmness of her. The serenity that came in to the barn with her. And is rubbing off on me. This little girl has an aura about her, I think.
In the early hours of morning when my mind was awakening and well before my eyes were opened, the thought is in my head as clear as any thought has ever been.
Her name is Grace. What? Don't do this! Do not name her!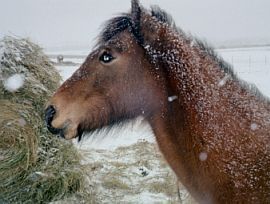 Her name is Grace.
It's very simple.
She is Grace in the Barn.
She is the hope of a new day. She is forgiving when someone does you poorly. She is the opposite of hatred. She is giving goodness and kindness. She is strength. She is forgiveness and trust. She is the opposite of aggression. She is positive thinking and expecting of good things to come her way. Yes, indeed. Her name is Grace.
I struggle to find the words to tell you of the peace she brings. She is just a tiny little pony. But she is calm and willing and trusting and looking only for a friend. She is my example of what grace looks like. Oh, the bonfire talks we will have about grace...all because of her! Once again, I have been given a piece of the picture that was missing - even though I had no idea I was incomplete!! Once again, without even knowing it, a need was fulfilled. Now I not only have a Faith Bucket in the barn - I have Grace in the Barn, too!
I'll close with a message from Gayle A. about her definition of "grace". Please clear your mind and read her words. They cause me to think, really think, every time I read them. And Gayle's words are, in fact, this little pony, Grace, put in to words.
Read the paragraph from Gayle and then think of what "grace" is to you. Read the paragraph and then try to be graceful just today - not forever - just for a single day. And then maybe try to be graceful again tomorrow. Read the paragraph and then be jealous of me. Lucky me. Surrounded by grace-givers like Gayle and Barb and Cheri and a whole host of others. Women who live graceful lives. Women who know and practice "grace". Lucky, lucky me!
"When you accept everything the universe dumps on you, from the "raw" to the "sugar coated", and deal compassionately with it, doing the best you know how to do, asking, and delegating, and pulling everyone else you can in to the compassionate response, that is a "state of grace". I would call the decision to act with compassion one "origin point of the ripple effect". The degree to which that ripple spreads is the profound incomprehensibility of the state of grace. Should everyone "live" it, the intermeshing strands rippling around the world would provide the strongest safety net ever known. Freely given compassionate love would be the sole basis for all action. Awesome."
Enjoy the journey of each and every day,
Sandy and Grace, both of us in the barn
Thursday, February 09, 2006
"I found you on a web-ring!"

It seems like just a very little while ago, that my Mother said to me,
"You kids, nowadays!"
. Mom and I were listening to music on the radio (WEBC in Duluth, MN, actually) and she was marveling at our music, our language, and our new
"fandangled contraption"
that we called the transistor with earplugs.....
Well, last night at THE FARM, I found myself telling a 7th grade caller,
"You kids, nowadays!"
As the words came out of my very own mouth, I smiled and just shook my head....time passes so quickly!
Now why did I just tell you all of that? Because of this:
I am about to talk to you and in this entry I am going to use terms that I don't understand. Heck, I may not even know how to spell them! I have a general - very general - understanding of the concepts, but how it works? Don't have a clue!
It was late when I arrived home from work last night and so feeding began when I am usually wrapping up. The horses called to me as I pulled in to the yard - Cole was standing with his head over the gate waiting patiently. The sight of the truck headlights caused most of them to turn and start walking to the barn.
"Finally!"
could be heard coming from the pasture....
I changed quickly and made up the meds needed for the nightly feeding and was literally just placing my hand on the kitchen door knob when the telephone rang. Been here many times before, but this time I sensed I should pause and answer the call.
The voice on the other end of the line was a young lady - Randy was her name. She was in 7th grade and had a history project due soon and wanted to know if I had the time to answer a few questions for her about
Refuge Farms
. You see, THE FARM was the topic of her history project!
"Cool!"
was my response, once again dating myself! And so I sat down and kicked off my winter barn boots to spend the time needed to talk with this young lady.
Her first sentence told me more than she will ever know. She said, "I really don't have too many questions because I've read all about you on your website."
My, my. Things have changed. No more library trips. No more card catalogues. No more checking out research books and magazines to prepare for an interview. Now the students go on the web.....Oooohhhh, I feeling my grey hairs!.....
We talk about THE FARM and she asks me her first question:
How do you think the horses feel about living at Refuge Farms?
I tell her just one story of one horse - Bonita - and her life before she came to
Refuge Farms
. I then tell her the 3 Promises that Bonita received on that Thanksgiving Day of her arrival here at THE FARM. And then I ask Randy, "Now, how do you think they feel about living here, Randy?" Her reply? One word: "Safe". She's got it....
Her next question was about Andy Durco and so we spent a bit of time talking about the man that caused this 90 degree turn in my life. We talked about challenges and dedication and keeping your word. She agreed "all of that" was hard work.
Her most insightful question came next:
"How do you think Refuge Farms has influenced the people that have visited there?"
In response, I tell her the story of the lady who visited us for the very first time this past December when Mr. and Mrs. Claus were here. How this new guest and I had talked and how we hugged when it was time for her to leave. And how her closing words confirmed for me that Big Guy had been a good decision: "I think I can find my faith in humanity again here. Here in the eyes of Big Guy."
I told Randy that maybe, just maybe, Human Beings can find some of the same safety here that the horses find .... what did she think? Randy said "Maybe, just maybe they can."
We chatted for a bit more and then I asked Randy where she was from? Minneapolis! Wow! How did she find us all the way from Minneapolis? "I found you on a web-ring", she said.
Now, I just kept right on talking, but I have to say, this young lady had just said something about technology and internet groupings and searches .... and I don't really know
how
she found us. Really. I don't know what a web-ring is....am I even spelling it right? Is it web-ring? webring? web ring? Don't ask me! I'm just glad
Refuge Farms
was there!
Technology is moving so much faster than I can keep up with - and I have now become my Mother, bless her heart. I trust that technology will help the human race be more Human. That it will cure and create and help. In this one little instance, it seems to be working, doesn't it?
This little place called
Refuge Farms
continues to quietly and respectfully reach out to the
entire world
! And sometimes we (read that as "I") don't even know how - at least I don't know how, technically, we get on these web-rings or on some of these search engines .... I'm stretching my knowlege level right now!...
You see, I don't have to know.
Refuge Farms
has Vincent in it's corner working hard for us. Thank you, dear Vincent, for your initiative and faith in us.
You
are the gift for which I am ever so grateful! This website is the
Magic
of our Webmaster Extraordinaire - Vincent. He's reading this right now and thinking he should strike this last paragraph - do not do that, please, V! You need to know just how valuable and appreciated your contribution is for all creatures - horse and Human Being - here at
Refuge Farms
!
And you readers - keep an eye on this website! We are about to release
"The Other Herd"
which is a picture and bio section of the volunteers that keep this place humming. And we are introducing a
Sponsorship Page
and the entirely new supporting program at THE FARM....the plans for the future include much more...blueprints for our new building....Makenna's Open Barn song....keep us on your "Favorites" list....oh, no! another technical term!!!!!
I need to go out to the barn and get close to a horse....maybe, just maybe, I understand a little bit about their technology!!!
Enjoy the journey of each and every day,
Sandy and the Herd and Vincent, Webmaster Extraordinaire