Monday, July 03, 2006
I saw the future...right in front of me!

Have you ever had one of those deja vue experiences where you
know
, you flat out
know
, that you've been here and done this before? That the conversation isn't new to you because you've had this conversation before?
Well, just last week, I had the opposite experience. I saw the future. Yup, I saw what will be happening at some point in the future here at
Refuge Farms
. And it happened right in front of me!
Last Tuesday evening, a group of 10 to 12 year old campers came to
Refuge Farms
for their first ever visit. The camp leader had attended a presentation made by myself and Kathy, my Operations Manager, earlier this spring at First Congregational Church in Menomonie, Wisconsin.
What do I remember about the presentation? I remember the absolutely delicious chicken salad that was served for lunch! That tells me that the presentation had no exceptional moments - either high or low. But then again, every presentation rejuvenates me and refreshes me. I just simply love telling the story of Andy Durco and showing pictures of what we do here!
Well, anyway, in late April, this camp leader called and reserved Tuesday, the 27th of June for her campers and their chaperones. We get prepared and right before the car caravan arrives, I look around me and I'm grateful again. The team that has responded to the call for support are the best we have - Tracy, Lambing Barb, Tara, Famous Barb, Kathy, and Lynn. We are choreographed and ready to go!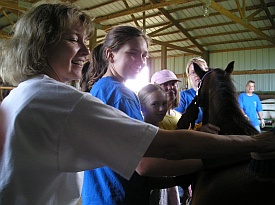 The tour is a blast! Kids and parents alike are beaming at the closeness with the horses and absolutely thrive on the simple chores of cleaning barns! There's a bit of horse drool from Big Bonita and some horse hair from Gracie and Jimmer. Miss April about fell asleep from the brushing and the barn is spotless! A bonfire begins and we all go out to roast marshmallows and talk and laugh and do what 10 and 12 year olds do!
I test the campers on the Three Promises, some of the horses names, and then we all read the mission statement from the marker board. These are well mannered campers and I am enjoying them as much as I hope they are enjoying their visit!
The first surprise I have in my hind pocket is a visit to the group by Lady-the-Dog. Our dear canine member is getting older and crowds sometimes now scare her. But the kids were just great with her and even threw a stick for her! Lady was happy and glad to be amongst us! Wonderful! It was great to see the smiles of the campers and their sheer wonder at how well she moved with her cart.
"Kinda like a wheelchair!", one of the campers decided. You are exactly right, young man. Kinda like a wheelchair. But soon no one saw the cart. They only saw Lady-the-Dog and her big ears and beautiful face and eager eyes. They soon forgot about the physical side of Lady and focused only on the dog part of her. Just like it should be with kids and a dog. A life's lesson through the miracle of a dog.
Then another surprise came out of my pocket. Well, not out of my pocket, actually, but I gathered their attention and here came Tara with her surprise! Everyone was thrilled! Tara had brought DaVinci with her. Who in the world is DaVinci? That's where the future comes in.....
Tara sat on a straw bale and the children all touched little DaVinci. Meanwhile, Tara spoke very plainly and clearly and told the story of this little itty bitty kitty and how it had been thrown away in the gutter of a dairy barn. The kitty was so tiny it's eyes were still shut. The mama cat had abandoned the kitty and so he was just tossed in the gutter to die.
Tara's boss saw the kitty and brought it back to the Vet Clinic where Tara works. This little guy was to be Tara's project. "Do your best", she said they all told her, "to keep him fed and warm and nutured so he has a chance to live!"
So, Tara brought the kitty home and started the routine of feeding him every 2 hours - round the clock! His eyes soon opened and his first vision was of his mama - Tara! As he grew, Tara taught him how to go potty and how to clean himself and now he's even using a litter box! And remember, this little guy is barely 4 weeks old!
As I stood to the side and watched, my heart was just about bursting!!! Here was Tara telling her own rescue story to young guests of THE FARM. Tara herself, it seemed, had just been 12 years old and wanting to come and help me with the horses. Tara herself, it seemed, had just been one of the listeners as I told a story of rescue and healing. And now I was watching this grown up young lady tell others her own personal story of rescue and commitment and healing.
I knew what was happening to the insides of Tara. I knew it first hand. I knew that now Tara felt for herself the pure joy of doing what is
right
. Even when it makes you tired and weary. The peace that comes from within when you tell the story and share your treasure with others so that they, too, can heal from this little bundle of life.
I watched the children all petting DaVinci and Tara allowing them to do just that. She was sharing her heart and sharing her DaVinci, just as I was sharing my horses. My, I thought, the circle is in fact complete. I felt a piece slip in to place.
I saw the future right there. The future of
Refuge Farms
in that story told by Tara to these young campers. The story of rescue and healing and sharing. Of allowing everyone to feel a part of the good that is done. I saw the future and it was right in front of me that night.
Doesn't seem like much to each of you, I know, but you need to understand that it causes me peace. And allows me to rest a bit. I can rest a bit because I know that if tomorrow is my day to cross there are younger and stronger ones to pick up the mission and go forward. There's Tara and MaKenna and Taylor and others I don't even know about yet. But there is a second generation of Human Beings who have been touched and healed a bit themselves here at
Refuge Farms
. And they want to give back, too.
I can ask for nothing more. To know that someone has heard and felt the power of what we do. And that someone is studying to heal animals. And that someone has rescued her own minister and has already used him to show others the power of doing good.
When Hannah, one of the campers, left for the evening, I knew that Tara had gotten through to the kids. How? Because Hannah came up and thanked me for letting her brush horses. And was she coming back, I asked her? Her reply was simple and direct. "Will DaVinci be here?", she asked?
To many, that glimpse of the future passed right by. But over the past few days I have paused to feel the comfort of knowing that all of this hard work and commitment and sacrifice and dedication will continue. And it will continue not because of me or some financial paperwork that's sitting in a box somewhere. No, it will continue because what we do here
helps
people. We help horses and the horses open doors for people to enter. Doors of laughter and curiosity and sharing and even doors of pain and suffering and loss. Doors of friendship and belonging. Doors of responsibility and doing something that matters.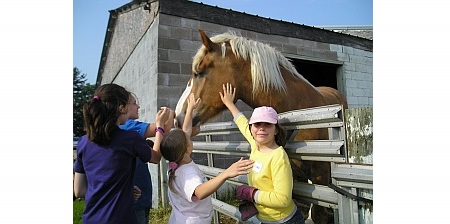 Without these horses here in my back yard, many of those doors would remain closed. How
wonderful
are these gifts of rejected and thrown away horses! And how wonderful to stand in the back of the crowd and watch your life's meaning - the future - happen right there in front of you!
Enjoy the journey of each and every day!
Sandy and The Herd