Sunday, August 13, 2006
It is the right thing to do.....

There is a whole side to
Refuge Farms
that you may not know about. I seldom talk about it. It's the "quiet" side of our mission. This "other side" is a very private process and a responsibility that has grown out of need. Because there are just too many horses out there and too few owners willing or able to any longer take responsibility for them.
The portion of
Refuge Farms
that I'm speaking of is the Surrender and Fostering Program.
I receive telephone calls and I receive emails and people stop in frequently with the desire to find a home for their horses. They have outgrown them. The horse isn't young and fit any longer. The horse has baggage. Or sometimes it's very simple – there's a new horse in their lives and the money only covers the expenses of the one horse.
Now I could spend this entire blog talking about the pros and cons of those situations. Let's just save that for another day.
Refuge Farms
is not here to judge or criticize.
Refuge Farms
is here to help. And
Refuge Farms
does it's best to help the horses that find themselves in this spot. And we help through the Surrender and Foster Program.
The first step is understanding the horse that needs a new home. It's special needs (of which there usually are some or the horse wouldn't need a new home), it's history, it's prognosis, and it's personality. I do this by spending time with the owner and listening with everything that I have. Body language, voice tone, and gestures are all part of the horses story. I need to know the horse without seeing or touching the animal. The owner is my only and best link.
Then I begin perusing my folder marked "Possible Fosters". Is there a home in there somewhere? If I think there's a possibility, I place some telephone calls or send some emails. If not, I start to spread the word.
You can see from the description of the process that fostering can be time consuming. Sometimes the horse doesn't have that much time. Sometimes it's almost an emergency placement. It is at these emergency times that I am challenged the most and have to reinforce the
Refuge Farms
mission to myself.
"We take the "diers", Sandy. We cannot save every horse, Sandy. We do not take the horses that have options. We cannot take every horse that needs a home.
(I really need to write this down and pin it on the barn wall...almost like a mantra!)
When I find a match (and hopefully I do!), the two parties meet and the horse is introduced. I wait to see if
"it"
happens. Does the horse accept the new fosters? Do the fosters accept the new horse member? What kinds of facilities are available to house the horse? I spend an enormous amount of time talking about transitioning the horse. It must be slow. It will take time. But the end result of a methodical and patient transition is the lack of chaos. The process works. And I do my best to sell it to the fosters.
If all goes well, then the time for delivery is arranged. And when that time comes, there, of course, is paperwork.
First, the owner signs a Surrender Letter where
Refuge Farms
promises to the owner that the horse will be:
·never mistreated
·never underfed
·never sold, traded, given away, or slaughtered
·that life choice decision will involve the owner, if possible
·that the fosters will surrender the horse back to
Refuge Farms
if they find, at some point, that they cannot keep the horse for whatever reason
·and that the owner may request and receive the horse back, if so desired.
This Surrender Letter I read out loud to the owner and I read it as,
"I promise you, Sally, that Doc will never be mistreated. Doc will never by underfed..."
It is a very personal conversation. And I feel the weight of each promise as I make them right in front of everyone.
Once the Surrender Letter is signed, I then dry my eyes and turn to the fosters. The Foster Letter is read and I ask the fosters to promise
Refuge Farms
that the horse will be:
·never mistreated
·never underfed
·never sold, traded, given away, or slaughtered
·that life choice decision will involve the owner, if possible
·that, if at some point, keeping the horse is not an option, the fosters simply need to contact
Refuge Farms
for re-placement of the horse
·and that the owner may request and receive the horse back, if so desired.
The Foster Letter is powerful, as well. And typically the fosters read and reread it to insure they can uphold all of the promises. We have discussion. The signatures are finalized and the horse is now the responsibility of
Refuge Farms
(gulp!) and fostered out to a willing keeper.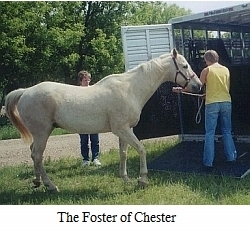 The final step is the transport of the horse and working through the transition. Only in one case have I had to re-place horses due to an improper transition. And I own that error. I did not spend sufficient time talking about transition and I did not stay on the beat of the process with the fosters. My fault. At the expense of life quality for those horses for 60 days, I learned a very valuable lesson.
I carry the guilt and will someday forgive myself. Just not yet. Have those two horses forgiven me? I pray so. Their new fosters love them to pieces and they are once again united in the same pasture. All is well. Time will heal their outward wounds and I have learned the value of the role of
Refuge Farms
in such a situation.
This whole program seems like a small thing, doesn't it? Yup. It sure does. Until you get the hug of an owner who knows their horse is safe. Is in good hands. And will be given the opportunity to live out its natural life without the threat of mistreatment or slaughter. Those "owner hugs" are tight. Sometimes it's hard for me to breathe! There are usually tears, but there is gratitude and relief, too, all rolled up in to one big hug.
Then there are the hugs of the fosters. Shorter and more joyous! A new horse to love! Their "foster hugs" are never very long –
We must get out to the barns and show Doc around the place! See you soon, Sandy! Bye!
Just like visiting THE FARM, there is no charge for the Surrender and Foster Program. Charging would go against our mission and philosophy. The Surrender and Foster Program at
Refuge Farms
actually ends up costing THE FARM money and time. I don't do it for the owners or for the fosters, although they are most happy that
Refuge Farms
is there for them. No. I do it for the horses.
I do it so there are fewer horses without options out there for me to rescue. I do it because we can, I guess. Because without doing it, I would have trouble sleeping at night. I do it because just like yesterday, as I'm driving home from a successful surrender and foster, I'm smiling and humming a song. It feels good. It is the right thing to do. It is why we are here.
This program is a way that
"Horses Helping…"
is helping people through the use of horses. I do it because it's
"taking a horse and making a difference in someone's life".
Andy did not intend this, I don't think. Maybe he knew? I know I didn't think I would be fostering! It has just become an extension of that initial challenge that turned my retired, quiet, safe and secure little life around. Thanks, Durco! I do owe you - big time! And so do 79 horses…so far!
Yes, it is the right thing to do. Even though it's difficult and worrisome. But I'm old enough and hopefully wise enough to have learned that nothing good is ever simple, is it?
Enjoy the journey of each and every day,
Sandy and The Herd and our latest foster, Rafferty!