Sunday, November 26, 2006
They're Here! They're Here!

At a prompt 11am, down the lane they came! All of us kids – even the 50+ year olds – were clapping and running to announce,
"They're here! They're here! Mr. & Mrs. Claus are here!"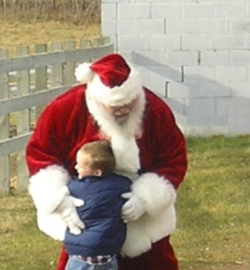 Little Jack went running down the lane to greet them! Hurray! Mr. & Mrs. Claus are here! Jack's honest and joyful greeting started what was to be a most memorable and forever favorite day here at
Refuge Farms
.
Mr. & Mrs. Claus were here!
What
joy
these two bring to
Refuge Farms
! For the third year, we are the humble hosts of the
real
Mr. & Mrs. Claus. In the brief two hours they spend with us, children of all ages come for a visit with Mr. Claus and a hug and candy cane from Mrs. Claus. And children of all ages are once again filled with the glee and the hope of The Season.
Cameras are everywhere! For some young ones, this is their very first conversation with Mr. Claus. I could see the faces of the Mom's as their eyes were recording the moment in their minds to remember forever. I could feel their joy mixed with the realization of just how quickly time is passing and their young one is growing…
For others, it is a repeat visit with Mr. Claus. And this year, they've brought a list to make sure he knows for sure just what they are wishing for! One mother told us her son had been planning his visit with Mr. Claus for weeks. Another Mom told us her young son stood by the door from early that morning and kept asking, "Now? Can we go to Santa now?"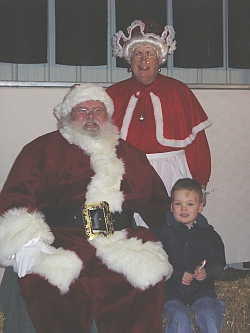 What a couple these two are! From the moment their stroll down the lane begins to the very last hug and good wish they shower us with their love of life! I truly love these two like they were a part of my immediate family. What big hearts and joyful souls they have!
Refuge Farms
is so very blessed to count these two among our Friends.
And what would you see when you arrived to visit with Mr. & Mrs. Claus at
Refuge Farms
? Well, first Tracy would greet you and you would hear the Christmas music playing in the yard. Then you would notice the candy canes, the Santa and Frosty the Snowman, the wreaths with the glorious garland, the Christmas star on the barn door, the poinsettias in the yards on a few select Memory Beds, the Christmas trees….you would be in a Christmas Wonderland and gently guided down the lane to the barn for your meeting with The Spirit of Christmas, himself.
Once in the barn, you would smell the hot chocolate and apple cider, eye those huge cookies, and look around at all of the sights. You would see Gracie and PONY! there for your pets, and Miss April ready for your hugs and brushings. Even Unit would be in the barn for you to marvel at!
And then there's the chimney in the middle of the barn…with wood and gold garland for a fire – what a sight! Oh! And there they are! Mr. & Mrs. Claus are seated in the barn surrounded by straw bales for sitting and two of his best elves to help you get on his lap!
Your visit would last as long as you wanted…no need to hurry here….it's Christmas! After your visit, you would go to the Christmas tree and pick an ornament off the tree for you to take home for your very own! Wow! This ornament is cool!
Then it was out to the bonfire and some time spent enjoying the sunshine of this glorious day – all under the watchful eyes of Jeri-Ann and Babee Joy in the corral. Man!! Have they grown!!!
All of this while you are surrounded by these people in Santa hats…all of them smiling and willing to help…all of them truly the heart and the soul of our mission. What do we call these Santa's Helpers? We call them, affectionately, The
'Other'
Herd. These are the volunteers of
Refuge Farms
and it is these hands and hearts that create this day for you. And this day is created all out of the goodness of their hearts and their desire to share with you. Christmas gifts all year long, aren't they?
On your way back down the lane, Tracy would once again wish you a Merry Christmas and send you on your way with her big smile! And you would remember this little bit of time you spent at
Refuge Farms
as a time of happiness and hugs and smiles and sheer joy at meeting the
real
Mr. & Mrs. Claus!
Thank you to all who helped and participated! What a wonderful day! We made a difference in many lives yesterday – including mine. Have a safe trip back to the North Pole, Mr. & Mrs. Claus! See you next year! And thank you for spending some of your precious time with us!!!
Enjoy the journey of each and every day in The Spirit of The Season,
Sandy and The Herd