Sunday, May 13, 2007
May, the Merry Month of May!!


May, the Merry Month of May!! May is the season of new beginnings. May is the time of celebration: life, mothers, renewal and remembrance. May also marks a new season of connection between humans and the "Herd of
Refuge Farms
."I love writing the phrase, the "Herd of
Refuge Farms
", as it reminds me of one of my favorite childhood prints and books, "
Rebecca of Sunnnybrook Farms
." Rebecca was a lucky little girl who lived on a farm surrounded by the beauty and grace of the animals she loved. Now,
Refuge Farms
renews those memories. The many gifts of May boost our spirits and give renewed joy to daily activity. May Day and Mother's Day; both a time to share love and gifts between families.

On 05/01/05
Refuge Farms
received a marvelous little Belgian foal, Jeri-Ann. Dear Lanna gave the farm this beautiful little girl as a May Day gift. Lanna exemplifies motherhood. Blindness did not hinder her in nurturing this magnificent healthy baby. Lanna protected and nursed her foal for 6 months. Lanna gave Jeri-Ann the gift of confidence and well being. Jeri-Ann joined the herd with spirit and curiosity. She is fearless and is always first in line to greet new visitors!

THE FARM is also blessed with Josephina and Babee Joy. Josephina arrived at THE FARM with a little fuzzy brown foal at her side. It is THE FARM'S good fortune that Josephina had an infection and could no longer be on the urine line. Josephina is a beautiful blond Belgian, who is fine boned and elegant. Babee Joy is now 3 years old and is a gorgeous black dappled mare with a larger than life appearance. She is a friend to all who share the pasture with her.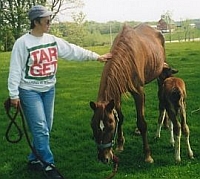 On a April day several years before, Sandy rescued Ima, a neglected starving mare who would not leave the little pen she was confined in. Sandy discovered a tiny foal just hours old in the manure pile. Ima was unable to make milk for her foal. The first thing Ima did during the trailer ride home was eat hay and eat hay, not only because she was so hungry but to produce milk for this tiny creature. In spite of her own adversity her need to care for her foal was first and foremost in her mind. The story of Ima continues thru the memory gardens at THE FARM. April, is a gleaming beautiful 9 year old mare, however, because she lacked proper nutrition before birth, she is very fragile and walks slowly, but proudly. Ima left April with her gentleness, courage and determination.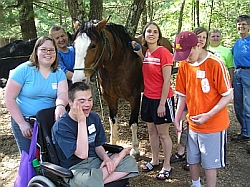 April bonds with many individuals who also have mobility issues and yet persevere and lead their lives to the best of their ability. In this season of new beginnings we invite you to come meet the herd, hear their stories and feel the "
MAGIC
" of
Refuge Farms
.
As always, "For the love of horses",
Barbara Gramenz, a.k.a. Lambing Barb