Sunday, June 03, 2007
We Have Hope!

Saturday, June 2nd, was the start of the new season here at
Refuge Farms
. Officially, it is now summer! Hurray! And in celebration of summer, we do several things here at THE FARM. One of those things is to be open two (2) Saturdays of every month – the first and the third Saturdays. Saturday, June 2nd, was the first of our Summer Saturdays. And it has left a mark on me…
I had simple plans for the day. Truly, I was expecting to accomplish some things and start some new traditions on this day. You'd think I'd have learned by now, wouldn't you?
I was up and outside early to prepare for the first ever
Kid's Garden
here at THE FARM. The spot I had selected for this special area was the very first flowerbed that I had built when I moved here to Spring Valley. It is one of the only flowerbeds that is not a Memory Bed. I didn't think children would necessarily appreciate playing and planting in Memory Bed, so I picked a regular old flowerbed. Which, of course, now was full of weeds and needed new lumber for edging. This little bed had been sorely neglected these past few years. It was in sad shape.
But that would all change today! My boards were cut. The wheelbarrow was ready to receive all of the weeds and debris. My tools were out. The trimming had been done so the kids would have clear and easy access to the soon-to-be garden. I was ready!
Guests arrived all day and the children helped pull weeds and pull weeds and pull weeds! During a quiet time when the guests were in the barns with Kathy and the horses, some of us took the opportunity to pull up the old rotten boards and replace them with my newly cut sturdy boards. Voila! A new flowerbed was born! You could really see it now – except for the weeds!
But I had help! Eager hands tore in to the dirt and the weeding was done in no time! The work was done by Ella and Alia and Cole and Jessie and Melody and Mike and Heather and Natalie and Pam… You get the picture! Many hands – big and small – helped to transform this weed patch in to a new flowerbed. One young lady even brought her own shiny red and blue and green gardening tools with her!
Now, we all know I'm missing a part of the story, aren't I? The dirt. Oh, the fun of the dirt! This bed is full of good, rich, composted black garden dirt and some of the little white socks left here not so white anymore! And a few of the faces weren't so clean anymore. And Cole wasn't so dry anymore! And a few t-shirts had some pretty healthy smears of dirt on them, too!
We had dirt on our faces. Under our nails. On our pants – especially our knees! Some of us brave ones wandered right in the flowerbed and so our shoes and socks picked up some of the dirt. And weeding is hard work! We sweated and wiped the sweat from our brows with our dirty little hands, of course! And so now our smiles were dirty! Weeds require hard pulling and even some digging and so we had dirt in the air! There was black dirt
everywhere!
Personally, I enjoyed the dirt and the kids as we played and worked. Dads helped us out and found some of the big, long spaghetti-like roots! Oh, the size of some of them! And Mom's helped, too. True progress was made then, for sure! We worked hard all day and by 3 o'clock, our weed patch had turned in to a beautiful bed just waiting for little hands to plant the seeds.
On Saturday, the 16th, we will have seeds for carrots and pumpkins and what fun it will be! Each child will have a marker where we will write their name and they can then place their marker at the start of their very own row of seeds! And when they return, they can pull their carrots and feed them to the horses! Or in the fall, they can harvest their own pumpkin and decorate it here at Halloween at THE FARM!!!
Seeds. I've read that a gardener is truly a person of faith. To plant seeds and then await the miracle. Seeds are acts of faith. And hope.
One of the families that visited us yesterday was a family from Hudson, WI. Not far from here. Thirty minutes, maybe. This family has visited us several times in the past. In fact, I remember one of their first visits because they had taken a true "shine" to Miss April. They instantly loved her and would easily take her should I ever need a home for her. In fact, they left their name and address information, just in case…
Well, this family had selected
Refuge Farms
as the place to start their day. Seems simple enough, doesn't it? Sure. A young family bringing their young son to a horse farm to play in the dirt and play with the dog and pet some horses. And catch up with Miss April.
However, this day was a special day for this family. A day still twinged with sadness. This day was an anniversary for them. Of Hope. Hope had been born and had crossed on this day just a mere three years ago. Hope. A beautiful young baby girl whose purpose I'm not sure is yet understood. A child who was and is still loved. A child named Hope.
I am honestly humbled that this family would come to our little patch of healing to spend a bit of time on this memorable day. I am honored that we could offer them a place to come and play and remember. That their handsome young son could meet Little Man and Gracie and bless us all with the sound of his laughter! And that his Mom could find Miss April again and reach out to her. And find her.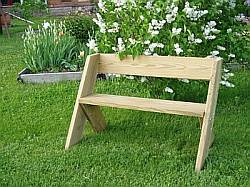 We'll have a new Memory Bench here at THE FARM, soon. It will be the simple
Memory Bench
that we place around the grounds whenever anyone wants to remember a special memory in their lives. There's the Andy bench, the Jimmer bench, the DukeDuke bench, the Halima bench, and the Jerry, the Roan Horse bench. And now there will be a new bench. The Hope bench.
We will make sure the bench is solid and the woods are perfect. "HOPE" will be engraved in the backrest and when it's all ready I will then call the family and request that they visit us once again. And this time, we will tour the grounds and talk about the Memory Beds, the trees, and look at the views. And then this family will position this new bench for their Hope. And in hope.
Life is cruel sometimes. Losses happen every single day. We all cry and wonder why. And time passes. We don't cry so much, on the outside anyhow, but we still wonder why. And we miss what we don't have. Life is cruel sometimes.
But we always have hope. We always have the wishes for the future. And the energy of possibilities. Life is good! Life is full of promise. And yes, we always have hope.
So I sit here and I smile. Isn't it just another piece of the puzzle coming together? Aren't we just seeing how it should all fit in to one big piece?
Don't you see???
We have the
FAITH
bucket hanging in the barn.
And then came
Grace
to live with us.
And now we have
Hope
in the yard.
My, how the pieces fit together!
Enjoy the journey of each and every day,
Sandy and The Herd – with Hope