Sunday, October 14, 2007
Events, Events, Events


Every year we start off with a full calendar of events. I remember this year looking at a full page of events, my stomach in knots, wondering if we could pull all of this off when I noticed that this was one of two pages. The knot got bigger! My first thought was all the work involved in putting on an event. Will we have enough volunteers? Silly question when you have the volunteers that we have. Since most events are outside, will the weather hold out for us? Will we have everything ready or will we forget something very important? And, most of all, will people come?
I once had a volunteer ask me,"so what goes into doing an event?" I took in a deep breath and then started…first comes the publicity, and then we have to reach the public. We do this in several different ways. First off, we contact the media to get our event on the community calendars. In addition to this, we have our volunteers put up posters in the different towns surrounding
Refuge Farms
. We also have Vincent, our webmaster, put it on our website. All of this is done to let people know when, what, and where the event is being held. Then we start working on the heart of the event. There are some things that we do at all of our events: get
Refuge Farms
promotional items ready for display and all of our informational material ready to hand out. From there we expand out to the special needs or effects for a specific event, such as, pumpkins at Halloween, Santa at Christmas, food for each event and decorations from straw to Christmas trees. There are some events, like the Open Barn and the Spring Thrift Sale that have more work and require a lot more time to get ready. Preparations are done, many times, months in advance to make sure everything goes as smooth as possible on the day of the event.
The facility and the horses, although a big part of any event, add very little extra work in our event preparations. Keeping the barns clean, the water tanks cleaned and filled, mowing the lawn plus the general maintenance around THE FARM, are all part of the daily chores that keeps
Refuge Farms
ready to handle any one of Our Missions. When we have an event away from THE FARM, we may take some of the horses with us. This involves making sure we have the proper equipment for safe transport, food and water for the horses, and any other needs that we might have to deal with while we are on the road. Our goal is to always have a safe environment for our horses, our volunteers, and our guests.
A common question I'm asked is, "How do you get it all done?" The volunteers – our wonderful and dedicated volunteers, that's how we get it done. All I do is send an e-mail to all the volunteers with the word HELP. In response they come to THE FARM with their "I am here to work clothes" and best of all a "big smile" on their face. They are eager to do all that needs to be done even if someone gets "
ICKY
". Then on the day of the event they come back with their
Refuge Farms
t-shirt and that same smile. What great volunteers we have, they are like a close knit family working for one goal - to make every event special for our guests and while doing this we laugh, sing, I dance, and enjoy each other as we help carry out the Missions of helping Horses and Humans alike.
Then came more questions, I started to think I was Sandy having an interview on TV. With all the work and worry why do we have so many events? Are they all to raise money? We do have some that are considered fundraisers, others are considered mission events, but even after all the work and the worries they all turn out to be fun and rewarding. When the event day is done and the volunteers start talking about a special moment they witnessed that touched the hearts of our guests, that's our reward and the real answer to the question why do we do it.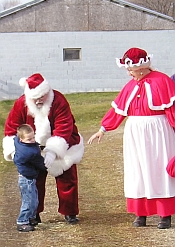 Here, let me tell you about one of our events. Of course it was one that I was the event manager for so I think I worried the most. Last November we had Mr. and Mrs. Claus at THE FARM and of course like every year there is that worrisome question. WILL SANTA MAKE IT? Will one of the reindeer get sick and not be able to fly? Will there be a blizzard at the North Pole and Rudolph's nose can't glow bright enough to get Santa safely through? The day comes and you're standing there with the volunteers waiting when a guest and her small boy arrive already for the big day. Still no Santa and your stomach is in one big knot. Then it happens, here comes both Mr. and Mrs. Claus hand in hand down the drive way and out of the corner of your eye you see what it is all about. A little boy runs to Santa and when he arrives Santa picks him up to give him a hug. The excitement of one little boy touches your heart and brings tears to your eyes. That's when you know all the work is worth it.
Every event has its own special story but instead of me telling you what they all are just check out the calendar for upcoming events on the website and come out and be part of the fun and maybe, you will experience that moment when you feel the warmth in your heart and the chill through your entire body which we call the
Magic
of
Refuge Farms
.
Kathy