Sunday, October 21, 2007
Halloween with THE FARM at Culver's® in Menomonie

Every once in a while, a door opens for
Refuge Farms
and entire new possibilities are presented to us. I stand in awe of the generosity and kindness of the giver and work hard to respond in kind and show my personal gratitude for the opportunity.
Gary T. and his crew at Culver's® of Menomonie have opened such a door for
Refuge Farms
these past few weeks. And the week of October 22nd through the 27th will be the culmination of
hours
of work on Gary's part and for a few of us here at THE FARM. Gary has designed and run ads in the local papers.
Refuge Farms
has printed and posted posters to help spread the word. We have posters up in the Culver's® store introducing the concept of
Refuge Farms
to any who will read them. The upcoming week is packed with events – all sponsored by Gary T. and his Culver's® of Menomonie.
This entire week of giving on Gary's part is in celebration of his
8th Anniversary
for this particular Culver's® location. Gary has a history of being a successful restaurant owner and what has impressed me about watching Gary, is that he is not only an owner but an operator. At lunchtime, you'll find Gary dishing chili or on the grill. On the front counter or running orders to the floor. He tells me he doesn't ask his crew to do anything he can't or wouldn't do. I like the man for that simple statement alone.
So this entire anniversary week, Gary is offering his customers specials and deals with many of them benefiting
Refuge Farms
. Creative thinking and a big heart are behind each one of these opportunities. Gary is a big man in stature and I tell people when describing his giving and generosity as "
he just put those big arms of his around us!
"
P.S. Take a close look at the
8th Anniversary
ad. It's the picture that makes me chuckle! Who else is standing next to Gary in a box stall but Ole' Man Cole! And with his face in a bucket of Culver's® Custard! Now that's one for the record books!
Buy a Bag & Get a Bag
For several weeks now, there has been a promotion running fully sponsored by Gary T. and his Culver's®. That promotion has been that those who purchase a 50 lb. bag of feed for THE FARM will receive a free coupon for a 2-piece Chicken Dinner at the Meonomonie Culver's®. The feed may be purchased at the Menomonie Culver's® or at Valley Feeds, but either way, for each bag purchased a coupon for a free dinner is given.
In support of this promotion, Gary has designed and run several weeks of colorful and creative ads in the local newspapers. You can see the ad for yourself by clicking
here
.
Refuge Farms
has taken that ad and printed it as a poster and put them up for the public to see as well. And so far, over one-half a month's supply of Safe Choice™ has been donated!!! Wonderful! The feed comes to THE FARM and the giver gets a free dinner – all sponsored by Gary T.
But what I like the best about this particular promotion is the picture in the ad! Look at that man! Behind the bars of one of our box stalls in a straw hat and screaming for his life! Creative and fun-loving he is!
Monday Chicken Dinner Special
On Monday, October 22nd, from 5pm – 8pm, Culver's® is running a Chicken Dinner special as a fundraiser for THE FARM. Chicken 2 and 3 piece dinners are on special with the servers being none other than
Refuge Farms
volunteers! We will smile and do our best to be speedy with your hot dinners. And your tips will all go to THE FARM.
The dinners are on special for dine-in or take-out and Gary tells me that last year, in those same three hours, he served over 250 dinners! Holy herd! That's a lot of dinners!! I need to be sure to wear my running shoes!
Wednesday is 10% Day!
All day on Wednesday, Gary is sharing his revenue by donating 10% of every sale to THE FARM. Yup, you read that right. All day on Wednesday! For the entire day! That means for every ButterBurger® and every shake and every dish of custard, donations will be made to THE FARM. It's this kind of generosity that I struggle with when I go to express my gratitude. "
Thank You
" seems so small to such a big-hearted man.
And
Refuge Farms
is adding to the event on Wednesday evening! From 5pm – 8pm, once again,
Refuge Farms
volunteers will be your servers – with huge smiles! And if you come to dinner in your
Refuge Farms
t-shirt,
Refuge Farms
will buy your dish of custard for desert!
Come on volunteers and all of you with our t-shirts! Show your support of this man and his big heart! Let's turn the dining room of Culver's® in to a sea of blue t-shirts!!!
Refuge Farms Supply Drive
In the front of the Culver's® store is a big box. Attached to that box is a Donation Wish List of small items used by THE FARM on almost a daily basis. Everything from vet wrap to salve to dewormer to buckets and brushes. And Gary, bless his heart!, has seen his way to support the drive by giving you a coupon for a FREE SUNDAE for each item off the list that you drop in the box!
If you are interested in previewing the list,
here it is
. The prices on the list reflect those of Fleet Farm® in Menomonie, so your local tack store may vary a bit. But you get the idea! And remember, you get a free sundae, too!
Give 2 Bucks & Get 2 Bucks
Now this is original and oh-so-big-hearted! If you walk in to the Menomonie Culver's® during the week and donate $2 to
Refuge Farms
, Gary will give you a coupon – free – for a $2 dish of custard. The full $2 donation goes to THE FARM and you get the equal value in custard! A win-win deal for THE FARM and for you! Thanks to Gary's heart!
You Make THE MAGIC!
All week long, you will have the opportunity to donate $1 to THE FARM and sign a picture card. These pictures cards have Gracie and a little girl together. A young man and Big Jim. A little boy feeding Miss Bonita a carrot. Each of these picture cards has a line for you to sign. Once you've signed your Magic Card, the card is then taped up in Culver's® for the week. For the whole world to see! Making Magic for $1. I love it!
Halloween with THE FARM at Culver's®
The entire week of giving and supporting culminates with a celebration right in the front yard of the Culver's® store! On Saturday, the 27th, from 10am – 3pm,
Refuge Farms
will temporarily move to Menomonie for our Annual Halloween Event. Only this year, we are in the Culver's® front yard!
Like we do at every Halloween Event, there will be pumpkins for the kids to paint and take home with them! There will be apples for bobbing for the brave of heart and thick of scalp! And of course, there will be root beer floats, compliments of Gary and Culver's®, with a free will donation!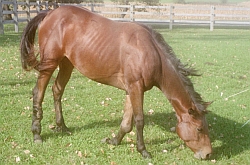 And on this special day, we will also introduce to the world our newest member of The Herd. We are bringing The Filly – renamed as "
Spirit
"! Come and meet her! She is a little girl with some big leg issues but already showing us a heart of gold and a true desire to give back! In less than thirty days, we are bringing her out to the public and she will be a star! What a gift this little girl is to us all! Come and meet her!
We will have canopies up and pumpkins ready. Apples floating and Miss April and Spirit awaiting your hands. Root beer floats will be served and of course, we'll all be in costume and encourage you to come in costume, too!
That sight alone is worth the trip!!!
And then late Saturday afternoon, we'll pack up and sweep and make it look like we weren't even there. We'll drive the trucks and trailers back to THE FARM and I will sit here at my desk and ponder how to thank this man. This man who owns a Culver's® in Menomonie, Wisconsin. This man who has selected
Refuge Farms
as his benefit organization for his annual anniversary celebration. This man who has put his big arms around us and said, "
Here. I'll help you
." This man who used to own horses and sees the
Magic
of them and the work and dedication behind what we do and who we are. This man who gives of his heart and his earnings to help us with our Missions of Healing.


Bless you, Gary T. and your crew at Culver's®!
Refuge Farms
and its Herd of Volunteers will rise to the upcoming week full of events! You'll see our Herd of Volunteers to support Saturday's traffic of kids, kids, and more kids! And you'll see from our attendance and our participation just how we value your commitment to us and just how grateful we are for your generosity in supporting us!
Thank you, Gary, for putting your big arms around us! And I'll see all of you at Culver's®!!!
Enjoy the journey of each and every day,
Sandy and The Herd