Sunday, October 28, 2007
You Did Good!

November is the National Philanthropic Month. Someone should tell The '
Other
' Herd at
Refuge Farms
. They started celebrating a few days early!!!
Our
Halloween with THE FARM at Culver's®
event was yesterday, Saturday, the 27th. And what a day! I'm grinning and my chest is sticking out with pride from the compliments I've received and from my observations of just how smoothly things went!
The day began for most of The '
Other
' Herd at 7am – yup! 7am! That means it was barely light outside and still pretty darn brisk! And this crew was already
at
Culver's® and out there setting up canopies and building horse corrals and hauling mats and spreading shavings. I had the luxury of bringing our horses and Little Man by a leisurely 9:30am and when I pulled in the driveway of Culver's® everything was ready to go!
Sunshine filled the air and it was an absolutely glorious day! For late October in Wisconsin we could have not been blessed with a better day of weather! Thank heavens that 20% chance of showers went somewhere else! The sun never once hid behind the clouds and it was a made-to-order Saturday!
The horses were remarkable, as always. We tried something new this time – horse corrals. Five hours is a long time to stand at the end of a lead rope, so with respect to the horses and understanding the need for people to touch and love them, we built twelve by twelve foot horse corrals from borrowed panels
(Thank you, Amy!)
and they worked wonderfully!
Miss April was her usual gorgeous self standing in the brilliant sunshine. It does my heart a world of good to see her stand evenly and use her front feet, as a horse should. The extra farrier services that
The 4th Annual Walk for Refuge
has purchased for Miss April is working, that's obvious! What a gift to Miss April and all of us that love her! To see her walk out of the trailer and lift her head to look around instead of looking to the ground for safe footing. What a treat that was!
And then little
Spirit
came along. After only five weeks with us, she came on her first adventure and was a model participant. Never once did she do anything other than be a horse and a beautiful little one, at that! She stood for pets, she ate, and she slept in the warm sunshine! A perfect example to all who spent time with her. An example of loving a living creature even if that creature is not perfect. An example of one man's trash is another man's treasure. An example of calmness in the face of strife. I just love that little squirt!
The volunteers were dressed in costumes that still make me chuckle! Straw Man was a real hoot! We had an Aussie cowgirl and our cow, of course! The Queen of England joined us, too! She (he?) told me that she "
had come a long way to be with us today
" and I believe it! What a sight that woman (man?) was!!!
Bubba was there, too. He (she?) was padded and everyone once in a while had to escape to the restroom (which one?) to adjust a drooping part, but returned all adjusted and ready for more!
We had a Bruce Springstein fan amongst us and several fancy cowgirls. Even a purple-haired Adams family member! These people are creative, I tell you! And there were times when I just walked the parking lot to see if I could recognize everyone and guess who was under there???
The guests showed up, too! We opened at 10am and sure enough, here came guests to paint pumpkins, pet horses, bob for apples, and pet our Little Man. It stayed steady all day out in the parking lot. Inside the Culver's® was a different story, though! From my years in food service, I'm going to use a technical term now:
We got slammed!
Starting at about 11am until 1:30 or so, the business was steady and noisy! And hungry! At one point, Gary T. came to me and said, "
The dining room is full and there's a kid at every table. That's great!
" Sums it up and says it very well. The day was for the kids, and they came! Kids of all ages!
Inside counts were somewhere around 300 to 350 guests. And after eating, many wandered back outside for one more pet of Miss April, another chance at an apple floating in the water buckets, or another pet of Little Man. Or a root beer float, donated by Culver's®, for dessert.
Tearing down went as smoothly as setting up. In a record 90 minutes, the horses were loaded and as promised, you couldn't tell we had been there! Everything was packed and in trailers and we even swept and hosed down the driveway. Good thing we took pictures! Because this crew made us evaporate. They amaze me after every event how it all just disappears.
And this smoothness in setup, hosting, and teardown is due to the leadership of Kathy M. Kathy is good at being the Operations Manager. She never loses her smile or her patience. She jokes and sings. And everyone follows her lead. Kathy is a good leader and as I told Gary T. at lunch, "
I just can't imagine doing this without her.
" Gary agreed. "
What a blessing she is!
" Thank you, Captain, for another job well done!!!
Yesterday, in the parking lot of Culver's®, was the culmination of an entire week of celebrating. Celebrating the 8th Anniversary of Culver's® in Menomonie. But doing it "Gary's Way". And that means giving to someone else. In 2007, Gary chose
Refuge Farms
and what a blessing that was!!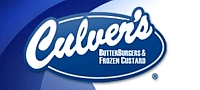 So many things were done to promote us and this week – full, color ads were designed and run in multiple newspapers for multiple weeks, chicken dinners were offered for anyone purchasing a bag of feed for THE FARM, free sundaes given for any item dropped in the Wish Box, free custard for anyone donating $2 to THE FARM, and then there was the free root beer floats during the event yesterday. Plus he and his crew tolerated us farm girls working their shifts throughout the week thereby giving us the opportunity to explain who we are and what we do to those who asked about us. Gary even went to the extent of putting "
REFUGE FARMS DAYS
" on his road signs – right over the huge banners he had made up declaring his 8th Anniversary
benefiting REFUGE FARMS!
The man supported us as his way of celebrating his very own anniversary.
"Thank You" seems woefully inadequate, but it is what I can offer. My gratitude and my commitment to use his support to continue our Missions of Healing. To rescue the horses like Spirit and use them to teach Human Beings about compassion and acceptance and the sanctity of life. And to reach the kids. And yes, the kids of all ages.
Thank you, Gary T., for wrapping your big arms around us this past week. What a blessing you and your crew are to us! And thank you, Volunteers, for doing your typical spectacular job yesterday!
You did good!
Enjoy the journey of each and every day,
"Dorothy at 50" at The Herd