Sunday, January 06, 2008
Leap of Faith


When Sandy asked me if I wanted to do a Guest Blog I instantly said, "No." A blog is so personal and you really open yourself up. I thought no way! I'm not ready for that yet! But then I started thinking about what an honor is it to be asked to write a blog. So I spent days thinking of how to put the words that were floating around in my head down on paper.
Then at church our Pastor was talking about a Leap of Faith and it instantly hit me. As I reflect upon 2007, I took leaps of faith in every area of my life - personally, emotionally and spiritually.
When you look up Faith in the Webster's® New World College Dictionary the definition is (I shortened it up a bit):

As I look back at 2007, I reflect on the amazing relationships I have with many of the volunteers at
Refuge Farms
. It was a leap of faith to go out on a limb and fill out the volunteer form. I'm not one to open up to people but I'm glad that I took the leap of faith.
I found an old friend in 2007. One that I had almost stopped believing in and felt He was never there for me. I started believing in God again after coming to
Refuge Farms
. God never left me. He was always right there with me. It was I who gave up on Him. I'm so happy to have found Him again!
When I think about the words "
leap of faith
", I think of Sandy who took a leap of faith to start
Refuge Farms
and what a leap of faith Andy took when he gave the reins of Charity Case to Sandy and said, "Sandy, take this horse and make a difference in someone's life." Wow! Those words are huge! The horses at
Refuge Farms
took a leap of faith to be here. They knew; they felt something strong, true, and good in Sandy. They feel safe, they are fed, they are sheltered, they are loved, and they are happy.
We take a leap of faith to open our hearts and talk about our lives to strangers at
Refuge Farms
just because we share a common bond for the love of horses.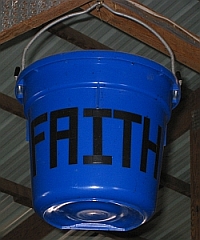 It's a leap of faith to hang the Faith Bucket from the rafters in the barn. It's the Faith Bucket that means so much to so many but the word "FAITH" has so many different meanings to everyone who sees it. Every time I go into the barn at
Refuge Farms
I stop and look up at the Faith bucket and pray for the horses, for Sandy, for the volunteers, for
Refuge Farms
.
In 2008, what leap of faith you will do? Make it meaningful! Make a difference! Do the best you can do! And when you go to bed at night say, "I'm glad that I took that leap of faith! It was so worth it!"
God Bless and Much Love,
Gina