Sunday, January 20, 2008
Numbers! Numbers! Numbers!

It seems that these past weeks have been all numbers, numbers, and more numbers. Excel spreadsheets. Data entry and more data entry. Checking and double-checking. Balancing and re-balancing. Vincent said it the best in an email late yesterday, when he said, quietly, "
My head hurts
."
Really.
It is the close of fiscal 2007 for
Refuge Farms
and this coming Saturday, the 26th, is the date of our Annual State of THE FARM. Just what, you ask, is a State of THE FARM? Funny, I knew you'd want to know!!!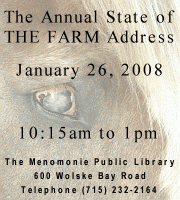 This time of year it is necessary to create totals and recaps and finalize expenditures and incomes in preparation for our annual IRS tax filing, the 990. Well, as a result of that preparation there are several observations, trends, facts, and calculations that result. Interesting things that show themselves. "Things" for us to review and discuss and maybe even make adjustments, as a result. "Things" that show themselves in the numbers. Or trends that we were suspecting but not really sure of yet. Trends can be confirmed or firmly denied by these "things". And overall, these "things" are numbers that we can use as a measuring stick. Especially when we compare numbers from this year to numbers from last year. Then the "things" really show themselves.
What kind of numbers will we look at? We start with looking at expenditures. The total expenditures for the year and then the breakdown of the categories in those expenditures for 2007. Finally, we'll look at the 2007 expenditures in comparison to the 2006 expenditures. How did we do in holding the line? Were we, too, hit by the rising cost of living and doing business? How badly has the rising cost of fuel and feed and general purchases impacted our expenditures for the year 2007?
The next category of numbers we will examine will be the numbers from our events. Now it gets interesting! Our events are categorized as a Fundraiser Event, a Public Hours Event, a Publicity Event, or a Missions Event.
Fundraiser Events are just that – events we hold with the distinct purpose of raising funds.

Public Hours Events are pretty self-explanatory by their title, aren't they?

Publicity Events are typically presentations to groups and clubs.


Missions Events are the core of our purpose. Events that we do because it is what we are. Group visits by Vacation Bible Schools. Camps for young adults with disabilities. Visits by students in transition. We do these events not with the goal of raising funds or spreading the word about us being here. No, we do these events to share our Ministers and offer them as instruments of healing to anyone who will come.
By looking at the numbers in these categories, we clearly see our successes and our areas for reconsideration or improvements.
And finally, we will look at the numbers from the donations made by The Friends of THE FARM. What trends do we see? What are the factors we believe impact this number? What actions might we take as a result of these numbers?
We do have some fun at this meeting, too! We have door prizes interjected throughout the presentation. Door prizes given just to keep everybody with me as we plow through the numbers!
Volunteer recognition, of course, will be given for those volunteers with service hours of 100 hours or more in calendar 2007. Small tokens given to those who work so hard. But a chance to give a hug and a personal "
thank you
".
The Frances Andrew Award will be given, too. This is one of my favorite parts of the meeting. Frances Andrew, you know, was the horse that Andy gave to me with the challenge to "
take this horse and make a difference in somebody's life with it
". The horse that started it all. A glorious Clydesdale with beautiful sky blue eyes…oh, what a horse he was!
In his honor and with the intentions of Andy Durco, Jr., an award is given to a member of The '
Other
' Herd who has gone above and beyond in the spirit of our Mission Statement. Now, their actions that we recognize may have nothing directly to do with
Refuge Farms
. They may have given in the general area of Human Rights or Community Services. The award goes to someone who sets the bar for us all. Someone who lives by the part of our Mission Statement that says, "
I will watch over.
" My favorite part, for sure.
Kathy M., our Operations Manager will speak and that, too, is one of my favorite parts. The heart of this woman will be visible in her face and her words. She is a gift, this girl, and it is my pleasure each year to introduce her and turn over the presentation to her. When she speaks, you can hear a pin drop in the room. She's a born leader and her commitment and dedication to
Refuge Farms
and our Missions is beyond reproach.
We have food, too!
Of course!
Have you ever known us to not have food when we get together? The emphasis is on healthy food, this year, however. Well, mostly healthy food. Salad to begin with. Very healthy. Toppings for the salad. Still very healthy. Cheesecake for desert. Not so healthy, but delicious!!!
Once the food comes out, we'll relax and just talk and laugh until it's time to hug and say so long. We'll clean up the room and pack away the handouts for history and audit purposes. File everything when we return in the big box marked "
2007
". Tape up the box and store it away.
But that box is full of lessons. And we don't store the lessons. No, the lessons from 2007 will yield one thing: change. Change is the blood of a growth organization. Change causes unrest and turmoil at times. Change can make any of us nervous and "icky". But change is constant and necessary. Without change
Refuge Farms
would not have survived these seven years and would not be growing in such leaps and bounds!
There are times when some of "oldsters" within the group sit and laugh when we tell some of the newer volunteers about "
when we first started we used to...
" It is now hilarious when we think back to how we did things. How we managed to cope. How we managed at all! And today, we are doing the best we can with what we have to do it all with. I am proud of the organization and its impact and service to the Human Beings that come here.
Change causes some to rethink their participation and move on. Change causes some to rethink their decline to participate and to return. In every instance, there is a purpose. In every instance, there is change. I have come to embrace change. Who am I to say what
Refuge Farms
is to be? Who am I to say how
Refuge Farms
is to get "there"? Who am I to challenge this Master Plan that I find my entire life now absorbed by? And who am I to resist the change that makes it all possible?
No, change is good. It is the challenge of all of us to deal with change and talk about the change and resist the tendency to withdraw around the change. Only then, can an organization remain intact and solid as it grows and changes. And believe me,
Refuge Farms
is on the path of growth and, subsequently, of change!
So with all those thoughts and lessons and changes upon us, the box of 2007 is taped and put away. It is then time to sit at the desk and take a deep, deep breath. Start a new folder on the computer. Start a new accordian folder. Start a new alphabetical folder. Start a new TO DO LIST. Start all over again with a new box marked "
2008
".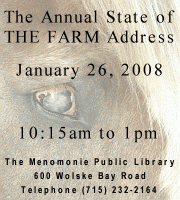 Come and join us for the 2007 Annual State of THE FARM this Saturday, January 26th at the Menomonie Public Library. Doors to the library open at 10am with our meeting beginning at 10:15 am. Come and see the numbers and share in our successes! Come and hear of the changes! Come and see what the "
MAGIC
" looks like on paper!
Enjoy the journey of each and every day,
Sandy and The Herd